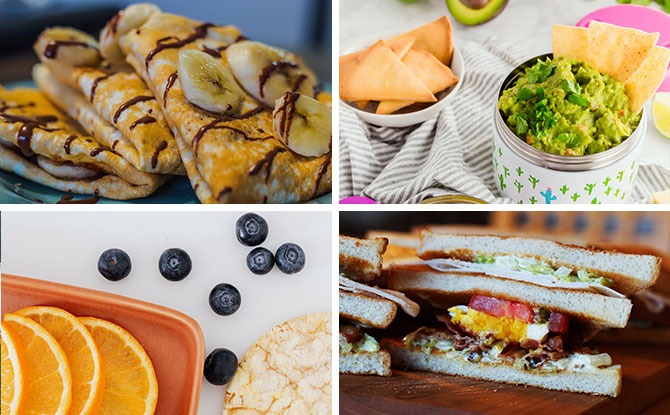 It's back to school season! And the season of lunchbox-prep begins again. We have some easy and nutritious lunch box ideas. Instead of spending time queueing at canteen stalls or getting tempted by less-than-ideal food options, your kids can enjoy lunchboxes lovingly prepared by parents or caregivers.
Composition of Lunch Box Meals
Lunch box meals should consist of food from various macronutrients: carbohydrates for energy, protein for immunity and strength, fibre for digestion, good fats for nutrient absorption.
One helpful tool to use is My Healthy Plate by Health Promotion Board.
---
1. Milk Buns with Fillings
Join the #softmilkbunsclub that is trending currently. Milk buns are easy to make, add fillings and put some into the lunchbox and ta-da! Here's a bread machine-friendly version. The recipe is easy to replicate, even for kitchen noobs. You can do dairy-free versions by replacing milk with coconut milk, and add flavours like pandan and kaya.
---
2. Onigiri Rice Balls
Like all hardworking Japanese mothers, one must-have in bento boxes is the rice ball or an onigiri. You could choose to include different types of grains to raise the nutritional profile – brown rice, black rice, barley, quinoa and also include fish great for brain-boosting like salmon and tuna. Onigiri rice balls are a good way to sneak vegetables in.
One tip to shape the rice balls, sprinkle some salt or put oil on your hands before you start and use a mould for cute shapes. Recipe here.
---
3. Sandwiches
Sandwiches are one of the easiest lunch box ideas for school. Bread and fillings will yield one of the foods easiest to gulp down. Using wholegrain bread is recommended for more nutrients. Fillings – simply add in your child's favourites like bacon, scrambled eggs, cucumber. You can even put together a chicken salad sandwich from the night before.
---
4. Buckwheat or Soba Noodles
Simply cook some soba noodles, which can be eaten cold. Add on other desired ingredients such as fish roe, sesame seeds, edamame, fish or chicken. Try this easy lunchbox recipe.
---
5. Egg Frittata Muffins
We included this in snack box ideas as well. Egg frittata muffins can be prepared way in advance and frozen. They make for quick snacks when commuting or when you are in a rush to head to your next destination. Simply use a muffin tray , pour the egg mixture in and bake them. We like adding ingredients like spinach, cheese, sausage in these.
---
6. Crepes, Savoury or Sweet
Crepes are one of the most versatile and simplest to whip up. Pair them with fruits – banana, berries, mango, chocolate sauce or have a savoury spin with ham and cheese. Our favourite go-to recipe is great for little hands to help prepare too.
---
7. Make Sliders or Mini Burgers
Anyone else loves burgers? Buns can be bought from supermarkets and made from scratch. Put in a patty, meat, vegetables and viola – you have a slider! This is quick to assemble especially on sleepy mornings. And just replicate them for lunch or dinner if your family members are fans of burgers.
---
8. Pita Bread and Hummus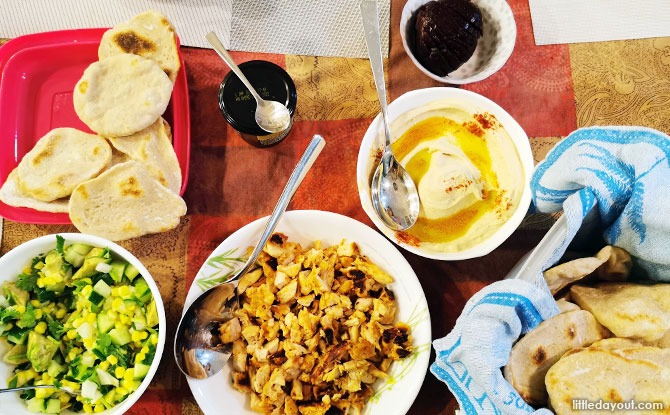 Pita and hummus are one of our staples at home. This is vegan-friendly and making a batch can last you a few days. You can purchase both pita and hummus from supermarkets. Or try this make from scratch pita recipe here, and blend your own chickpeas with this recipe. It is immensely satisfying to see them puffing up when baking or grilling. We like to involve the children in hummus making, especially when deshelling the chickpeas. Most of all, it's versatile and can be packed into lunch boxes or saved for main meals.
---
9. Pasta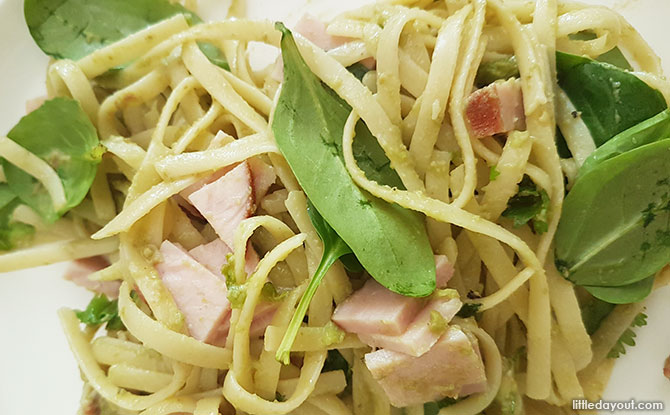 Food in lunch boxes can become soggy when there is too much moisture. Thus, it is best to pack lunchboxes when the food has cooled down. Or cook the night before and leave the lunchbox in the fridge. Pasta can be paired with many sauces and flavours. We recommend putting the sauce in a separate leakproof container if the lunchbox is not too suitable for wet food. Choose from pesto, tomato base or simply olive oil. Sauces can be purchased from supermarket shelves. We like this aglio olio recipe.
---
10. Overnight Oats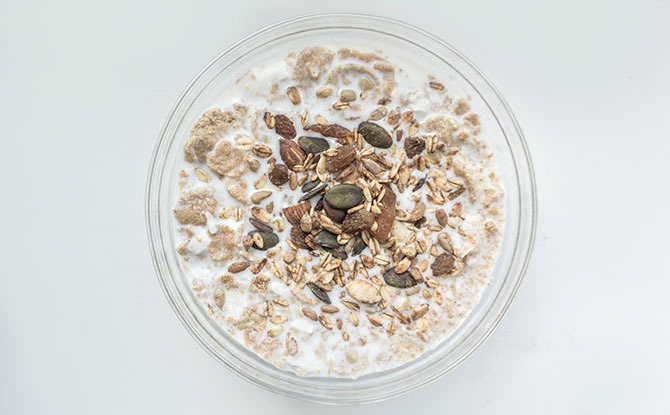 One part oats, one part milk, some seeds and fruits – you have a power-packed meal loaded with protein, fiber and antioxidants! Put the oats in an insulated jar or an airtight container to prevent leakage. To make a non-dairy option, use oat milk, coconut milk or nut milk. Add in nuts, seeds which are all nutrient dense foods. Top it up with your child's favourite fruits, leave it in the fridge over night and it's easy to pack the next morning. Try this recipe.
---
Slightly More Challenging Lunchbox Options
11. Cauliflower Rice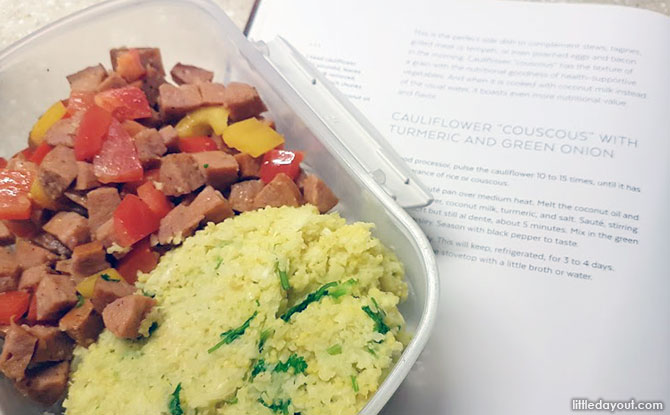 Rethink rice with cauliflower rice! Just blend cauliflower and cook the "rice" with herbs like turmeric, add coconut milk for fragrance. This can be paired with protein, like a fried egg and some cheese. Serve it with a wedge of lime. Recipe here. or check out this Cauliflower Fried Rice recipe.
---
12. Stir-fry Noodles or Bee Hoon
Most Asian children love a good dose of stir-fry noodles. You can do them with different types of noodles like bee hoon, egg noodles and even macaroni. Include greens and some protein when you stirfry the noodles. A big batch can even be for two meals. For a Korean Japchae version with sweet potato noodles, try this!
---
13. Fried Rice
How can we forget fried rice? Transform your child's lunchbox into fried rice paradise, with leftover rice. Using cold leftover fried rice is an ideal base for non-soggy rice. We have just the recipe for you.
---
Nutritious Lunch Box Ideas: Prep Isn't Complex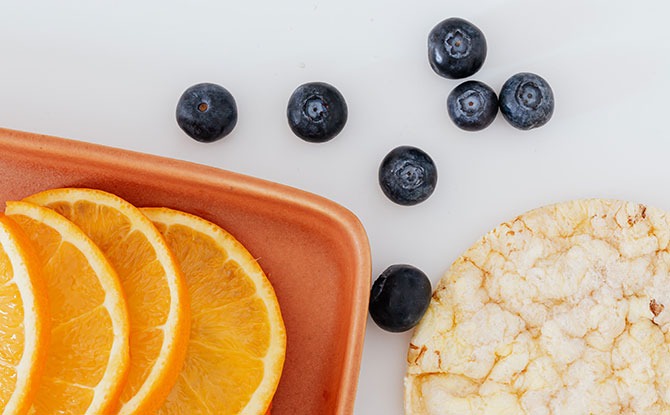 Packing a nutrient-rich lunch box is not challenging. Prepare a meal plan to make prep work a little easier and ask your child for his or her inputs. Including a favourite ingredient, and sneaking treats like Milo packets would be a nice perk for the midday break. And the most important ingredient for the lunchbox – LOVE!