A good stir-fried bee hoon (rice vermicelli) is light and refreshing and you can't possibly go wrong with lots of healthy vegetables all mixed up. This all-in-one dish takes a little more preparation in terms of cutting and slicing, but the outcome is well worth the effort!
Recipe for Stir-fried Bee Hoon (Rice Vermicelli)
Servings: 4
Ingredients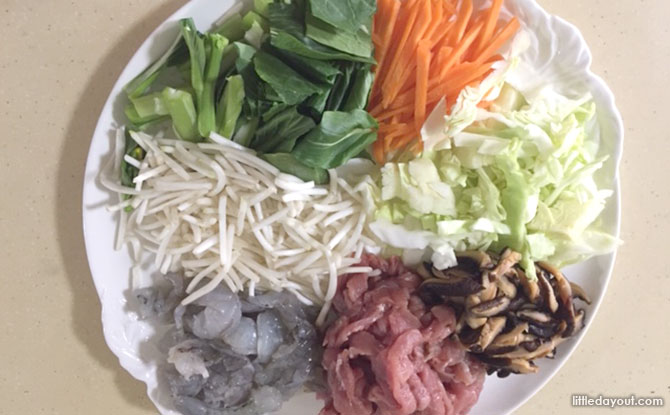 3 portions of beehoon from a pack of A1 Bihun Beras
6 medium-sized black mushrooms, soak and sliced thinly
150 grams of pork or chicken, sliced thinly and marinate (see below)
300 grams medium-sized prawns, shells removed and de-veined
300 grams cabbage, sliced into long strips
1 small carrot, sliced into long strips
300 grams bean sprouts, both ends removed
6 cloves of garlic, minced
Marinade for pork or chicken
1 tablespoon of cornflour
1 tablespoon of soya sauce
Half tablespoon of sesame oil and a dash of pepper
Method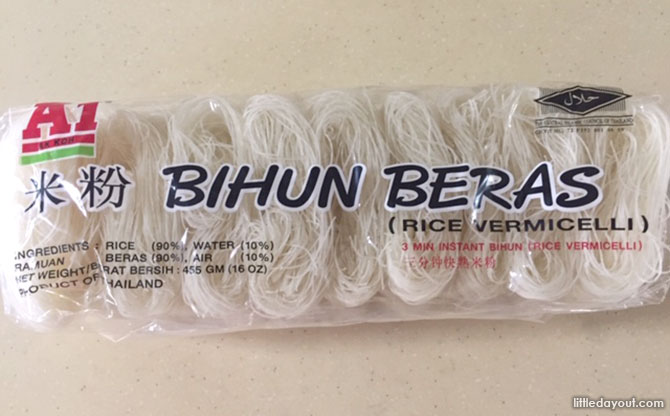 Soak bee hoon with tap water for about 15 minutes. Remove and drain in colander.
Heat wok and with a little oil, add one third of the minced garlic to fry.
Add in pork or chicken and mushrooms and three quarter bowl of water.
Add prawns and 2 teaspoons of salt to cook. Remove and put aside.
With a clean wok, add 3 tablespoons oil and stir-fry the balance of the minced garlic.
Add in 2 teaspoons of salt and mix in cabbage, stir them around and put in all the bee hoon. Cover the wok immediately and cook for 5 minutes.
Remove the cover and add all of the cooked items set aside earlier, together with the bean sprouts and carrot. Cover and cook for another 5 to 7 minutes.
Remove the cover and with a spatula and a pair of chopsticks mix them all around.
Serve and enjoy!
Click here for more recipe ideas.