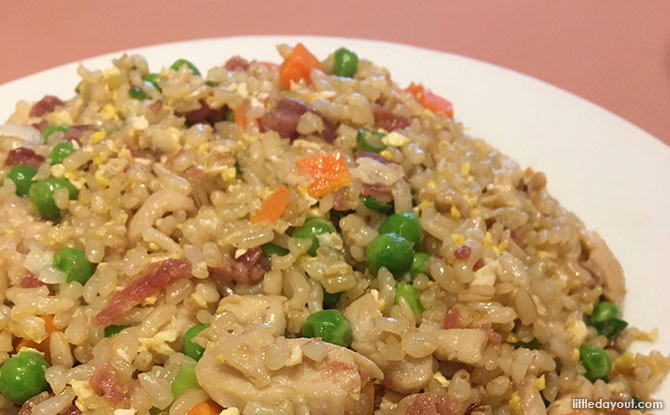 Here's a simple and easy fried rice for lunch or dinner – Chicken Fried Rice. Switch the chicken to shrimp or beef, make it vegetarian to cater to different palettes.
Don't forget to use rice left overnight in the fridge. Freshly cooked rice has too much moisture and using it would affect the texture of the fried rice.
For greater convenience, I use frozen green peas and carrots. I just microwave them in a bowl with water for two minutes, drain them and set aside for use. You may choose to use fresh carrots or corn. That's the fragrant beauty of fried rice – simply add anything you like!
Recipe for Chicken Fried Rice
Good for 2 persons.
Ingredients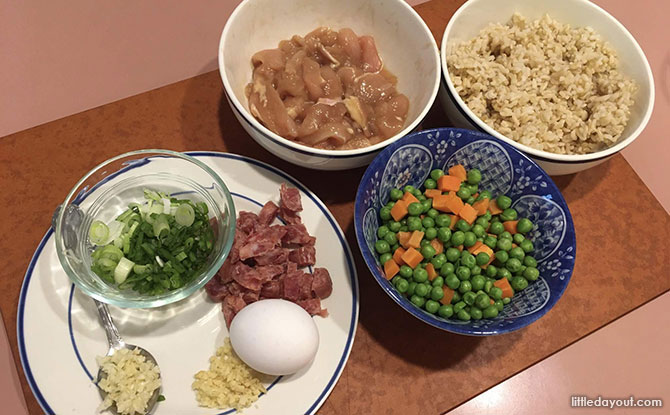 2 cups of cooked rice left overnight in the fridge (brown rice was used in this recipe)
1 clove of minced garlic
1 tablespoon of minced ginger
1 chicken breast (wash, pat dry, slice and marinate, see below for marinade)
3 tablespoons of cooking oil
3/4 cup of frozen diced carrot and green peas (thawed)
1 Chinese sausage
1 egg
1 teaspoon of salt
1 teaspoon of pepper
2 tablespoons of soy sauce
1/2 teaspoon of sesame oil
Some scallions as garnish (optional)
Marinade for chicken breast:
1 teaspoon of salt
1/2 teaspoon of pepper
1/2 tablespoon of soy sauce
1/2 teaspoon of sesame oil
2 tablespoons of water
Method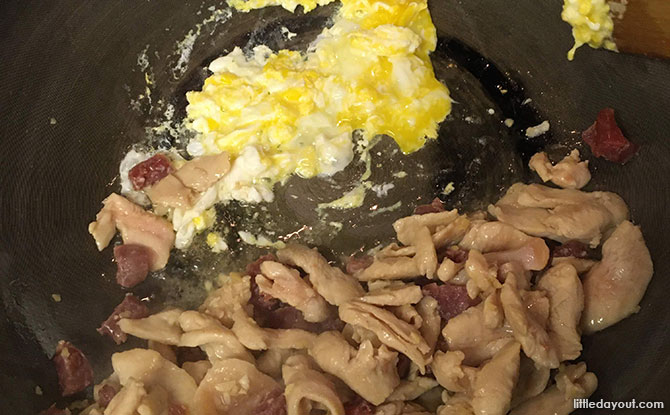 Wash and pat dry the chicken breast. Then thinly slice it and marinate with salt, pepper and soy sauce. Mix well and gradually add the water to the chicken slices. Lastly, add the sesame oil to coat them well.
Heat up a wok with medium-high heat, add 1 tablespoon of oil to thinly coat the wok.
When the wok is heated up, add another tablespoon of oil to the wok and immediately put in the marinated sliced chicken breast & Chinese sausage. Stir fry for 1 minute and add in minced ginger and garlic.
Chicken slices should be almost fully cooked after 5 minutes. Push the chicken & sausage to one side of the wok and add in the last tablespoon of oil to the other empty side of wok, crack in the egg and cook it well before you mix all the chicken and egg together.
Add the thawed diced veggies and mix well with the rest in the wok for 1 to 2 minutes.
Add cooked rice, mix well and add salt, pepper and soy sauce. Adjust the taste to your liking.
Cook for another 3 minutes and drizzle a bit of sesame oil to complete the dish.
Dish out and garnish with scallions. Serve and enjoy!
Simple #homecooked-recipes is a series specially developed to inspire beginner cooks with work and kids to handle, and not much time to spare in the kitchen. The recipes are deliberately simple enough even for kids to help you with them. Click here for more simple home-cooked recipes.