As Singaporeans, we are spoiled for choice when it comes to mealtimes because of the variety of cuisines that we have to choose from. For those looking for some delicious local breakfast food options, here are 10 local Singaporean breakfast foods to start your day!
---
10 Local Singaporean Breakfast Foods
Roti Prata
Crispy on the outside, soft on the inside, roti prata is food that hits the spot every time. Roti means 'bread', and prata or paratha means 'flat' in Hindi. This South-Indian flatbread made by frying stretched dough flavoured with ghee (Indian clarified butter), it is usually served with fish or mutton curry.
Popular prata spots include outlets such as Mr and Mrs Mohgan's Super Crispy Roti Prata, Springleaf Prata Place and Prata Wala.
---
Nasi Lemak
Start the day with the fragrant taste of nasi lemak, a Malay dish consisting of fragrant rice cooked in coconut milk and pandan leaf. It is usually served with ingredients such as a fried chicken wing, eggs, cucumber, ikan bilis (fried anchovies) peanuts and chilli. There are other variations that you can find in Singapore such as the Chinese version which offers a few more varieties of ingredients that you can enjoy on the side.
---
-- Story continues below --
Well-known names of places that sell nasi lemak include NO.1 Adam's Nasi Lemak and Ponggol Nasi Lemak.
---
Porridge
A hot bowl of porridge is like a warm hug to the tummy and soul. Two popular types of porridge that you can find in Singapore are Teochew porridge, which consists of cooked rice grains in a soupy broth and eaten with a selection of Chinese side dishes. There is also canton-styled congee, a soft and creamy porridge base that is usually mixed with minced pork and century egg.
Popular places to get Teochew porridge include Ah Seah Teochew Porridge in Kovan. For Canton styled porridge, well-known spots include Zhen Zhen Porridge at Maxwell Road Food Centre and Sin Heng Kee which is known for their thick and creamy texture.
---
Kaya Toast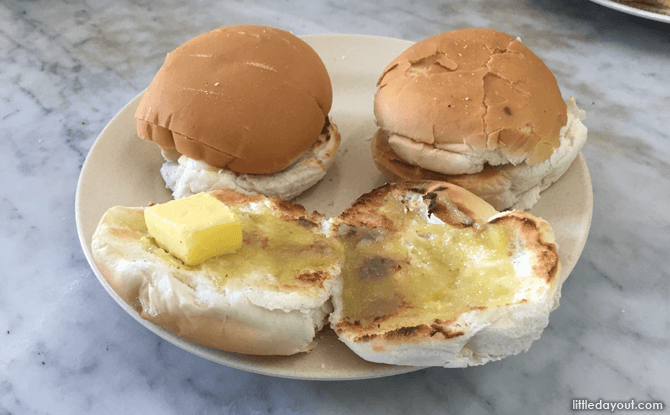 A classic Singaporean breakfast, Kaya Toast, half-boiled eggs and coffee are a personal favourite breakfast, especially after travels away from home. Kaya is a sweet coconut jam and is usually served in between two slices of toasted bread, alongside two half-boiled eggs that can be seasoned with soy sauce and pepper. These days, Kaya Toast is considered not only a national breakfast dish but also a popular snack for tea.
Popular places to get Kaya Toast include the famous Chin Mee Chin, but you can also get it at franchises such as Ya Kun, Killiney Kopitiam and Heap Seng Leong which also serves old school Gu Yu Kopi (Coffee with Butter)
---
Tau Huey and You Tiao
Both a great breakfast and supper dish, Tau Huey and You Tiao is a combination that many might be familiar with. Tau Huey is a soybean curd pudding that traditionally comes served in sugar syrup. Some variations take on a more pudding-like consistency. You Tiaos are fried dough sticks that are similar to churros but much fluffier. The traditional way to enjoy it is to dip the youtiao into the sweet sugar syrup, making it a sweet and savoury treat before washing it down with cold refreshing soy milk!
When it comes to places to get Tau Huey and You Tiao, names such as Rochor Beancurd and Selegie Soya bean are top of the list. One can also find stalls that sell soybean curd and youtiao separately when dining in a coffee shop.
---
Carrot Cake
With neither cake nor carrot, the carrot cake in Singapore is commonly known as 'chai tow kway' in the Teochew dialect. It is made with rice flour and white radish, which some call white carrot. The mixture is steamed, then cut into cubes and fried with garlic, eggs and preserved radish called 'chai poh'. It can be found at almost every hawker centre and is served black (fried with sweet dark soya sauce) or white (original).
Song Zhou Carrot Cake is a popular store located in Upper Changi and He Zhong Carrot Cake at Bukit Timah Food Centre.
---
Bak Chor Mee
If you're looking for a hearty meal to start the day, bak chor mee is a dish that can fuel up your tummy for the rest of the morning! A bowl of bak chor mee is made with flat egg noodles, braised mushrooms, and minced pork that's tossed in a fragrant mix of black vinegar, lard oil, pork stock, fish sauce, and chilli.
This humble bowl of noodles can be found in almost every kopitiam as well but there are well-known spots such as Hill Street Tai Hwa Pork Noodles which received a Michelin star, Seng Kee Bak Chor Mee located at Serangoon Garden Way and has been running for over 30 years and 58 Minced Meat Noodle which has been around since 1973.
---
Dim Sum
Dim sum is a large range of small dishes that Cantonese people traditionally enjoy in restaurants for breakfast and lunch. In Singapore, due to our history as well as the mix of cultures, the dim sum culture in Singapore has also evolved to include different styles like Shanghainese, Sichuan dishes, and dishes with our local touch. Popular dim sum items include liu sha bao (salted egg custard buns), char siew bao (pork buns), har gao (shrimp dumplings) and Chee Cheong Fun (rice rolls with sauce and sesame seeds).
Check out this list of dim sum places here.
---
Mee Rubus
Literally "boiled noodles", mee rebus is a popular Malay culinary creation. The ingredients of mee rebus are typically included with hard-boiled egg, bean sprouts, fried shallots, tau kwa (fried beancurd) and spring onions. The star of the dish is the thick and spicy potato-based gravy that the noodles are served in.
---
Fried Bee Hoon
Breakfast on a budget? Economic bee hoon is a staple in our local breakfast scene for its affordability and generous portions. Popular ingredient combinations that are seen in a breakfast plate of fried bee hoon includes chicken wings, a fried egg, luncheon meat, fish cakes and sometimes a side of vegetables as well. There are many other sides which might be switched up from time to time depending on the store.
Economic bee hoon stores that are notable including Yan Fried Bee Hoon at Redhill market and Hougang, 327 Fried Bee Hoon (327 炒米粉) which serves a whole chicken thigh as part of their dishes. Bai Li Xiang Economic Bee Hoon is also another store that offers a variety of affordable dishes to residents in the west.
If you enjoy reading this story, you may also enjoy reading about this hi-tech coffee chain.