We grew up chanting and singing nursery rhymes but what if nursery rhymes had a local context? That would make them much more relevant and memorable. Lianne Ong, author of A Place for Us Series, Stacey at the Museums and more, and Janice Khoo have collaborated to write nursery rhymes all about our favourite Singapore hawker food!
My seven year old foodie thoroughly enjoyed our reading session, or should we say singing. Here's more about the adorably hilarious book all about hawker food.
---
About Sing a Song of Hawker Food
It could not be more timely that the book was published at a time when the pandemic has reared its ugly head and impacted the livelihoods of many including hawkers. We all love how hawker food is part of our local culture and weaves a common thread amongst many.
Each poem is dedicated to a well-loved delicacy – Milo Dinosaur, Kaya Toast, Wanton Mee, Porridge and contains colourful illustrations by Chao. It's hilarious with the black sheep frying Char Kway Teow, the sheep eating Ice Kachang and Humpty Dumpty having Kaya Toast.
Parent Review of Sing A Song of Hawker Food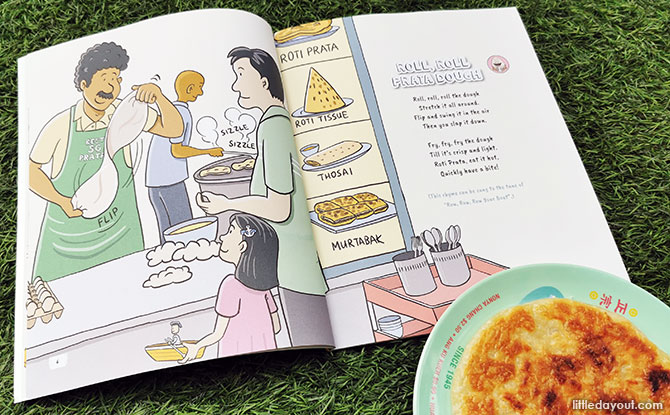 My 7 year old and I had a delightful time reading and singing the nursery rhymes. The fractured nursery rhymes offered a very different perspective of the OG British rhymes penned in the 18th century. While the original rhymes have much darker beginnings, Humpty and his friend have a fantastic time enjoying local delicacies.
Our favourite nursery rhyme was Baa Baa Black Sheep's Special Order – all about the sinful but sumptuous Char Kway Teow.
There are fun facts and tips included on each specific dish as well as backstory, how the dish is made and how to order the dishes. This is the best way to inculcate the art of enjoying hawker food from a young age.
It was a joy to look at the illustrations and be tickled by the humorous bits. I appreciated the details especially the stall names, some of which are punny and resemble some of the original stall names. The accompanying illustrations painted a realistic picture of hawker centre life.
Be warned. Don't read this on an empty stomach as the rhymes may leave you hungry for your favourite hawker fare.
---
Sing Along with Sing A Song of Hawker Food
We wish there were more songs and rhymes in the book! Sing A Song Of Hawker Food would make a great present, for all who enjoy affordable delicacies at the Hawker centre. Get your copy at major bookstores and online at Lazada here.