It is apparent that we love intertidal walks – we have been on a few including on Sisters' Island, St John's Island and when we find ourselves on an exposed shoreline teeming with creatures. My sister-in-law very generously gifted us vouchers from Young Nautilus for a family walk and we were all aching for one since the circuit breaker started.
On a Saturday morning, our family excitedly journeyed to Changi Beach for a glimpse of the creatures awaiting our presence.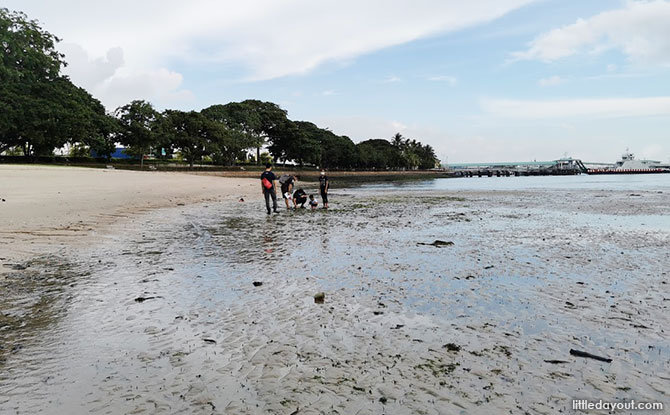 One of the "upsides" of the safe distancing rules is experiencing the walk as a family and the luxury of having one guide facilitating the tour for four of us – with other families or groups spread far apart. After all, it's a fairly large stretch of shore that wouldn't see much crowding anyway.
---
-- Story continues below --
It was so refreshing to spend a balmy morning at a quiet beach, with the wind in our hair and palm trees lining the coast. A dose of nature was timely for all the hours spent indoors thus far.
---
Young Nautilus Educators and Walks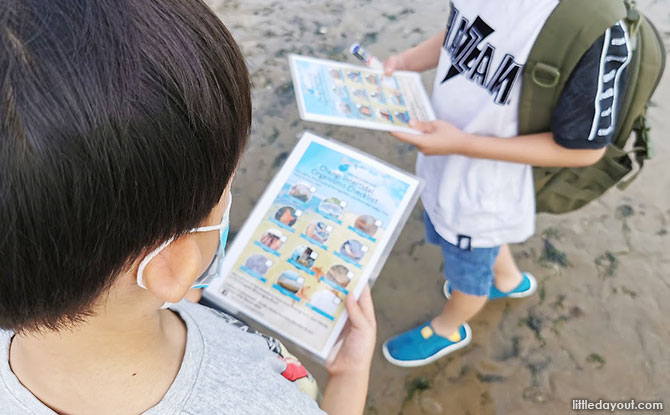 Young Nautilus is known for conducting intertidal walks and nature walks for families with young children. They cover most of the coastline from Changi, Labrador to Chek Jawa and Coney Island.
Aside from walks, they also educate children about conservation and marine creatures in Singapore. We were thrilled to participate in the walk, seeing how participants of past walks have rated Young Nautilus walks highly.
Angie, our guide for the walk, was exuberantly explaining every bit of the shore once we had our temperature taken and hand sanitised. I appreciated how she engaged everyone in pointing out tidbits of the shore and got us observing the tides and sand texture.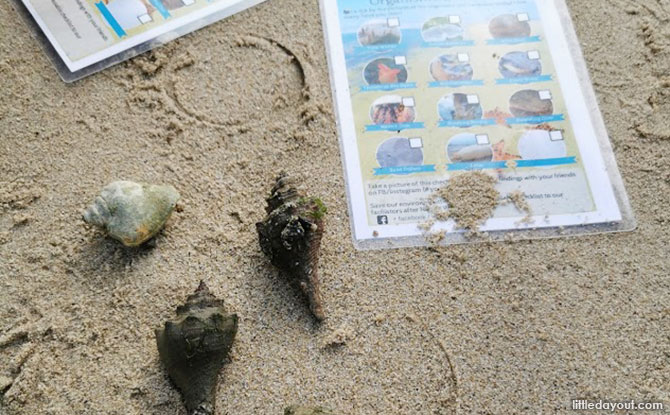 Our boys were given laminated cards and markers to tick off creatures they would spot. I found that really helpful for the children, this also got them actively seeking during the walk.
---
Wildlife at Changi Beach
We liked how the walk was very organised and no time was wasted looking at sea creatures.
The seekers from Young Nautilus were prepared with their various station setups – plastic boxes with sea creatures or specimens for the young ones to examine. To ensure safe distancing, only one group visits one station at a time.
Each shoreline in Singapore is very unique, and the creatures at Changi Beach are quite different from the ones seen at the other areas in Singapore. The biodiversity is an eye-opener, if we opened our eyes a little wider every time we step onto the beach or any natural habitats.
The intertidal zone has much to see as the tide brings in creatures and leaves them in the little puddles or sandy banks and then when it's high tide, the creatures are submerged in the sea.
Angie also talked about why there are low and high tides attributed to the pull of gravity from the moon. She always made sure to ask us what we thought and why before proceeding to explain. This was helpful to encourage inquisitive minds, and also gave the children opportunities to reason.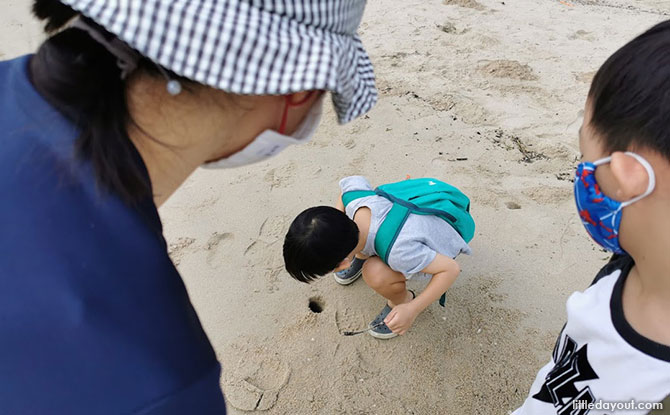 The first thing we saw on the beach was big holes – and the boys had to figure out which creature the holes belonged to. The answer: ghost crabs! And the size of holes also determined the size of the crabs.
Later, Angie also explained how the crabs' claws helped with digging efficiently given their paddle-like structure.
We saw Warty Sea Cucumbers sprawled all over the intertidal zone. These bright yellow and pink creatures sure looked like cousins of Spongebob. When stressed up, sea cucumbers vomit out internal organs for self-protection.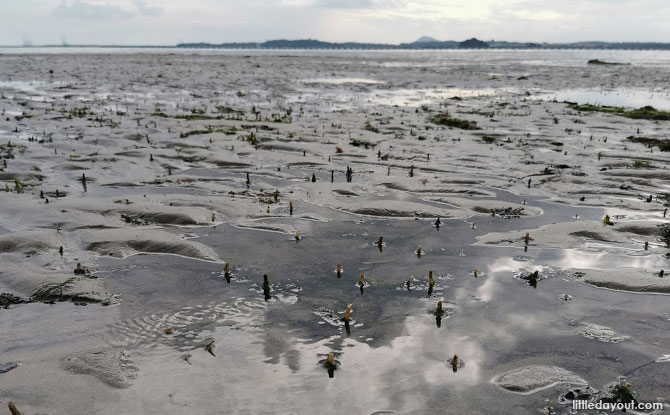 We also saw little sticks all over the shore upright, like a sea of sticks. These were home to Tube Worms which made the tubes out of mucus.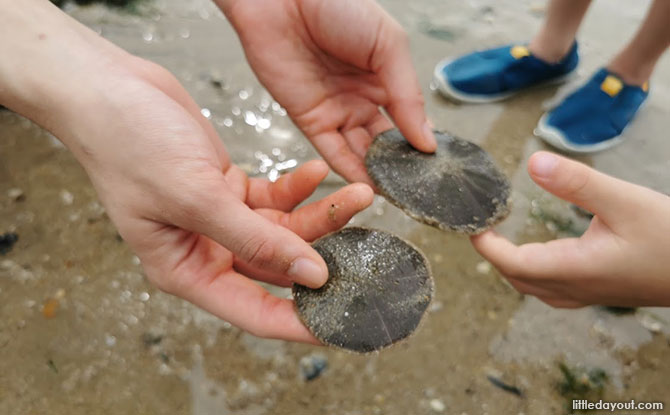 What kind of currency do they use under the sea? Sand Dollars of course. These are actually cousins of the Sea Urchin, without the spikes and they are actually hidden under the sand. They also belong to the family of echinoderms which includes sea stars.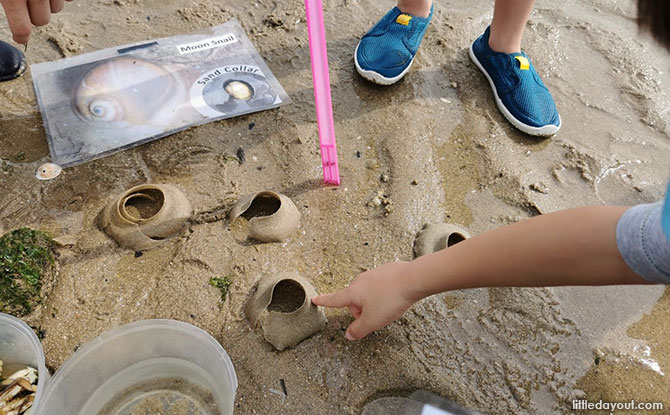 How formal do sea creatures dress? With Sand Collars!
Jokes aside, sea collars are actually made using mucus and sand by the moon snail. The moon snail lays eggs in the sand collar which are amazingly round. We even saw some eggs of sea snails on the shore, that looked a little like tiny grapes.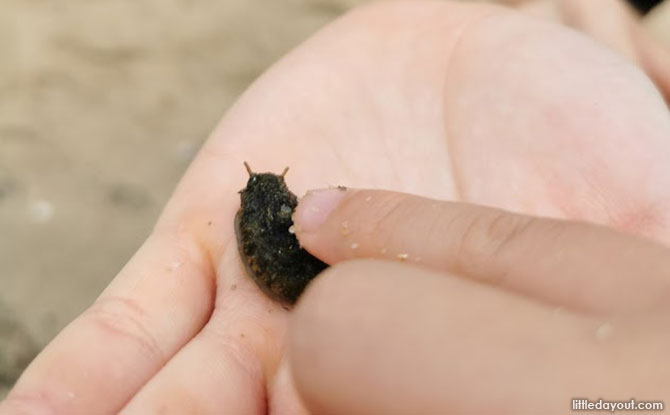 One of our favourites was the Onch Sea Slug. We got to watch the tiny, soft creatures and they even crawled on our palms.
Carcasses on the shore are also very helpful for learning. We could see carcasses of horseshoe crabs, ghost crabs, flower crabs and moon crabs. These were helpful for examining up close without the fear of them biting.
A tarantula-like creature we spotted was actually a Feather Star. What a peculiar looking sea star.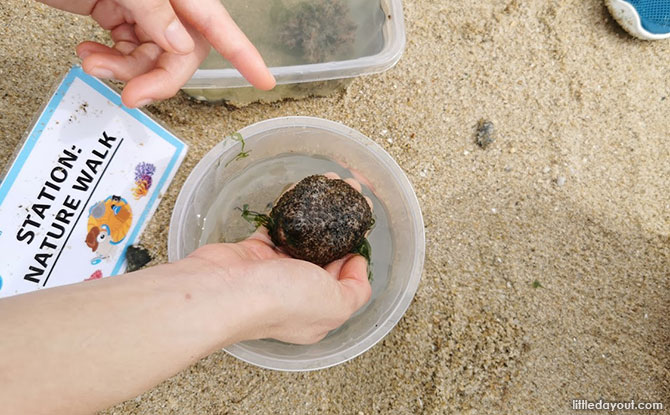 A sea cucumber that is shaped like a ball is a…Ball Sea Cucumber.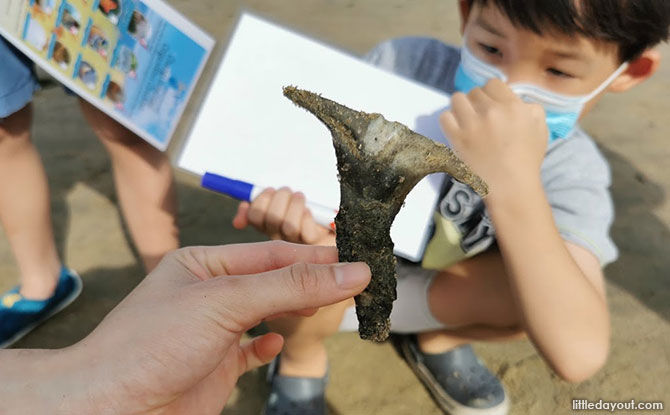 This creature, a hammer-shaped clam was seen in various spots.
---
Intertidal Walk with Young Nautilus
It was so refreshing to be out on an adventure with Young Nautilus. Aside from a dose of nature therapy, everyone learnt so much about our shores and their residents.
It was a well-facilitated session with everyone taking away knowledge and more importantly love for nature and the environment.
For more on Young Nautilus walks, visit their Facebook page for their schedules.