Every year around March and April, and August and September, when there is a heavy downpour, Singapore's trumpet trees bloom with pink flowers. It almost feels as if it is sakura or cherry blossom season in Japan. Falling pastel pink blooms evoke a sense of magic around various parks and gardens in Singapore.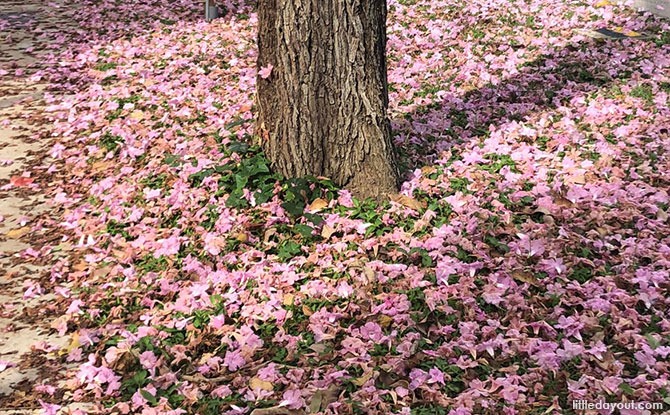 Trumpet trees or Tabebuia Rosea can be found all over the island. The 16 to 30 metre tall trees are valued for the shade they provide but have also been appreciated for their ephemeral blooms. They provide a lovely carpet of pink when their trumpet-shaped flowers fall. So, where can you find the trumpet trees and view the pink flowers in Singapore? Here are a few locations.
---
Where to Find Trumpet Trees & "Sakura Pink Flowers" in Singapore
Ulu Pandan Park Connector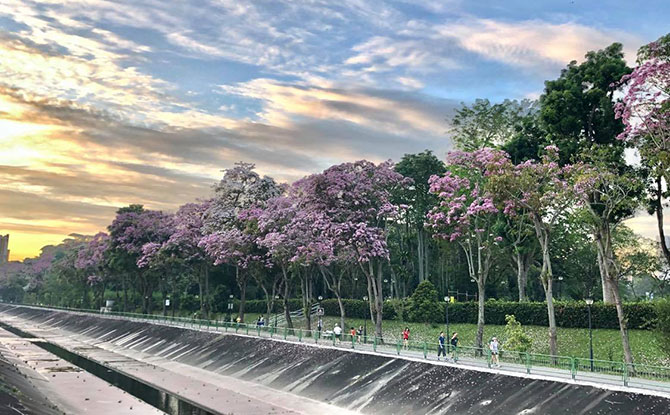 Along the banks of Sungei Pandan, on the fringe of the Dover Forest, there is a picturesque row of trumpet trees. These "cherry blossom" like trees provides a pretty backdrop for any walk or jog.
---
-- Story continues below --
---
Toa Payoh Sensory Park
The Toa Payoh Sensory Park turns into a feast for the eyes when the trumpet trees in the vicinity decide to bloom. Stop by to also enjoy the various exhibits at the neighbourhood park.
---
East Coast Park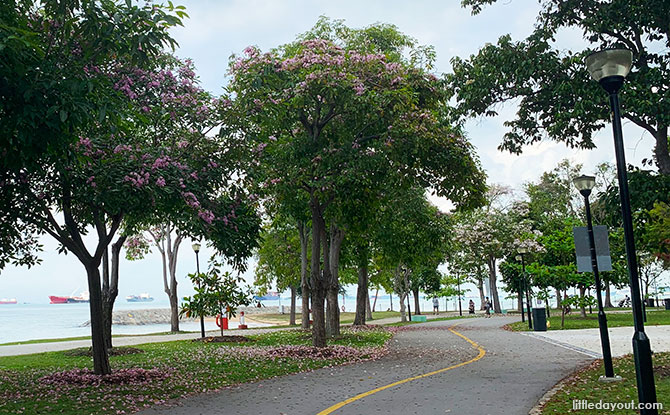 You can spot the pink flowers both along the path close to the beach as well as along the vehicular road at East Coast Park. The flowers complement the bougainvilleas along the expressway too.
---
Toa Payoh Town Park
Also around Toa Payoh, the Town Park is another spot where you can enjoy the beauty of the trumpet flowers. When the fall, they turn into a carpet of pink that provide a shade of ethereal beauty to the park.
---
Japanese Cemetery Park
This park in Hougang has trumpet trees which evoke the feeling of being in Japan. It is a cemetery that houses the ashes of Japanese soldiers and others who lived in Singapore.
---
Woodlands Drive 17
Along Woodlands Drive 17, you can also enjoy the blooms from the trumpet trees in the area.
---
Tampines Street 45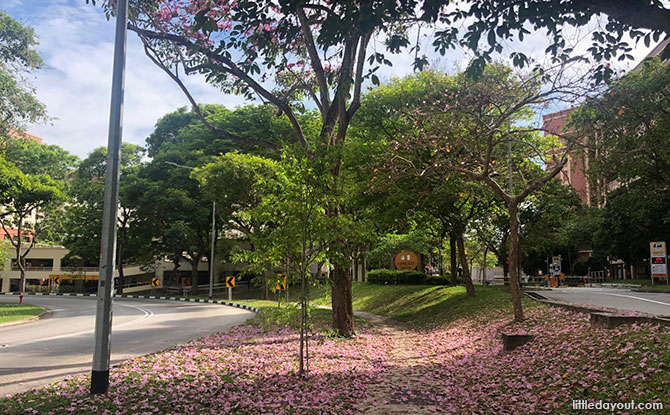 There are a couple of trumpet trees along Tampines at Street 45. When the flowers fall, they provide a magical pink carpet at the neighbourhood.
Other locations around Singapore where you can spot trumpet trees and the pink flowers include Bishan-Ang Mo Kio Park, Pasir Ris Park and Serangoon Park Connector.