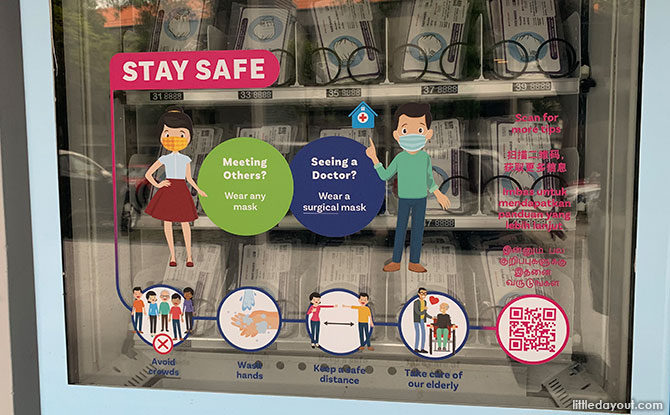 Temasek Foundation will be distributing free reusable masks to Singapore residents. Those who want to know where to collect the free face masks between 21 September to 4 October 2020 can check using a website that shows the vending machine collection points.
From Sunday, 13 September, the public can head over to the StayMasked website to check on the locations of mask vending machines to collect their free masks.
This mask distribution exercise follows on from the previous one that was carried out in June and July this year.
---
Collect Free White Masks From Vending Machines, Including Kid Sizes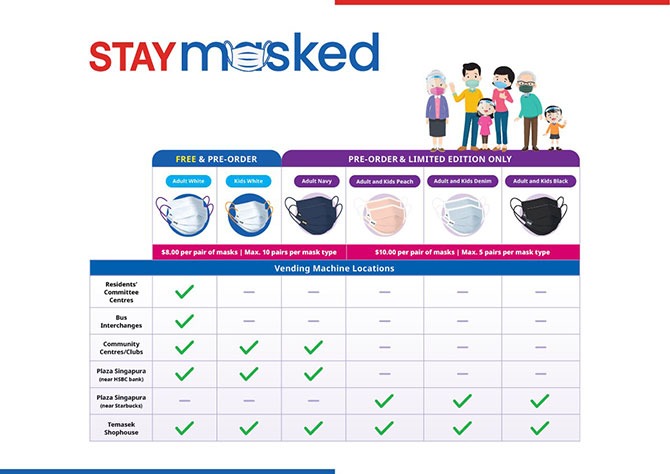 The new reusable masks can be collected over a two-week period, Monday, 21 September, 10 am to Sunday, 4 October 2020, from vending machines around Singapore.
---
-- Story continues below --
Each kit comes with two white-coloured masks.
In order to collect the white masks from the vending machines, the public can scan a valid bar code from government issued identification cards such as an NRIC, school card, birth certificate or work permit. Domestic workers and those on work passes will also be able to collect a set of masks.
Those who are 12 years old and under can choose to collect white, pleated kid-sized masks. A child identification document is required to collect the kid-sized masks.
The Temasek Foundation Mask Vending Machines will be located islandwide at Community Centres, Community Clubs, Residents' Committee Centres, bus interchanges and at Dhoby Ghaut (Plaza Singapura and the Temasek Shophouse).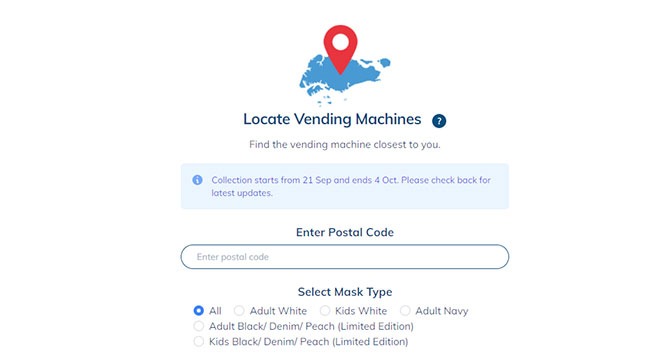 You can also locate the closest one to your location using your postal code here.
---
Pre-order for Additional White Masks
Those who wish to purchase more white masks can pre-order up to 10 additional mask kits online at $8 per kit of two.
There is a maximum limit of 10 extra kits to be pre-ordered per person.
---
Pre-order for Other Colours
Besides white, the masks will be available in other limited edition colours. These include navy, black, peach and light denim blue.
The public can pre-order up to 10 adult-sized navy masks per person at $8 per kit of two. Only adult sizes are available for the navy masks.
The other colours can be pre-ordered at $10 per kit with a maximum of 5 kits per person. These peach, denim and black masks are available in both kids and adult sizes.
---
How to Pre-order
All pre-ordering can be done from Sunday, 13 September till 2 October. Paymnt will need to be made online or via electronic means such as PayNow or credit card.
Once payment has been made, the buyer will receive a QR code which can be used to collect the mask from a mask vending machine.
To find the closest vending machine or to make a preorder, visit the StayMasked website from Sunday, 13 September 2020.
Members of the public who need more information can call a hotline at 1800-738-2000, from 13 September 2020 to 4 October 2020, 9 am to 9 pm daily (except on public holidays).