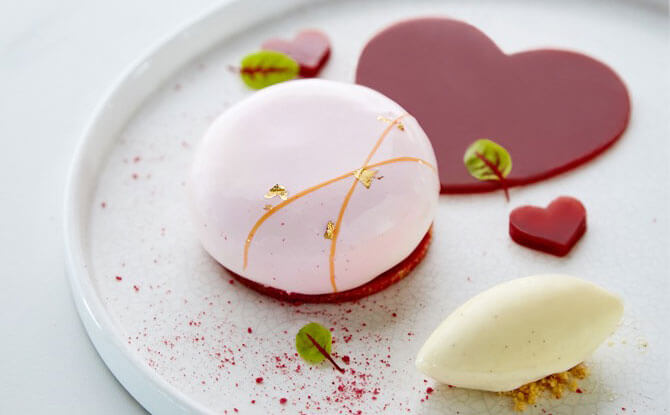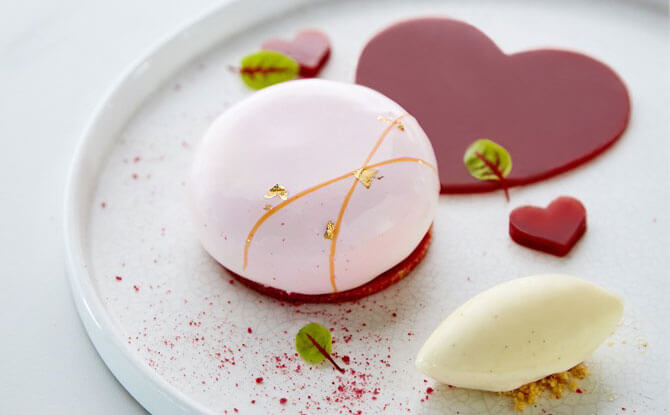 "They say the way to a man's heart is through his stomach. It's the same way with women … or at least the ones I want to be with," said actor Ian Somerhalder. If that quote resonates with you and your significant other, you are probably both foodies. For those who enjoy food or just want to spend some time together for Valentine's Day 2020 in Singapore, we've some suggestions on where you can celebrate to your heart's content.
Valentine's Day 2020 Dining in Singapore
---
For Those Who Like It Fancy
Indulge your date in the elegant surrounds of contemporary French dining establishment, Brasserie Les Saveurs, and be mesmerised by a live performance of romantic ballads. Savour a six-course menu featuring dishes such as Poached Canadian Lobster with Oscietra Caviar, and Sous Vide 200-day Angus Beef Tenderloin as part of its Valentine's Day 2020 dining experience. Read more about Brasserie Les Saveurs.
---
For Those Who Want To Celebrate Till Late
Valentine's Day 2020 falls on a Friday. So, with no work the next day, you can choose to stay out and celebrate till late. If you're looking for a place that stays open past midnight, you can get dinner and drinks at rooftop bars such as Loof where they offer foods such as Loof Original Ramly and drinks such as Kaya Lumpur which is a kaya cocktail. Read more about Loof.
Another place to check out is Neon Pigeon, a modern urban izakaya located at Keong Saik Road. Neon Pigeon has a Valentine's Day 2020 menu consisting of both ala carte and set options exclusive to 14 Feb. Find out more about Neon Pigeon.
---
-- Story continues below --
---
For Those Who Want A Romantic Getaway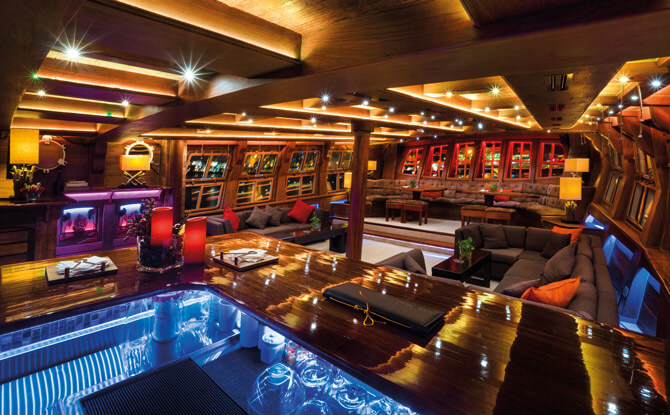 Enjoy fine dining all while cruising along the "Singapore Seas". The popular, annual luxury dinner aboard the Royal Albatross is back with a Special Valentine's Day 3-course dinner menu. Be serenaded by live entertainment to get into the perfect romantic mood as you dine under a canopy of sails, over the horizon of city lights. Read more about the Royal Albatross.
---
For Those Who Want To Bring Along The Little Ones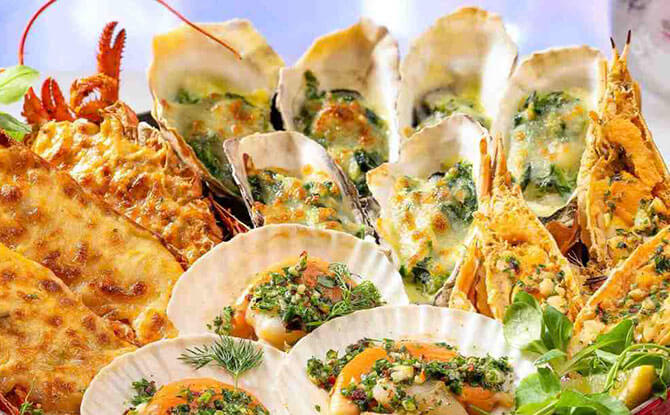 While it is usually a romantic affair for two, let's face it, once the kids come along, they don't have to miss out on all the fun too. Marriott Café's Valentine's Day Buffet Dinner is one option to celebrate the love that comes with family. With more than 70 sumptuous Valentine's Day creations and sweet treats, get ready for a feast with options suchas Lobster Thermidor, Crayfish with Herb Butter, and Crispy Pork Belly. Don't forget to save some space for Mango Eclairs, Pink Champagne Jelly and Salted Caramel Cupcakes – just to name a few of the desserts. Visit the Singapore Marriott Tang Plaza website.
---
For Those Who Need A View For The 'gram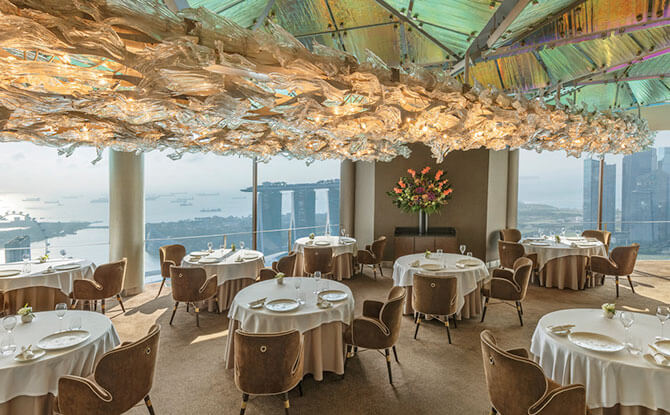 Located at the 70th floor of Swissotel The Stamford hotel, JAAN, a Michelin star winning restaurant, has a stunning city view can be enjoyed together with its exquisite menu. This restaurant is basically a perfectly curated Instagram feed come to life. Book your Valentine's Day dinner here if you and your significant other are looking for dishes inspired by British dining. Visit the Jaan website.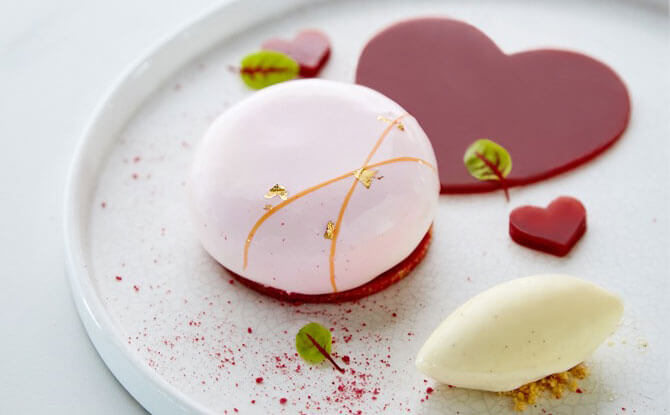 Another iconic rooftop spot to celebrate Valentine's Day 2020 in Singapore is CÉ LA VI at the top of Marina Bay Sands. Watch the sunset and indulge in the extravagant five-course dinner set menu for $198. The Valentine's Day meal starts with Snow Crab Salad and features Kagoshima Wagyu Beef with Uni & Caviar, presented atop crispy rice for added crunch and flavourful aka miso (red miso). End off the meal with Rose Romance, a visually striking dessert pairs an elegant strawberry heart with rose mascarpone mousse and cocoa nibs feuilletine. Alternatively, there is also a lunch menu in either a two-course sets at $48 or a three-course set at $58. Read more about CÉ LA VI.
---
For Those Who Want To Keep It Simple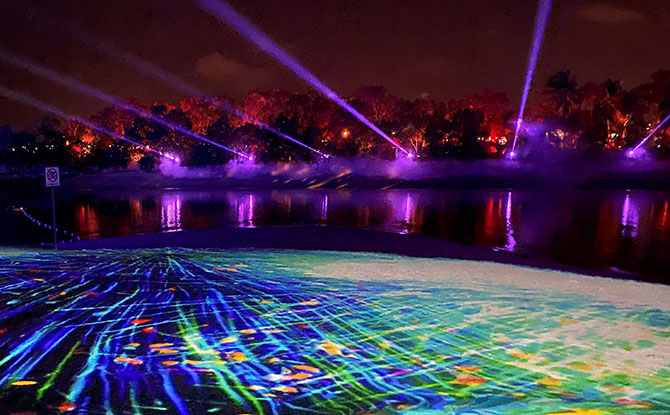 Relive a first date spot, go for a movie or even a picnic. You can also try a fun activity together such as ice skating, a board game café or even baking a cake together. Alternatively, there are also many free things to do in Singapore such as catching a performance at Esplanade or enjoying a light show at the beach.
---
For Those Who Want To Avoid The Crowd
Have a favourite recipe you've always wanted to try? Get some ingredients and learn a new dish in the comfort of your kitchen for Valentine's Day 2020. Who says you need to head out. Be it via a cookbook or watching a 5-minute Youtube video, there are tons of resources to use. Our suggested dish of the day: this chicken nugget bouquet – we'd pick this over flowers any day of the year, including Valentine's Day.