Chawang the Asian elephant was just six when rescued by Malaysian wildlife authorities. Relocated to Singapore in 1983, Chawang is now close to 40 years old. He has lived at the Night Safari since the park's opening in 1994 and has just been crowned the Night Safari's animal icon.
Chawang, Night Safari's New Animal Icon
As Night Safari's new animal icon, Chawang will serve as the ambassador for the Asian elephant species, highlighting the threat faced by these majestic but endangered creatures.
Dr Cheng Wen-Haur, Deputy CEO and Chief Life Sciences Officer, Wildlife Reserves Singapore, said, "Asian elephants are some of the most awe-inspiring animals in this part of the world but their population is declining at an alarming rate. We support many conservation projects to protect this gentle giant but more needs to be done. Chawang has been a popular animal in Night Safari, and with him as our park icon we hope he lends a massive weight to our efforts to draw attention on the plight of Asian elephants in our neighbouring countries, and what can be done to help them."
Among the conservation efforts being undertaken by the Night Safari include a breeding programme. And, as a bull elephant, Chawang has sired five offspring including Neha, the Night Safari's latest elephant calf as part of the programme.
---
-- Story continues below --
Twilight Encounters
To celebrate Chawang's new role as the Night Safari's animal icon, the park has lined up a new programme, Twilight Encounters, for the Fridays and Saturdays between 18 November and 10 December 2016.
Twilight Encounters will see the park dressed up in fairy lights. Visitors can watch a parade of costume animals and catch mascot appearances.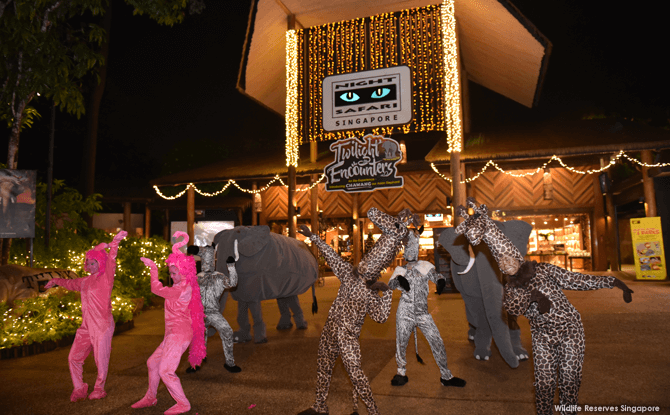 For more information about Twilight Encounters, visit the Night Safari website.