Remember how you were always told not to eat crayons when you were young? Well, this piece of advice does not apply to Chef Janice Wong's latest creation – Trolls Edible Crayons.
A collaboration between Janice Wong and Universal Brand Development ahead of the opening of the new DreamWorks Animation's movie Trolls World Tour in Spring 2020, the Trolls Edible Crayons are exactly what it says on the box – chocolate flavoured crayons.
Crayons With A Chocolatey Bite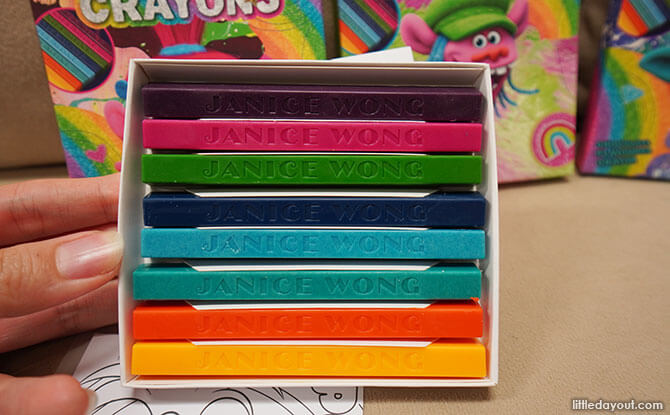 Available in a set of eight, the Trolls-themed colouring crayons come in yellow, orange, turquoise, blue, dark blue, green and pink. If these vibrant colours seem familiar, that's because you've probably seen them in the Trolls movie.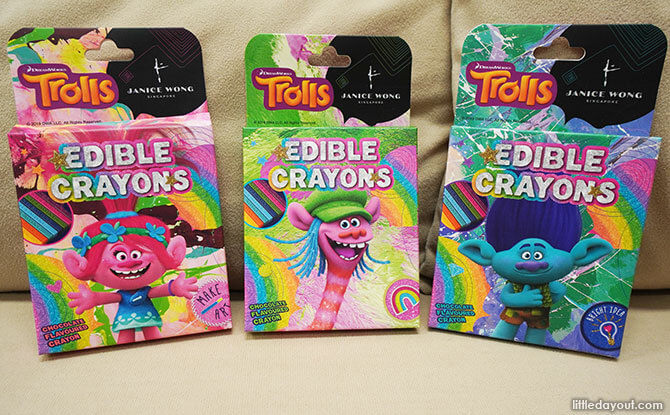 There are three different box designs to choose from. Select from Poppy, Branch or Unity on the front of the edible crayons box.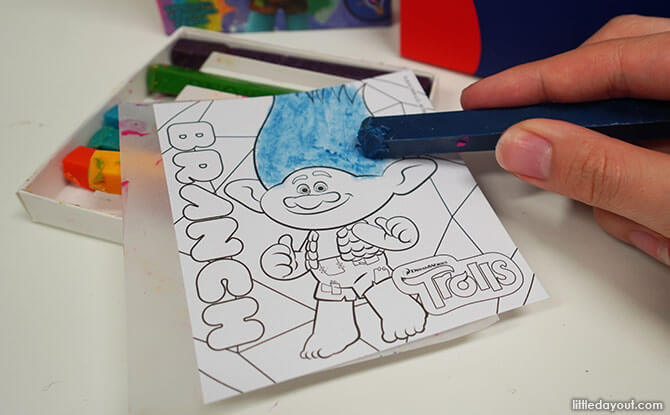 To help you get started colouring, the Janice Wong Trolls Edible Crayons comes with two (inedible) colouring sheets waiting to be shaded.
Trolls Edible Crayons By Janice Wong Singapore
Once you are done with colouring the trolls, you can take a bite of the crayons.
In fact, each of the chocolate crayons are flavoured differently. Yellow is Passionfruit; Orange is Orange; Turquoise is Bubble Gum; Blue is Soda; Dark Blue is Peppermint; Green is Green Mango; Pink is Strawberry and Purple is Grape.
Personally, they all tasted quite similar to us. (Yes, we actually did try them) We also think they worked better as crayons than chocolates (which Janice Wong is brilliant at making).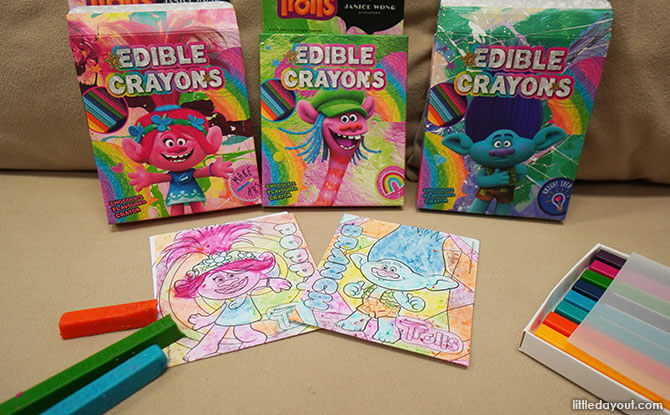 Nonetheless, it does make quite a novel gift to giveaway. At least, parents won't have to keep on reminding their kids not to eat these crayons!
The Trolls Edible Crayons will be available at $18 from all Janice Wong Singapore outlets from 18 December 2019 onwards, including stores at Paragon, Raffles City and Changi Airport Terminal 3 Departure Hall.