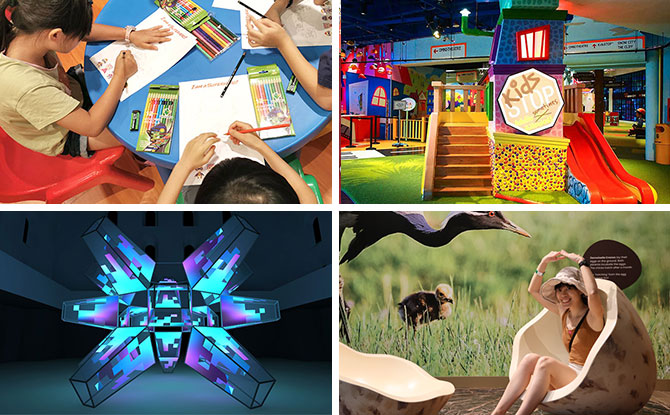 Looking for things to do during June school holidays 2023 in Singapore? There are so many different activities, it is easy to get overwhelmed by the choices of things to do with kids who are on holiday.
If you are trying to figure out what are some of the best things to do with the kids during the June school holidays 2023 in Singapore, we've sorted that out for you. To help you decide what to do, we've rounded up a selection of must-know activities for June holidays 2023 with kids. Take your pick from our short-list below to plan out family time during the school holidays.
---
Must-Know Things To Do for the June Holidays 2023
KidsSTOP™'s 9th Birthday & Tinkerfest
Learn things beyond the textbook this school holidays at KidsSTOP™! Help Win fulfil his dream of flying around the world. Learn how objects fly and build a flight craft that soars through the air. KidsSTOP™ is also celebrating its 9th birthday this June Holidays. At its Birthday Bash, families can make party beverages and ice cream, learn how dry ice works and participate in a series of bot-tastic birthday activities.
Don't miss out on Tinkerfest 2023 either, which takes place throughout the June holidays at Science Centre Singapore. Children can learn through open-ended play, exploration and experimentation with activities designed to connect parents and children.
Get ready to celebrate and have a blast here.
---
Bouncy Fun with Looney Tunes
Bounce into the holidays at Bouncy Fun with Looney Tunes from now to 25 June 2023 at Suntec City. Kids between the ages of 4 to 12 can enjoy three free-to-play mega inflatables featuring beloved Looney Tunes characters from Warner Bros. Studio.
Faster than you can say "What's Up, Doc?", the kids will be burrowing into Bugs Bunny's Underground Rabbit Hole for loads of fun. Slide into Daffy Duck's Pool for a swimmingly good time before bouncing away with everyone's favourite yellow canary at Tweety Bird's Cage!
Suntec+ members can simply present their membership in the Suntec+ App at the event zone to register for a 20-minute fun slot for up to two kids. Exclusive Warner Bros. Studio's 100th anniversary premiums featuring a never-before-seen mashup of Looney Tunes and DC characters will also be available with mall-wide spending.
Find out more about Bouncy Fun with Looney Tunes at Suntec City.
---
i Light Singapore 2023
Have a "lit" night out with the family as Marina Bay lights up for i Light Singapore 2023. This year, i Light Singapore 2023 is curated to the theme of A New Wave and anchored on the colour blue. From 1 to 25 June, festival-goers are invited to reflect on the natural environment by immersing themselves in the creative light art installations and interactive programmes.
Get more details about i Light Singapore.
---
Bird Paradise
Singapore's latest attraction is Bird Paradise and we were awed by the expansive walk-through aviaries where we got to see the birds in a natural setting. Plus, families will enjoy the awesome playgrounds, including a wet playground, at Bird Paradise and the adjacent Mandai Wildlife West.
Before you head down, be sure to read through our useful guides to the park and its playgrounds!
---
Double Bill at National Museum of Singapore: Now Boarding Exhibition & Get Curious! All About Food
Embark on a journey at National Museum of Singapore where a transport-themed exhibition and interactive spaces about food will engage families thoroughly. Now Boarding: Experiencing Singapore through Travel traces the evolution of Singapore's identity as a travel destination. There will also be a Disco Room pop-up experience!
While at National Museum of Singapore with the kids, also pay a visit to "Get Curious! All About Food". This kid-friendly pop-up features five child-friendly spaces with programmes and installations all about Singapore's diverse food offerings.
---
Hopes & Dreams: Children's Season at the Museums
Themed Hopes and Dreams, Children's Season 2023 at the museums around Singapore explores different occupation and inventions in the past and present Singapore. One highlight is an exciting line-up of art workshops hosted by 14 talented artists and art educators who have designed each session to tap on the rich history of the museums. Children can create their own comic artworks with guidance from the professionals.
Get more details about Children's Season 2023.
---
Avengers: Beyond Earth's Mightiest at Jewel
Marvel fans assemble – at Jewel Changi Airport where Avengers: Beyond Earth's Mightiest at Jewel celebrates the universe of the super heroes from 26 May to 13 August 2023. Avengers Assemble @ Shiseido Forest Valley showcases some of the popular Avengers with 3D installations and interactive displays. Avengers Forever @ Canopy Park pays homage to 60 years of Avengers by featuring key milestones of the Avengers from comic books to television, toys and movies.
Get more details about this Marvel-themed event at Jewel Changi Airport.
---
Clean Up, Or Else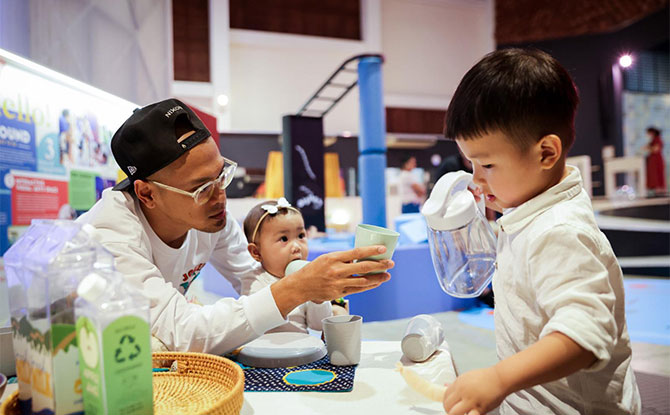 Have some free family fun at The Artground's Clean, Up of Else! Kids can get their hands "dirty" through playing at the toilet bowl slide, swinging across dirty dishes and might even learn to see chores in a new light.
---
ART-ZOO Happy Zoobilee
ART-ZOO goes to the Singapore Zoo for the latter's 50th birthday celebration. Visitors to Singapore Zoo will encounter eight larger-than-life animal inflatables that have been created especially for this edition of ART-ZOO. Children will be able to interact with different play elements and learn about their favourite animals at trail stations along the way.
Find out more about ART-ZOO Happy Zoobilee.
---
Pay a Visit to MacRitchie Reservoir Park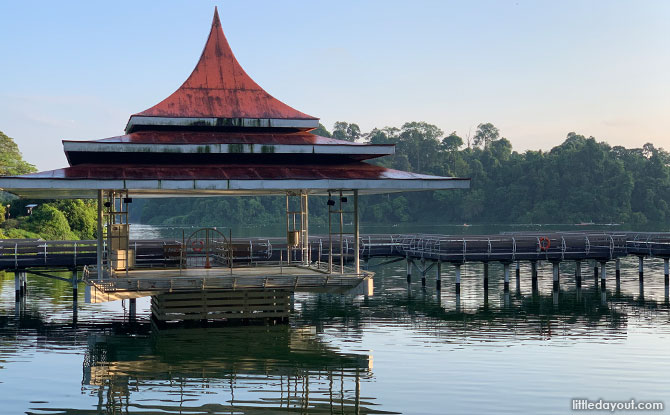 If you are looking to get outdoors over the June school holidays 2023 with kids, we would suggest paying a visit to MacRitchie Reservoir Park. This is not a new park by a long shot. It opened all the way back in 1967.
However, for families that wish to experience the outdoors it has plenty to offer. Besides scenic views from historic structures like the zig-zag bridge, you can also venture along waterside boardwalk or try more challenging treks. Who needs to stick to dry land? Take to the water on a kayak.
Read our guide to MacRitchie Reservoir Park.
---
Enjoy Family Time with Things to Do During the June School Holidays 2023
We hope that these provide you with plenty of ideas of things to do during the June 2023 school holidays in Singapore with the family. For even more fun and exciting ideas, pay a visit to our Amazing List of June Holiday Activities.