Hidden away on the Levels 9 and 10 foyers of the Singapore Cultural Centre is a small exhibition, Through the Eyes of a Child: Art by Quek Hong Shin. This features 14 illustrations that provide a loving glimpse at scenes from by-gone Singapore.
---
SingLit Illustrations on Display
Through the Eyes of a Child is the first solo art exhibition by artist and author Hong Shin. The works on display are lifted from the pages of his children's books.
The SingLit children's books, like The Amazing Sarong, The Incredible Basket, The Brilliant Oil Lamp and The Marvellous Sugee Cake, tell stories about adventures around Singapore and highlight traditions and heritage items from the past.
The illustrations on display at the exhibition feature nostalgic scenes and scenarios, much like another Singapore artist whose work we enjoy, Yip Yew Chong.
Hong Shin's art style is suited to his format – children's books. It features cute-looking characters which would appeal to kids.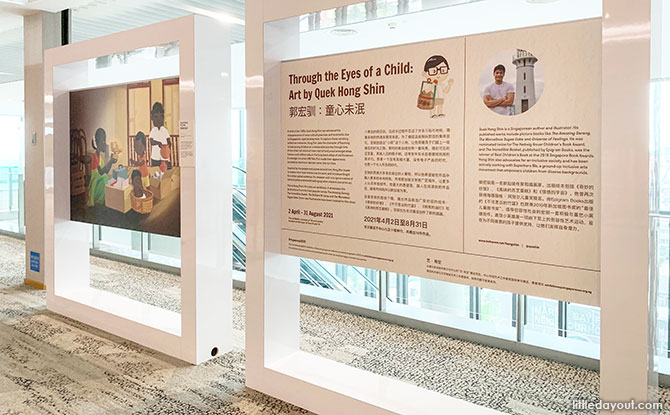 The Through the Eyes of a Child exhibition not only showcases his illustrations but also aims to introduce SingLit to a wider audience. As a write-up at the exhibition puts it, "His deepest wish is to ignite a sense of national price and shared belonging when viewers look at his art."
---
Visiting Through the Eyes of a Child: Art by Quek Hong Shin
Through the Eyes of a Child: Art by Quek Hong Shin is now on till 31 August 2021. Admission is free.
While visiting the Singapore Chinese Cultural Centre, you can also stop by the SINGAPO 人 exhibition on the second floor.