Toa Payoh, Singapore's second oldest satellite town, holds several interesting and unique playgrounds. A trip around the playgrounds of Toa Payoh is a journey to the past and a nod to the future at the same time.
Here is a look at some of the unique playgrounds of Toa Payoh.
Playgrounds of Toa Payoh
---
Toa Payoh Lorong 6 Dragon Playground
The iconic Toa Payoh Dragon Playground can be found at Lorong 6. It bright orange mosaic face and rainbow-coloured body still welcome children who make the climb from its tail to its head. The beloved symbol of Singaporean childhoods gone by was built in the late 1970s and is one of only two full-size dragon playgrounds remaining. Find out more.
---
Toa Payoh Lorong 1 Dragon Tower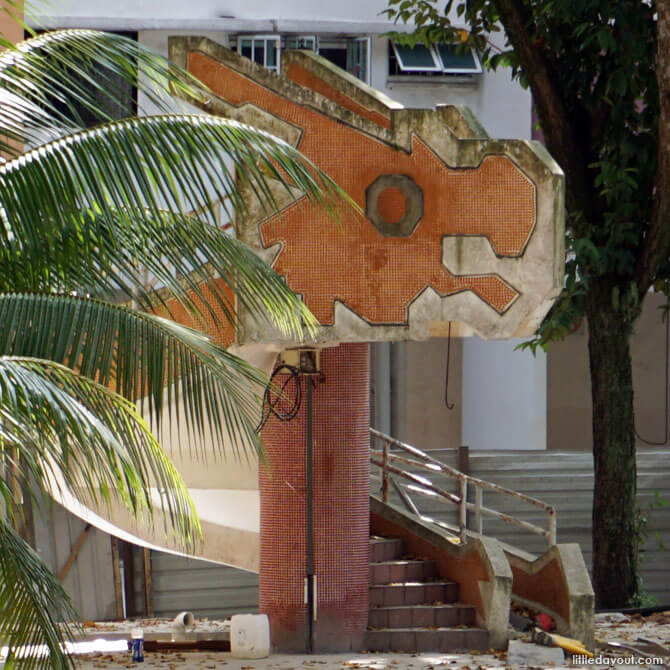 Standing under the shade of tall trees is the Toa Payoh Lorong 1 Dragon Tower playground. This structure incorporates the familiar dragon design into a small and simple play tower. It stands in the midst of a neighbourhood park that is currently being renovated. Find out more.
---
Toa Payoh Lorong 7 Park Animal Playground
Lined up in formation at the Toa Payoh Lorong 7 Park are a set of unique-looking animals. Consisting of a pair of horses, a trio of ducks and two blue anteater-looking like creatures, this animal playground is the only remaining example of these play sculptures that we know of. Kids can still climb on these play structures to imagine they are cowboys galloping around on a horse or sailors sailing away into the sunset on a duck. Find out more.
---
Kim Keat Dinosaurs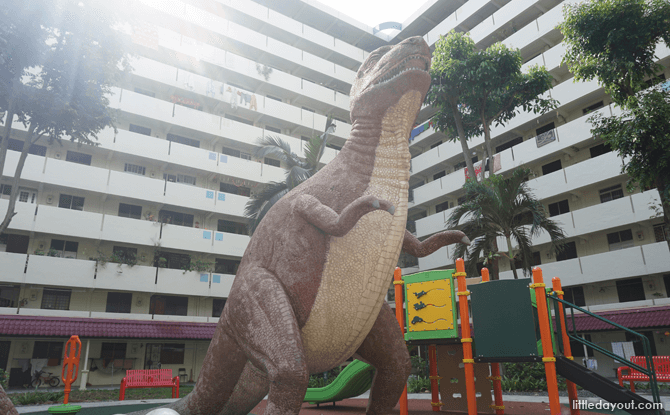 A pair of T-rexes stand in front of the HDB flats at Kim Keat. The larger of the two strikes a menacing pose while the smaller one gazes curiously at a quintet of eggs. Compared to the other playgrounds, the Kim Keat Dinosaurs are a much more recent addition to the playgrounds of Toa Payoh. The dinosaur play sculptures were only installed in 2000. Nonetheless, they still bring a unique character to the Kim Keat neighbourhood. Find out more.
---
Swamp Playground at Toa Payoh Crest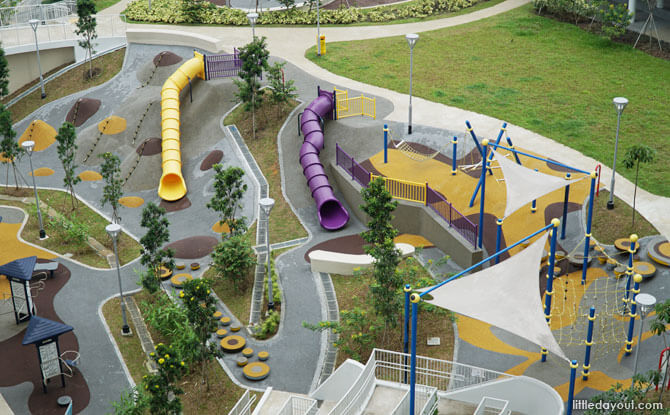 Located at Block 131 Lorong 1 Toa Payoh, the Toa Payoh Crest Playground is the newest addition to the unique playgrounds of Toa Payoh. Completed in 2017, the playground makes use of a slope to create a play area that incorporates climbing ropes and stepping stones. These elements allude back to the time when Toa Payoh was a swampy area (Toa Payoh means big swamp in Hokkien) and recreates the experience of having to traverse through marshy ground. Find out more.