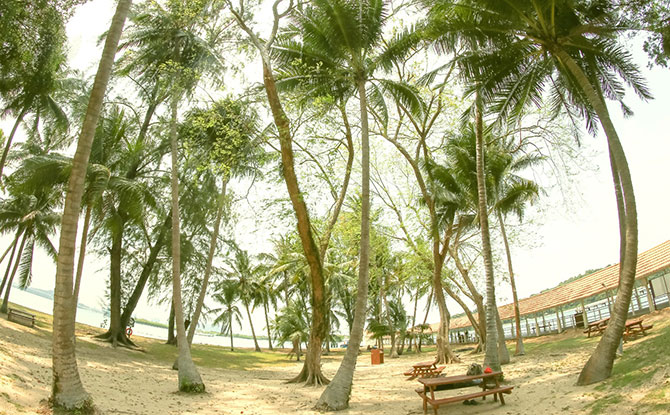 If staying on mainland Singapore is driving you and the kids crazy, many are turning to under-the-radar local destinations for some getaway time. Here's letting you in to one of Singapore's best-kept secret that only the adventurous knows about – island-hopping around the Southern Islands with kids.
---
Sail away to the Southern Islands: St. John's Island / Lazarus Island, Kusu Island & Sisters' Island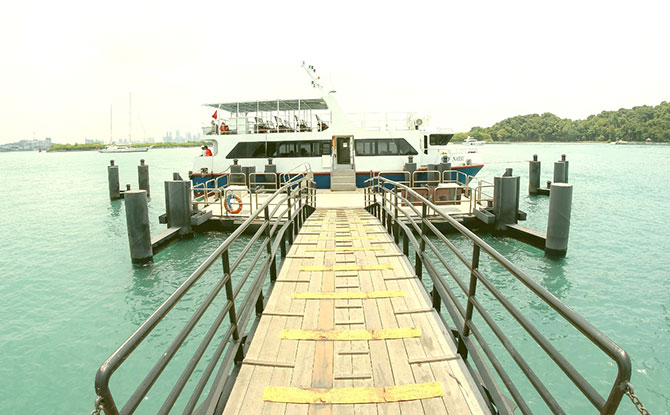 If you live in Singapore, it's hard to imagine such tranquil and idyllic islands existed just a ferry ride away from the dense city. What better way and time to get outdoors with your family for some vitamin sea?
Here's our guide on how to have the perfect time island-hopping around the Southern Islands with kids.
---
-- Story continues below --
How to Get to the Southern Islands
Ferry operators to the Southern Islands are located at Marina South Pier, and we love that there is an MRT station right below which makes going to the islands so much more convenient.
Tickets to the island can be purchased online or from Marina South Ferries ticket booth located near the toilets. Look out for the bright and cheery yellow counter.
From there, just hop onto their public ferry and you are less than 30min away from your adventure!
---
Planning Your Day: Southern Islands With Kids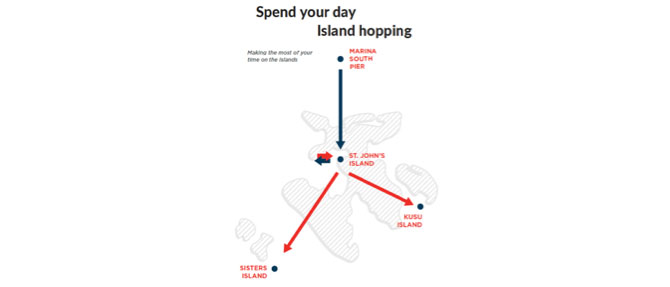 Yes, of course we would love to cover everything all in one day, but let's be real – if you have kids along, chances are two islands is the most you can do before pulling the plug. Our ideal itinerary will include: exploring charming little Kusu Island and feeding the turtles there before heading to St. John Island for a little hike and/or picnic on the beach.
Whether your tot is a nature-lover, history-buff, or a beach-enthusiast, there's a little something for everyone on St. John's Island. Here's a little infographic on the isle. In fact, if you have to pick one island only for your family, we'd recommend St. John (Bonus: Lazarus Island is connected to St. John Island via a linkway).
---
What to Bring to the Southern Islands
With lots of outdoor sun and open spaces, be sure to bring sunscreens and caps for the little one. A good mosquito repellent is also important, along with a change of clothes and some sand toy if you'll be spending time on the beach.
Since there are no shops on the island, be sure to pack LOTS of water and snacks to keep those excited munchkins running around hydrated and happy.
Complete it with a little picnic basket for lunch to make the getaway ever so memorable (Psst our favourite lunch spots include the benches around Kusu Island, in the middle of the casuarina trees of St. John, or right along the pristine waters of Lazarus lagoon).
---
What to do at…
Kusu Island
• Visit historic sacred sites of the Chinese Da Bo Gong temple and make a wish at the well
• Climb up 152 steps to pray at the three Malay keramats
• Feed or watch the tortoises
• Swim at the beaches
• Have a picnic on the lagoons or any of the benches around
St. John's/Lazarus Island
• Embarked on a nature trail using the DIY guide developed by NParks
• Uncover its dark history and visit the sites of ex-quarantine centres
• Learn all about our marine biodiversity on Sisters' Island Marine Park at the Marine Park Outreach and Education Centre's Public Gallery
• Swim in the pristine waters of Lazarus Island and take pictures of its famed lagoon
• Picnic and sand play on the beach
And there you have it, a quick little guide to the Southern Islands with kids!
This feature is brought to you by Marina South Ferries.
First published in July 2020