Tucked away in a hilly corner of the city is Mount Emily Park. Even though it is located next to the Istana and Little India, most people would rarely come across the park as it is hidden away from view at Upper Wilkie Road.
---
Hills in the City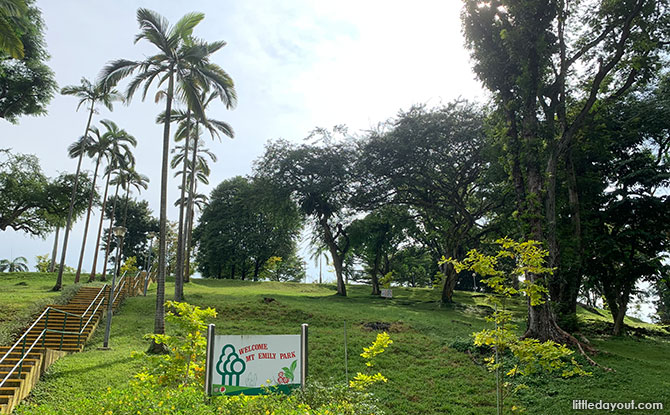 Far less well known than Fort Canning Hill, Mount Emily, along with Mount Sophia and Ang Siang Hill, is one of several low hills found in town. However, being close to the original settlement set up by the British, Mount Emily has been documented since the 1820s.
The hill was shown on a map from 1822 as Bukit Rawa or Bukit Cawah. Adjacent Mount Sophia was then-known as Bukit Selegie.
The TLDR is that today's Mount Emily was first occupied by William Farquhar. It then became part of Charles Robert Prinsep's plantation grew nutmeg and helped to give Orchard Road its name. Together with Mount Sophia and Mount Emily, there was a third "Mount", Mount Caroline, which is now part of the Istana grounds and where the Istana building sits.
There is a lot of speculation of how the three hills got their names. It is generally thought that Mount Sophia is named after Raffles' second wife Sophia Hull. However, another theory that comes up is that the hills are named after Prinsep's sisters who were named Sophia, Caroline and Amelia (nicknamed Emily).
---
Mount Emily Park: Home to Singapore's First Public Pool
Another interesting bit of trivia is that Mount Emily was the site of Singapore's first public swimming pool. It opened in 1931 and was converted from a service reservoir that was constructed in 1878 after the service reservoir was no longer needed when the larger Fort Canning reservoir opened in 1929.
The swimming pool was closed in 1981, demolished and turned into an extension of Mount Emily Park.
---
Mature Trees & Lush Greenery
Present day's Mount Emily Park is a green recreational space with plenty of mature trees. It consists of multiple tiers and can access from both Upper Wilkie Road and Mount Emily Road (which is connected to Niven Road).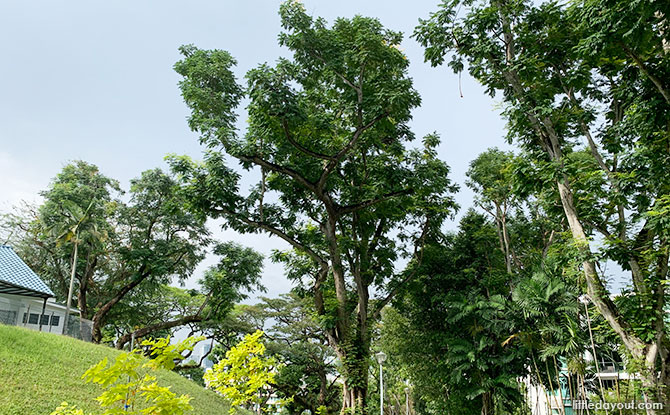 Among these mature trees is a Yellow Flame heritage tree which is estimated to be more than 70 years old.
Around Mount Emily Park, you can also spot some former mansions, a reminder that the wealthy stayed in this neighbourhood.
Kids and families will be happy to find a little playground at Mount Emily Park. Previously, back in 2012 when we visited the Mount Emily Park playground, there were still old-style wooden see-saws at the park.
The Mount Emily Park playground now consists of a sandpit with a simply play structure and some swings.
For those visiting the park who get hungry, get a taste of nostalgia at the Old Chang Kee eatery, located down the hill along Niven Road – where the now-ubiquitous curry puffs used to be sold at a corner of a coffee shop.