The Singapore Night Festival 2018 will light up the Bras Basah.Bugis Precinct with interactive light installations from 17 to 25 August and the buzz of street performances by local and international artists from 23 to 25 August.
What's New At Singapore Night Festival 2018
Now into its 11th edition, this year's Singapore Night Festival showcases the work of individuals who are normally outside the arts sector. Unique works that have been created for the Night Festival include a collaboration between jazz dance troupe EV dance and engineering firm Hope Technik which combines dance with technology. Accountant turned visual artist Teng Kai Wei will also be exhibiting a work, The Leap of Faith, that parallels his journey from the office to the world of art.
Here is more of what you can expect to see at Singapore Night Festival 2018 – from illuminating light sculptures of Night Lights to the dazzling performances.
Night Lights – What To See
Light installations will be on display at the Bras Basah.Bugis Precinct as part of the Singapore Night Festival 2018. From 17 to 25 August, these illuminated works will be lit up from 7.30 pm to midnight.
---
-- Story continues below --
Do take note that these light installations are quite spread out and festival-goers can expect to do a fair bit of walking to view them.
---
Aquatic Dream
Explore a world of wonder as National Museum's lawn gets transformed into a forest below the sea. The installation which will take you under the ocean and surround you with sea creatures.
Where: National Museum of Singapore Lawn
---
A Thousand Skies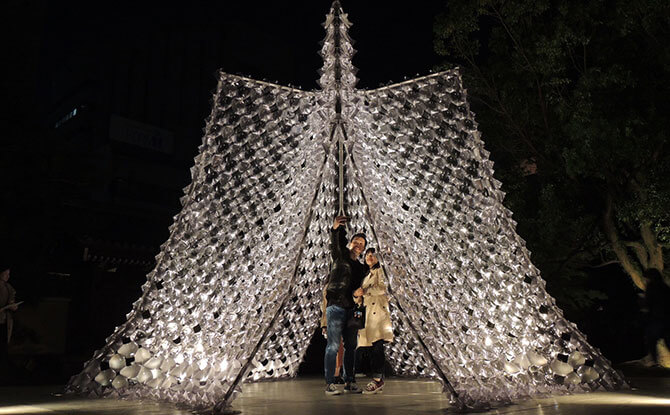 Step inside a nomadic pavilion where the audience is as much a part of the artwork. The creation of Suzann Victor, A Thousand Skies challenges the audience to see the surrounding environment differently through transparent lenses.
Where: Raffles City
---
Before The Word
The luminous mound of letters symbolises different human cultures coming together. The work focuses on the philosophical concepts of language and questions how people can be united through words. Festival-goers can interact with it via a panel.
Where: CHIJMES
---
Ember Rain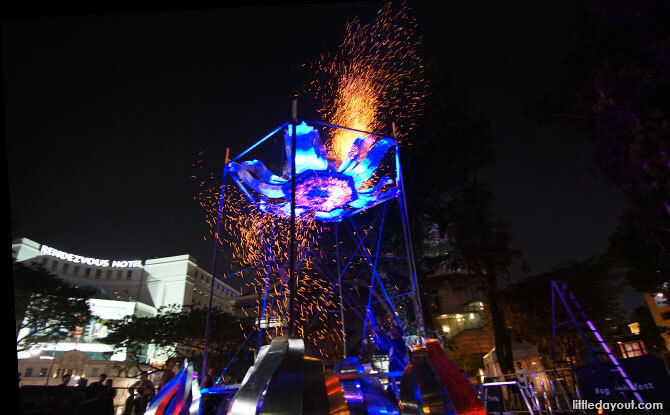 Pedal on a bicycle to create a downpour of sparks at Ember Rain. The work of Singapore multi-disciplinary group Starlight Academy, this fire sculpture draws inspiration for its shape from a pagoda with the sparks representing ideas and ideation.
Where: Cathay Green
---
Graffiti Alive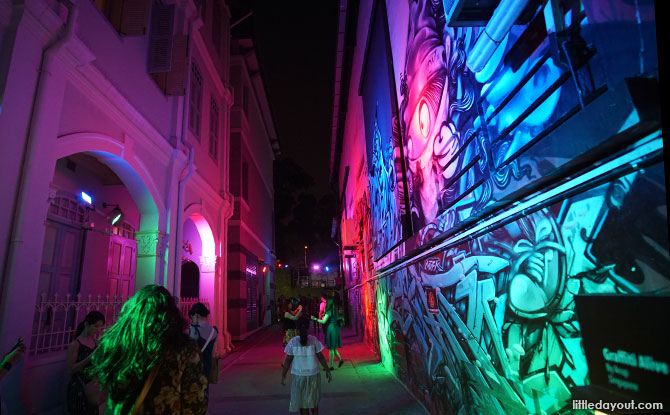 Step into an alleyway at Armenian Street and view the street art lit up under the control of motion sensors and spotlights.
Where: Alley of Armenian Street
---
Hyperbands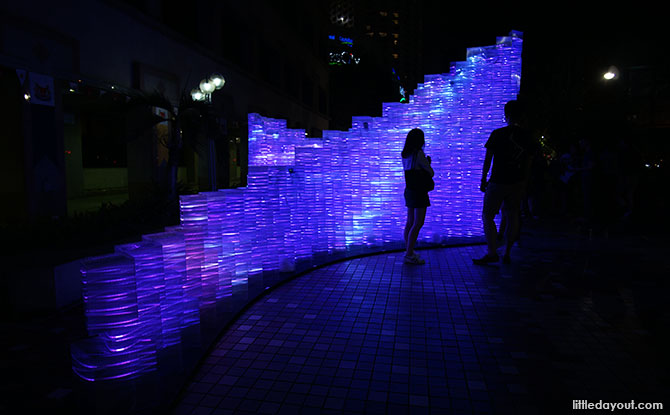 Hyperbands is a work that uses light to reflect the energy of the city by applying adaptive sensing technology. This allows the lights to react to the presence of people.
Where: LTA Walkway next to SMRT HQ
---
Splendour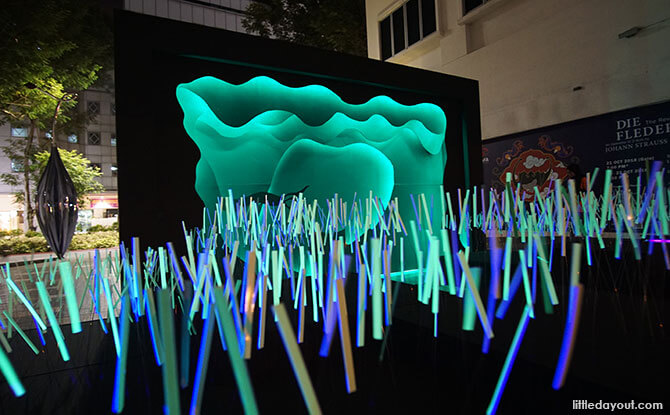 UV-painted strips create an ethereal landscape that aims to illustrate the beauty of light in contrast to darkness.
Where: NAFA Campus 1
---
Odyssey
The Singapore Art Museum façade turns into a canvas for an immersive light projection show that will take festival-goers on a trip from the cosmos to the atomic scale.
Where: Singapore Art Museum Façade
---
Orbit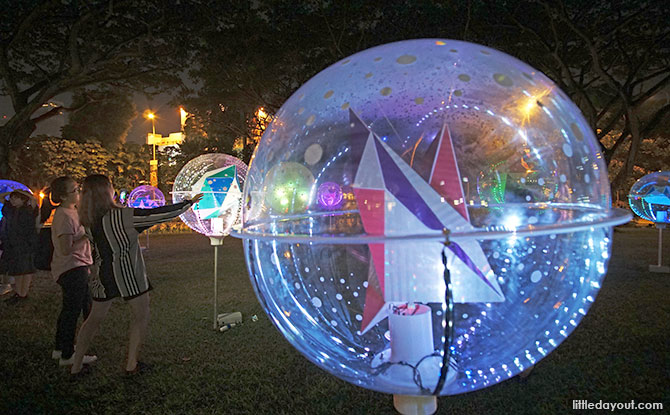 Inspired by the solar system and space, Orbit by LiteWerkz X 3M is an immersive experience where festival-goers can spin the "planets" to light them up and create different light patterns.
Where: Dhoby Ghaut Green
---
Pulse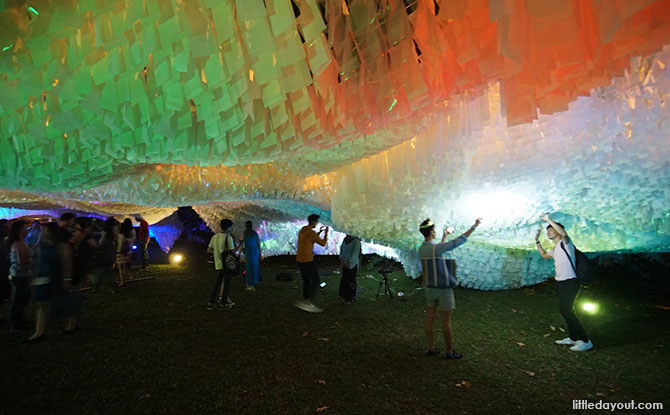 Interact with colourful visualisations which respond to sound and voice in a tactile installation within the Armenian Church grounds. The installation is intended to reflect the influence of digital technology on today's society.
Where: Armenian Church
---
The Leap of Faith
A parallel to artist Teng Kai Wei's personal journey from being an accountant to a full-time artist, The Leap of Faith is representative of the need to venture forward even when the way isn't clear.
Where: Handy Road Open Space
---
The Search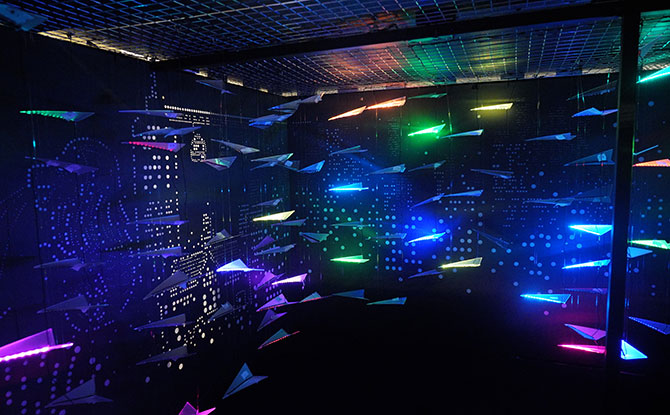 This visual and aural work represents the journey of self-discovery which everyone embarks on and the beauty that comes from experiences gained.
Where: National Design Centre, Design Gallery 1
---
World of Wearable Art
View the eight finalist garments from the World of Wearable Art, an international design competition which attracts scores of entries each year.
Where: National Design Centre, Atrium
---
Singapore Night Festival 2018 Performances
Performances will be held on the second weekend of Singapore Night Festival 2018, 23 to 25 August.
One of the highlights of this year's performances is Automatarium, an interactive installation inspired by turn of the last century automatons.
Also, be on the look out for larger-than-life horses as FierS à Cheval (or Proud Horses) gallops its way around the festival grounds.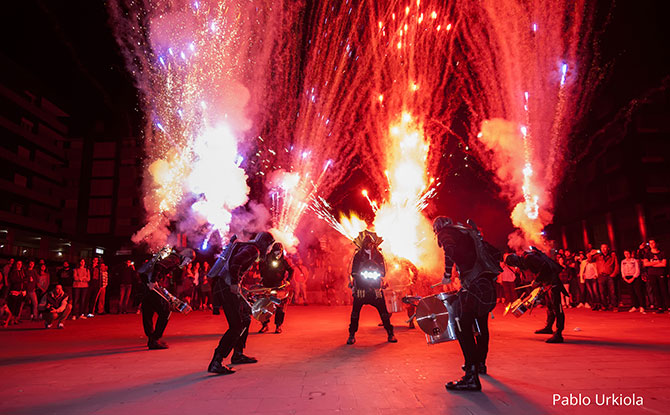 Su á Feu combines urban dance with fire and rhythm to create a magical fiesta of beats and light.
The Lords of Lightning will be staging an electrifying duel in a performance inspired by Nikola Tesla.
SNF 2018 at The Peranakan Museum
The Peranakan Museum at Armenian Street will also be open till late on 17, 18, 24 and 25 August as part of the Singapore Night Festival 2018. Inside the museum, activities such as performances, workshops and other family-friendly activities will be held from 7 pm till 11 pm.
At the museum, festival-goers can explore a surreal Peranakan garden, help to paint a glow-in-the-dark mural, personalise 3D mini cameras with Peranakan motifs and make a pinhole camera from everyday objects.
For more details on the various performances, installations and events taking place during the Singapore Night Festival 2018, visit the festival website here.