This Chinese New Year, Sunday Catering is bringing back the classic dishes that will be welcomed at any reunion dinner. Customers can enjoy festive specials such as a traditional 8 Treasure Glutinous Rice with Abalone and Chestnut Siu Yuk. Here's our review of these two dishes.
---
Sunday Catering Chinese New Year Dishes
8 Treasure Glutinous Rice with Abalone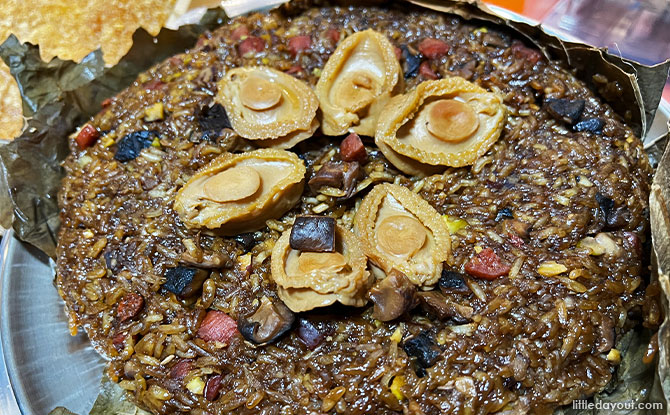 Featuring savoury and sticky steamed glutinous rice, this 8 Treasure Glutinous Rice with Abalone is filled with a generous amount of ingredients such as chestnuts, wolfberries, ginkgo nuts, pistachio nuts, red dates, dried mushrooms and lap cheong. This hearty dish is topped with abalone to symbolise abundance for the year ahead. One portion feeds six to eight people. We really loved how fragrant the rice was and how there was an ample amount of ingredients in each bite. The rice was just the right texture making seconds an easy decision.
---
-- Story continues below --
Chestnut Siu Yuk
Siu yuk, or Chinese-style roasted pork, is a crowds favourite at most CNY feasts. Made with succulent meat scented with five-spice and a two-step roasting process to get the meat a touch more tender than regular siu yuk, enjoy the satisfying sound and taste of golden crackling skin. Sunday Catering's recipe uses a Chestnut-fed pork belly and the dish is best accompanied with some 8 Treasure Dipping Sauce.
We thoroughly enjoyed this dish for how tender the meat was and how crunchy yet light the pork cracking was. Even though some of us were not huge fans of pork, this dish was enjoyed by everyone. The 8 Treasure Dipping Sauce was also a hit with spice lovers and it was a mix of sweet, savoury with a hint of heat. We definitely recommend this dish to be considered for any festive celebration.
Diners can also opt for Sunday Catering's 8 Treasure Roast Pork Belly for the best of both worlds.
---
Sunday Catering Festive Discount Code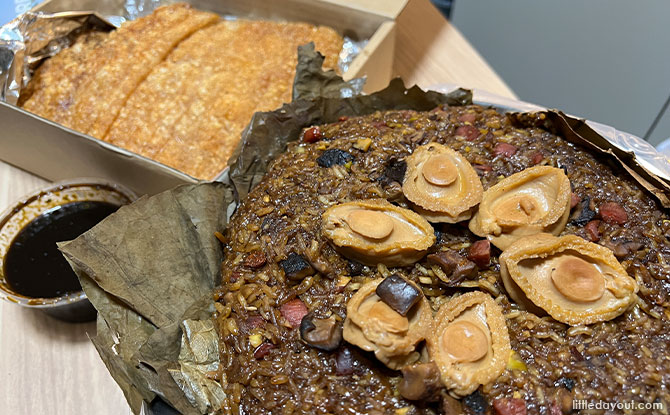 From now till 23 January, Sunday Catering is giving Little Day Out readers a 10% discount for all orders with the code "LDCNY2022". See Sunday Catering's website here.