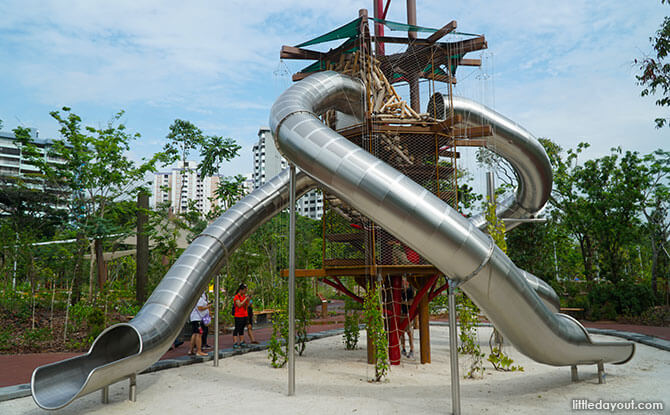 Play is not only the work of a child but a great way for families to bond as well. And where better for kids to play in Singapore than at a playground. This year, 2019, we were excited by the many new playgrounds which have opened in Singapore. Here are six of our most memorable and stand-out playgrounds of 2019 (in no particular order).
Our Favourite Playgrounds of 2019
---
1. HortPark's Nature Playgarden
Tucked away in a quiet corner of HortPark, the Nature Playgarden signals a return to nature. There are nine play zones for young children, designed with much thought after consultations with parents, the Early Childhood Development Agency and preschools.
Wooden teepees, bamboo dens and a "stream" are some of the features at HortPark's Nature Playgarden. This playground signals a trend towards more nature-based, biophilic playgrounds in Singapore.
---
-- Story continues below --
Where: 33 Hyderabad Rd, Singapore 119578
---
2. Jubilee Park
Yay! There is a new playground in town! Jubilee Park is one of the nine new gardens that opened at Fort Canning Park earlier this year.
Located along the slopes of Fort Canning Hill which faces Liang Court, this new playground is conveniently reached from Fort Canning MRT station. It has a play feature made from logs, a trampoline and swings too!
Where: At the corner of Clemenceau Avenue and River Valley Road. There is a car park available off Clemenceau Avenue.
---
3. Forest Ramble, Jurong Lake Gardens
It is impossible to put together a list of our favourite playgrounds of 2019 without mentioning Forest Ramble at Lakeside Garden, Jurong Lake Gardens. There are 13 different adventure stations for kids to enjoy at this sprawling playground.
Each of these play stations have been inspired by the movement of an animal found in a freshwater swamp. Slither down to the ground from the snake tower, bounce about like a frog or pretend to be an otter scrambling about. There is so much to explore.
Where: Yuan Ching Road. The closest car park to Forest Ramble is the North car park.
---
4. Canopy Park, Jewel Changi Airport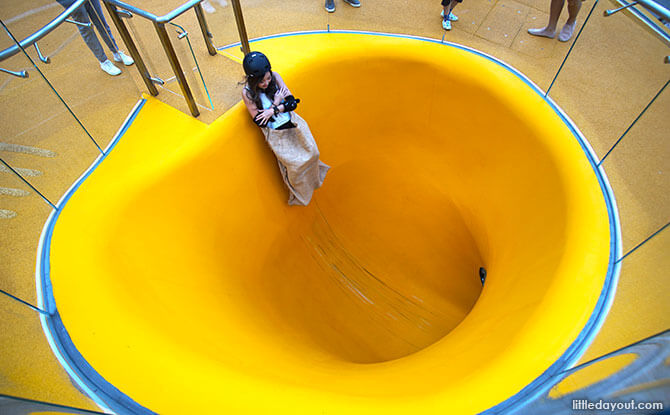 Canopy Park at Jewel Changi Airport opened with much fanfare in June. It brings some otherwise-found-outdoor activities indoor under the distinctive domed roof of Jewel Changi Airport. Included with general admission are the part-playground-part-sculpture Discovery Slides, atmospheric Foggy Bowls, Petal Garden and Topiary Walk.
Additional charges apply to the other play attractions, specifically the Canopy Bridge, Hedge Maze, Mirror Maze and Bouncing and Walking Sky Nets. Personally, we find that ticket prices can be a little bit pricy once you start adding everything up. If you had to choose, we would recommend spending the extra dough on the Manulife Sky Nets – Bouncing.
Where: Level 5, 78 Airport Boulevard. Singapore 819666
---
5. NERF Action Xperience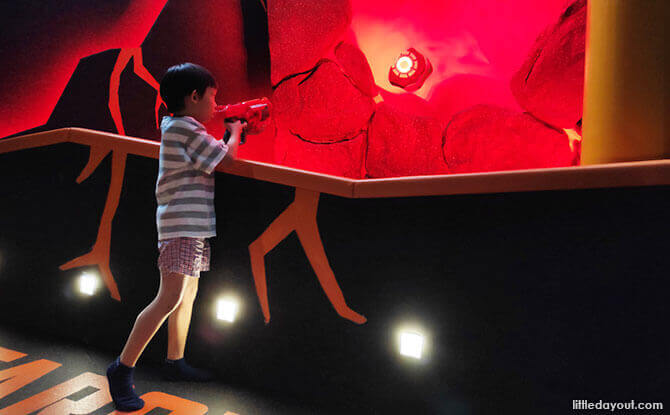 Play and NERF guns come together at NERF Action Xperience at Marina Square. The world's first action arena where you can blast away with your buddies has four activity areas. "Compete" in taking out the baddies at Zombie City and Camp Dune, and "Conquer" a volcano and glacier before making your way to the summit at the indoor rope course.
There is also a NERF-themed "Challenge" play area for younger kids and zone for kids to "Create" with NERF guns too.
Where: 6 Raffles Blvd, #01-208 Marina Square, Singapore 039594
---
6. Bouncy Paradise
Singapore's largest bouncy playground first opened as a pop-up earlier this year but it is now a permanent fixture at the PeopleUp Enrichment Hub at Pandan Gardens. For $15, you get unlimited playtime at the huge, fully air-conditioned bouncy play space which includes a Mega Unicorn Rainbow Slide, Minesweeper and a Giant Interactive Ball Pit. And, in December 2019, entry is ONLY $12 for unlimited play. What's there not to love?
Where: 200 Pandan Gardens, PeopleUp Enrichment Hub