Many children in Singapore learn swimming. But not many get to have their lessons at a nice shopping mall, in the comfort of a heated pool. At OtterSwim, a swim school located at Wisteria Mall in Yishun, students can do just that!
On a recent visit to OtterSwim, we learnt all about its facilities and programmes – which are excellent. But what struck us most was its passion to impart more than skills and techniques. The school makes a conscious effort to inculcate values and build character through initiatives such as an in-house Olympics, an annual charity event and a coach appreciation exercise.
A few units away, Taekwondo school Grand Taekwondonomics has the same mindset, ensuring that students not only learn martial art moves, but also internalise the Taekwondo tenets of courtesy, integrity, perseverance, self-control and indomitable spirit.
We had a chat with OtterSwim's General Manager and Grand Taekwondonomics' Principal to find out more about these schools.
---
-- Story continues below --
---
OtterSwim – Where Indoor Swim Classes are Filled with Fun and Purpose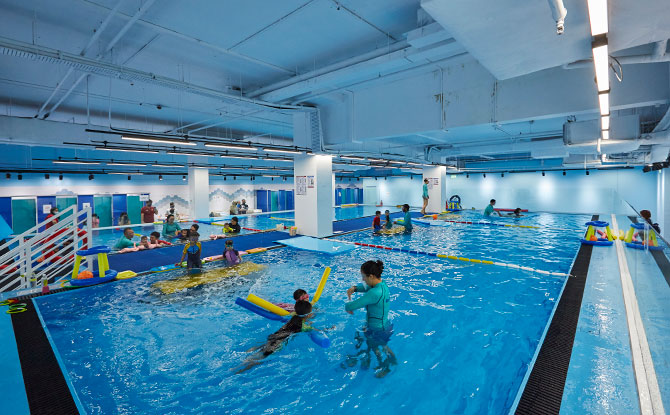 Located at the basement of Wisteria Mall, with three heated pools spread across two units, OtterSwim provides all-weather swimming lessons to children from 3 months up.
When we arrived at the premises in the earlier part of the morning, before classes started for the day, the pools were covered with large foam sheets. General Manager Wendy Peck explained that it was to keep the temperature of the water at around 32oC, so that little ones can learn swimming in comfort.
After lessons, kids can conveniently pop into any of the cubicles flanking one of the pools for nice warm showers before heading home.
---
Small Classes for Big Impact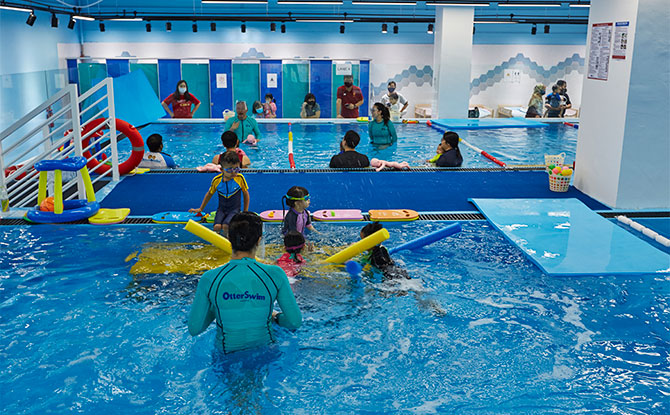 To ensure that students get the most out of their lessons, OtterSwim keeps its class sizes small – to a maximum of only four kids per class!
"Students will definitely benefit in the sense that they learn faster. They will be able to catch the swimming style better because of the attention (given) to them," Wendy said.
---
Well-Qualified Coaches Who Teach with Patience and Care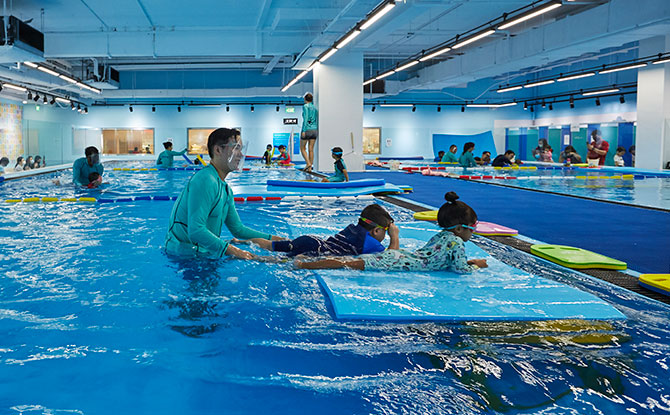 It also helps that OtterSwim has 14 coaches possessing accreditations from AUSTSWIM, Australian Swimming Coaches and Teachers Association (ASCTA), American Swimming Coaches Association (ASCA) and Singapore's National Registry of Coaches (NROC). These coaches are not only highly qualified, but also very passionate in helping their students attain their full potential.
Wendy shared the success story of WenLe, who was 4 years old when he first attended OtterSwim's classes.
WenLe had a phobia of being in the water and would not let go of his instructor, Coach Darren, during lessons. Undaunted, the latter patiently built up WenLe's water confidence and today, the boy is beginning to learn freestyle!
---
Holistic Development with a Fun-filled Programme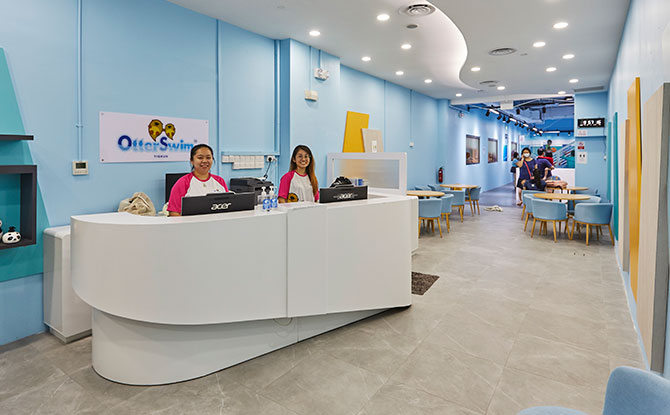 Believing that students should be developed holistically, OtterSwim has created a programme that not only focuses on skill development, but also cultivates good values.
Each term in the swimming calendar takes on a seasonal theme. Term 1 is about expressing gratitude and students are encouraged to show their appreciation to their coaches through a video or photo. Term 2 is about building confidence and trust. Kids learn this in a fun way by challenging a water obstacle course – with the support of their coaches – on the last lesson of the term.
Sportsmanship is the theme for Term 3, with children taking part in the school's Otterlympics while in Term 4, children get the chance to show care for others by helping to raise funds for charities.
Anchoring on these themes has bound everyone at OtterSwim together like a family.
---
Grand Taekwondonomics – An Established Name in the Taekwondo Arena
Grand Taekwondonomics has been with Wisteria Mall since day one. With an experienced management and coaching team, the school has won numerous awards over the years.
---
Champion Coaches Who Teach with Heart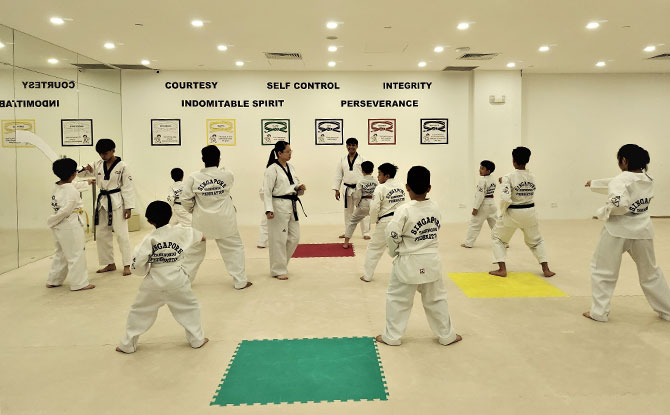 Not only has the school received much recognition, its coaches have also won a myriad of medals at prestigious international and national competitions.
Coach Huan Hui, a third DAN black belt, for instance, has recently won a gold medal in the USA. She works alongside Executive Coach Timothy, a third DAN black belt with more than 20 years' experience, who has multiple medals to his name.
Beyond their prowess as Taekwondo practitioners, the coaches at Grand Taekwondonomics are dedicated to their roles as teachers and mentors, finding the balance between making classes fun and instilling discipline to ensure students' progress and development.
---
Small Classes, Rapport with Parents and Meaningful Events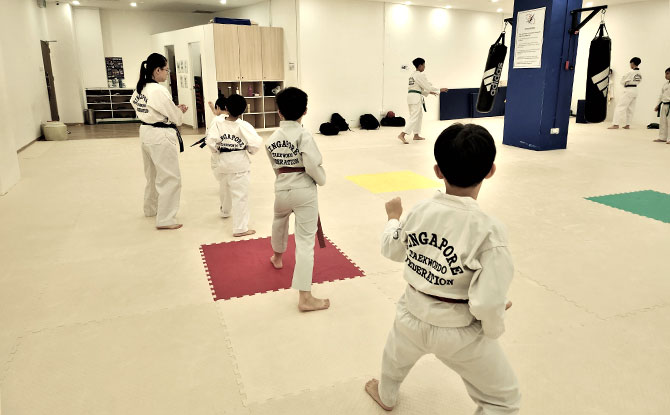 Affiliated to the Singapore Taekwondo Federation, Grand Taekwondonomics offers classes to students aged 3 and up.
According to Principal Andy Leong, what sets Grand Taekwondonomics apart is its well-thought-out training programme.
The school groups its students by age, rank and behaviour into small classes of seven to eight for more effective teaching. To help the kids perform their best at gradings, pre-grading assessments are given to check on their progress. Should any of them miss the mark, rapport meetings will be held with their parents to discuss how they can improve.
The school also organises events such as internal competitions, overseas exchange programmes with other Taekwondo schools and clubs, and energy enhancement holiday workshops, where children as young as 3 years old learn how to break planks.
---
Imparting Values that are Beneficial for Life
When asked what the benefits of learning Taekwondo are, Andy, who is a master black belt, replied without hesitation, "Manners and confidence."
Giving the example of a student who is late for Taekwondo class, Andy said, "You come late to class, you knock the door, you bow to the coach,… you bow to the class also, because you are the one who disturbed (the class)."
Displaying good manners and having confidence are aligned with the five tenets – courtesy, integrity, perseverance, self-control and indomitable spirit – encompassed in the "Do" of Taekwondo.
"'Tae' is the leg-fighting technique, 'Kwan' is the hand-fighting technique, and 'Do' is the way of life," Andy shared.
The 'Tae' and 'Kwan' may leave practitioners as they grow old, "but the 'Do' will live until the last… dying breath."
Indeed, these are values that students can take away for life.
---
WisKids at Wisteria Mall
Both OtterSwim and Grand Taekwondonomics are part of WisKids, Wisteria Mall's sub-brand that supports the all-rounded development of children through a well-curated range of enrichment and learning centres located at the mall.
Find out more about OtterSwim and Grand Taekwondonomics.
This feature is brought to you by Wisteria Mall.