It is amazing what a few beautifully painted murals can do to transform a place and that is exactly the case at the Anak Bukit Viaduct. Bird murals at this node along the Rail Corridor (Central) at Rifle Range Road turn the area under the flyover into a spot to pause for a while.
The bird murals can be found just off Rifle Range Road, opposite from the shophouse leading in towards Rifle Range Nature Park, opposite from Mayfair Park.
---
Bird Murals under the Anak Bukit Viaduct along Rifle Range Road
---
-- Story continues below --
The tall, grey pillars that hold up the Pan Island Expressway have been given colourful murals featuring different variety of birds.
The murals are the work of father-and-son pair Eng Siak Loy and Eng Tze Ngan. They were commissioned by the National Parks Board.
Artistically drawn, the bird murals have been composed with a perspective that maximises the use of the height of the columns.
Amongst the birds represented on the murals are white-breasted waterhens, mynahs, kingfishers and even a bird of prey.
The more ornithologically-minded passer-by may be able to better identify the different species represented.
The pretty murals of birds along Rifle Range Road at the Anak Bukit Viaduct help to soften the harsh look of the concrete columns and serve as a point of interest in the area.
---
A Rocky Node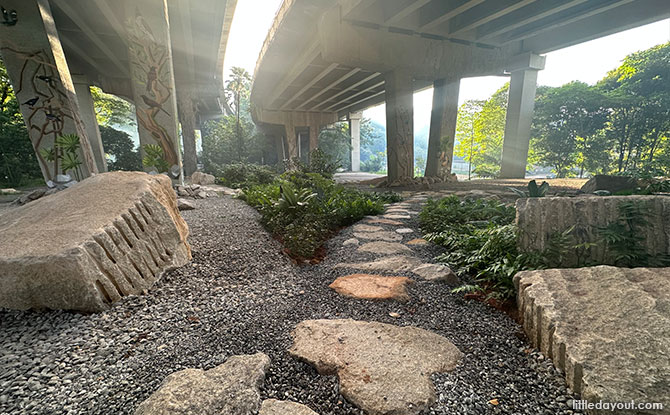 Other than the bird murals, the Anak Bukit Viaduct node has also been landscaped to make it more accessible and welcoming to those passing through.
Large stones embedded into the ground serve as foot paths.
The ground is deliberately kept gravelly.
This aesthetic is complemented by large granite boulders that dot the Anak Bukit Viaduct.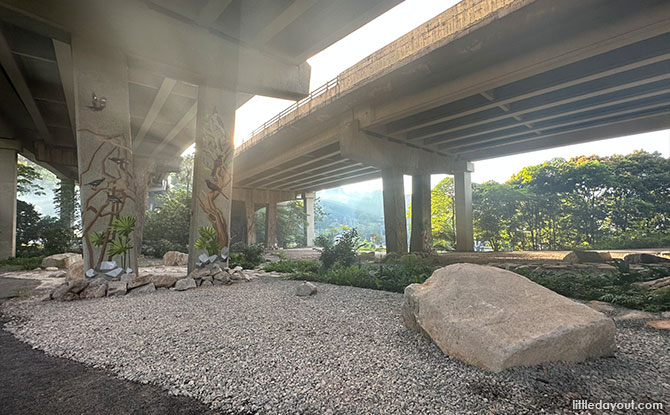 Tree stumps provide natural-looking seats for those who need to take a break.
The Anak Bukit Viaduct acts as an access point for those in the Mayfair Park Estate to get on to the Rail Corridor (Central). It is just a stone's throw away from the Bukit Timah Truss Bridge.
For those who are walking along the Rail Corridor (Central), it is also a way to reach the shophouses at Mayfair Park Estate, which has a handful of shops like Blue Cafe and The Butcher's Dog.
If you enjoyed reading this story, you will also enjoy reading about Rifle Range Nature Park and the Rail Corridor (Central).
Or, to catch a view of many different bird species, read all about Bird Paradise.