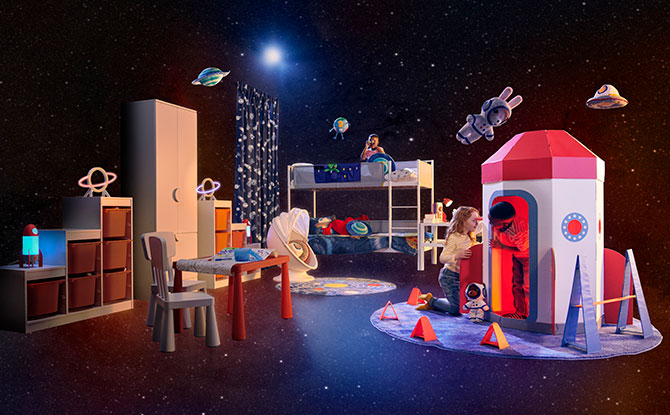 Enter into the realm of outer space with IKEA's space-themed collection AFTONSPARV with toys and bedroom accessories to turn any child's bedroom into an imaginative playground.
---
AFTONSPARV Space Collection from IKEA
The AFTONSPARV space collection from IKEA was developed together in collaboration with a group of space enthusiasts – aged between 3 and 7 years old.
IKEA's designers tapped on the imaginations of the young space experts to come up with the space-themed range and bring outer space into the home.
With this starting point, IKEA's AFTONSPARV offers plenty of opportunity for kids to use their creativity for a fun playtime.
---
-- Story continues below --
It is designed to spark play and curiosity in children between the ages of 3 to 7 years old and contains a whole host of space-themed toys.
Included in the IKEA's AFTONSPARV space collection are soft-toy astronauts and aliens, a cardboard rocket play tent, a spaceship, finger puppets, a galaxy-inspired rug and a glow-in-the-dark curtain.
---
Created with the Help of Children's Imagination
Play is taken very seriously at IKEA, where it is believe that play is necessary for a better everyday life at home. Adults and children alike can connect, create, recharge, escape, and explore through play. Most importantly, play is essential for children's growth and development ad they learn to express themselves and explore the world through it.
To create the IKEA space collection, IKEA's designer Marta Krupińska wanted to get a children's perspective about space and the universe from the start of the project.
---
Space Explorers
This led to workshops where she asked children what outer space meant to them. Kids were engaged on questions like what they thought lived in space, what things in space looked like, and what kind of transport they imagined in space.
Through these series of workshops, all these questions were explore and the children's ideas were brought to life. The IKEA AFTONSPARV collection was then developed taking into account the children's imaginative responses.
The AFTONSPARV collection is intended to empower children to pursue their curiosity about outer space and develop their creativity as they do so.
Here is what you can find in the IKEA AFTONSPARV space collection.
---
AFTONSPARV Children's Tent: Blast Off to Space Adventures
We love how a child's imagination can turn a simple cardboard box into anything they wish. The IKEA AFTONSPARV Children's Tent takes it one step further and allows kids to climb into a rocket. It comes with a nose cone and a porthole painted on by the side.
This children's play tent is IKEA's first that is made entirely of cardboard. The cardboard used is minimally 70% recycled.
It is even big enough that a parent and child could get inside to read about some space adventures.
It can be easily painted so that kids can customise it to their imagination and will be all ready to blast off!
---
KURA Bed Tent Space/Blue: Create A Space-Themed Bedroom
Kids can fall asleep under a canopy of starts with the KURA Bed Tent Space/Blue. It is an easy way to add a space theme to any child's room.
---
AFTONSPARV Rug, Space: Explore the Solar System and Galaxies Beyond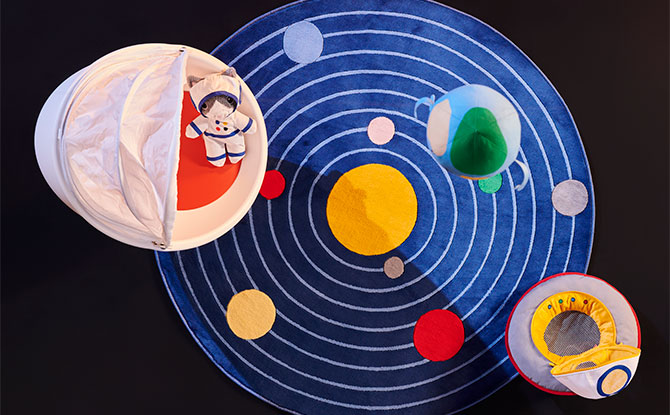 The AFTONSPARV Rug, Space shows the solar system and lays out the different planets that revolve around the sun. It is a great way for kids to learn about all the planets, from Mercury to Earth and beyond.
This solar system inspired rug acts as a great place for kids to enjoy playtime and also provides a nice backdrop for them to have adventures in space.
---
AFTONSPARV Curtains with Tie-backs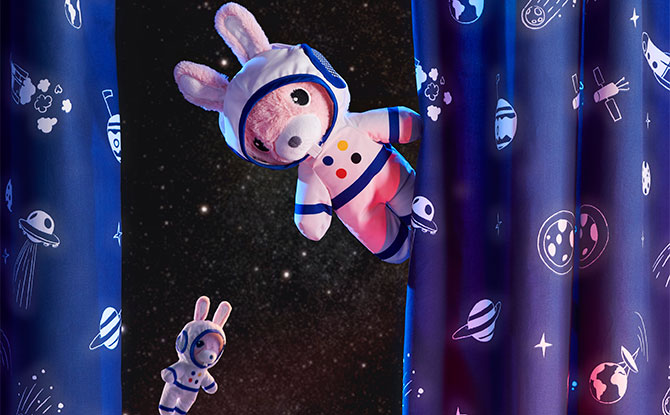 Decorate the windows of your child's bedroom with the AFTONSPARV curtains. These even glow in the dark so that kids can imagine that they are dreaming away in the galaxy.
---
Universe of Characters: AFTONSPARV Soft Toys with Astronaut Suit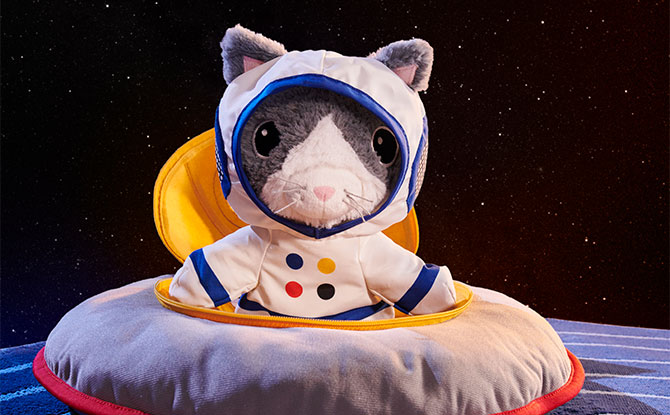 Made from 100% recycled polyester, an AFTONSPARV soft toy with astronaut suit, has a removable suit and is the best buddy for a space excursion.
The soft toy is great for kids to enjoy imaginative, space-themed role play. Who knows where their adventures may take them.
There are different versions of these space-themed soft toys, including aliens!
For every soft toy sold from 28 September to 15 October 2023, IKEA Singapore will donate $1 to APSN. This will help provide special education, vocational training and employment support services for individuals with special needs.
---
AFTONSPARV 5-piece Finger Puppet Set
Children can unleash their imagination with the AFTONSPARV 5-piece finger puppet set. Go on a space adventure with these cute little puppets.
The collection of finger puppets include intrepid astronauts, an alien and a rocket ship.
They are great for kids who may want to play out a space adventure on their solar system inspired rug.
---
Launch of AFTONSPARV at IKEA
The AFTONSPARV collection at IKEA will be launching at IKEA Singapore on 28 September 2023 and online on 1 October 2023.

As part of the launch, keep a look out for space-themed cookies and macarons from IKEA Swedish Market from 28 September to 30 November 2023.
There will also be alien cakes and cookies available.
Children ages 5 years and above are also specially invited for a meet and greet session with the Astronaut Mascot at IKEA Singapore stores island wide between 1 pm to 4.30 pm on 6 and 29 October 2023.
Here's where and when you can catch the Astronaut Mascots at IKEA.
IKEA Tampines
6 & 29 October 2023
1 pm to 1.30 pm
2.30 pm to 3 pm
4 pm to 4.30 pm
IKEA Alexandra
7 & 28 October
1 pm to 1.30pm
2.30 pm to 3 pm
4 pm to 4.30 pm
IKEA Jurong
6 & 29 October 2023
1 pm to 1.30 pm
2.30 pm to 3 pm
4 pm to 4.30 pm