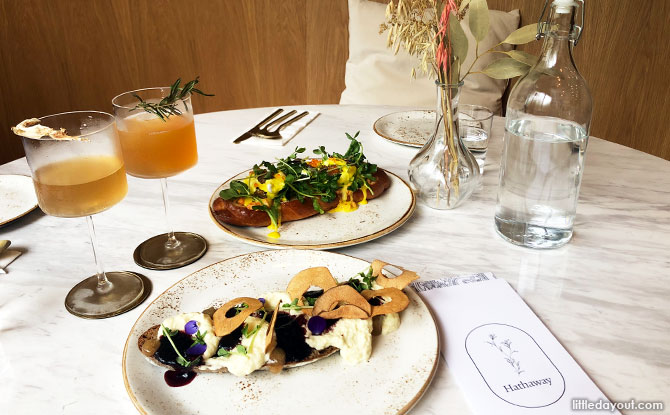 Located in the corner of Dempsey is the new café and restaurant, Hathaway. The name "Hathaway" in old English refers to a person living across a heath or pathway. That is exactly the feeling that it evoked as we step into the dining space.
Hathaway keeps things modern and classy, yet is it a space that is inviting and cosy for all who enter. 
---
Hathaway At Dempsey
Ivan Ting, one of the founders of Hathaway describes their menu to be "modern Asian with local influence".
There are three menus in total: a daytime menu which consists of brunch, lunch and desserts, an evening menu and a drinks menu. We visited Hathaway at Dempsey on a breezy morning and gave some signature dishes on their daytime menu a try.
---
Smoked Ricotta Local Jam Tartine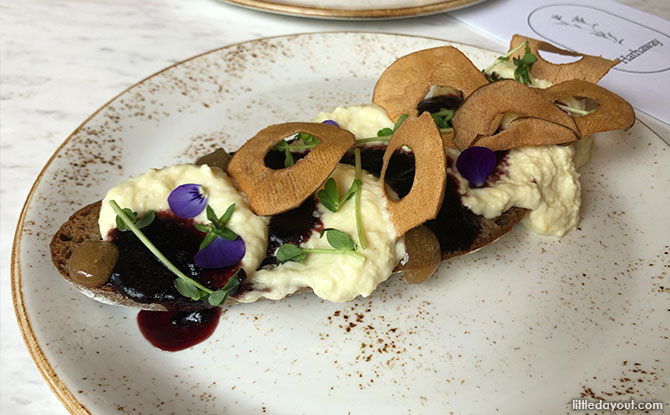 The first dish we tried was the Smoked Ricotta Local Jam Tartine. This had a myriad of ingredients such as homemade smoked ricotta, roselle jam, apple jasmine jelly, apple shards, edible flowers & cress on top of sourdough rye.
The plate arrived in an extremely aesthetically pleasing presentation and it looked like an edible work of art. We were also pleased to know that the ingredients such as the edile flowers and cress were all harvested locally.
This dish had many different complex flavours that blended perfectly without overpowering one another. It was interesting to note that each of the individual ingredient especially the apple jasmine jelly and homemade smoked ricotta had their unique flavour profiles, but the chef manages to make them all come together in a harmonious dish. It was sweet and fruity and the bread was soft and fluffy.
---
Forager's Eggs Benedict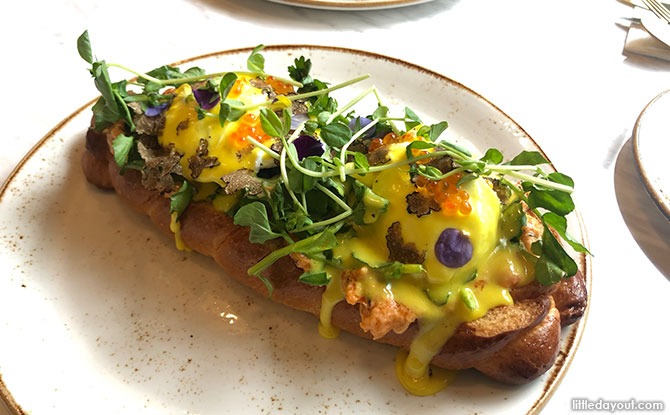 A signature brunch food, this eggs benedict is made with fresh black truffle, hollandaise ulam of local leaves flowers & roots, smoked salmon mousse, trout roe, baby watercress and coriander salad. The base is a freshly baked challah bread that is enriched so it gives a sweetness to the dish. This portion is generous and was also beautifully presented.
This dish was another well-done dish with lots of complex flavours and there was a distinct meaty taste despite there being no actual salmon slices in it. We enjoyed the texture from the trout roe and the salad gave it a refreshing finish.
---
Ah Nya's Fish Curry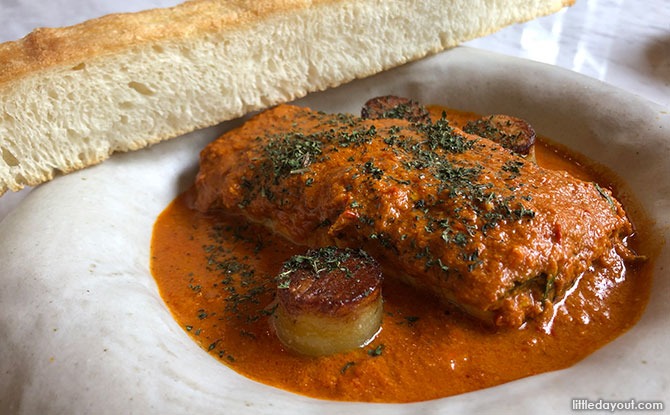 The dish that started the concept of the restaurant, this fish curry is made with an heirloom recipe by Ivan's grandmother and they wanted Hathaway to be the vehicle to preserve the deliciousness of this unique and delicate recipe. The main protein is a local kuhlbarra barramundi alongside some fondant potatoes.
We loved how flavourful this curry was and even though we weren't big fans of spice, we found ourselves happily going back for more! Each mouthful was a burst of flavour and spices. The fish was very fresh and this curry is definitely a must-try for anyone who visits.

---
Seri Muka
Seri Muka dainty and yummy dessert made of glutinous rice, coconut milk, sugar and pandan leaves. Hathaway's version, however, is again giving it it's own twist by serving theirs with kueh Salat, Apom Berkuah Ice Cream, Pengat Pisang Sauce.
This dessert is one that those who are fans of coconut are sure to enjoy and the dessert was again presented as a work of art. We loved how creamy the dish was and the variety of textures from the different elements in this dish. We thoroughly recommend giving this dessert a try.
---
Bespoke Drinks at Hathaway
Hathaway also has a drink menu consisting of a range of bespoke drinks as well as freshly brewed coffee and tea. We tried two of their bespoke drinks: Rosemary and Ginger Ale.
The Rosemary drink was a mix of homemade fermented kombucha, rosemary & olive tonic along with some Seedlip Garden 108, a distilled non-alcoholic spirit with a blend of herbs. The taste of the drink was a very earthy and pallet cleansing drink that matched well with the savoury mains and creamy desserts that we had.
Hathaway's Ginger Ale is made with "Mum's Homemade Fermented Ginger Ale", a lemon squeeze and Lyre's 0.0 Dark Cane. There was also a piece of ginger that you could bite into before sipping into the ginger ale to enhance the ginger flavour.
---
Hathaway: An Elegant Getaway in Dempsey
Where: 13 Dempsey Road, #01-07, Singapore 249674
Opening Hours: 9 am to 9 pm (Mon to Sat), Closed Sun
Website