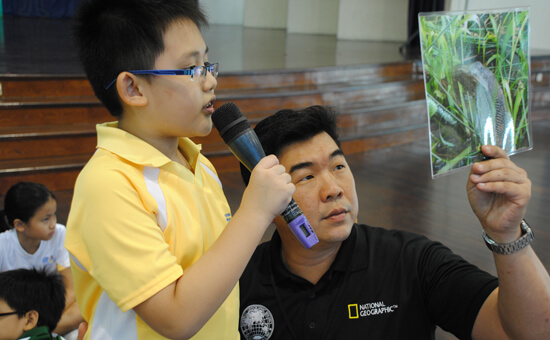 Ever wished you could stroll down the red carpet? What about a green one instead?
From January to May 2013, primary and secondary school students trekked along 'green carpets' at Adventure Trails around Singapore to see what they can find as part of the Green Carpet Awards.
Green Carpet Awards 2013
The Green Carpet Awards is an environmental recognition event for primary and secondary school students in Singapore. Organised by the World Marketing Group (WMG) Pte Ltd, this community initiative is now into its third year and is supported by National Parks Board, National Geographic Explorer Magazines, Gardens by the Bay, LASALLE College of the Arts and Nanyang Polytechnic. Sponsors include Nikon Singapore, SembCorp, SingPost and DHL.


Earlier this year, participating students from schools around Singapore were armed with professional DSLR cameras and headed outdoors to visit the Adventure Trails at Sungei Buloh Wetland Reserve, Pasir Ris Mangrove Swamp, the Sembcorp Forest of the Giants (along the Southern Ridges) and Labrador Park. With some basic instructions on how to use the DSLR camera, they were each asked to capture a nature photograph.
Through the camera lens, participants engaged in their own personal journey of discovery about nature and penned down his or her personal thoughts and reflections about what they had learnt from the experience.
20 Nominees Announced
From the 5,000 participants who took part in the Adventure Trails, 20 nominees have been selected to enter into the finals. Of these 20 nominees, 14 are from primary schools around Singapore including Keming Primary School, Damai Primary School and Wellington Primary School.
The nominees were selected based on the photograph taken, student's perspective and originality.
The 20 nominees announced on 31 May 2013 will be exhibiting their photographic works at Gardens by the Bay on 29 and 30 June 2013. They will also have the opportunity to lead members of the public on an adventure trail.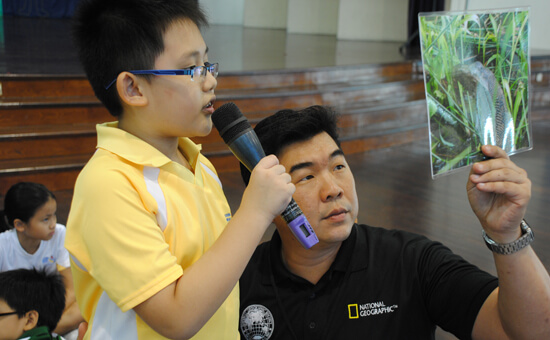 When asked about the experience of participating in the Green Carpet Awards, two of the nominees, Mithunashree and Tng Qian Hui, both Primary 4 students at Keming Primary School, said that it was a fun experience, especially since it was the first time they had the opportunity to use a DSLR camera.
Mrs Heng, a teacher at Keming Primary School, added that Adventure Trails allowed students to "engage in their own discovery", and the experience also allowed students to practise their expression of ideas and personal reflections.
The winner of the Green Carpet Awards 2013 will be announced on 6 July 2013 at Nanyang Polytechnic. The Grand Prize Winner will receive a Nikon D7000 DSLR Kit, one year complimentary subscription of NG Magazine and one private outdoor nature photography workshop with professional nature photographers, C.S. Ling and Ethan Lim.