Move over Alice in Wonderland, hello Bubble Tea Factory. Indeed there's no better country than bubble-tea-crazed Singapore to welcome the first-ever immersive bubble tea wonderland, or should we say boba-land. More than just another "Instagram fad", The Bubble Tea Factory at SCAPE SG surprised us by proving itself an authentic multi-sensory bubble tea journey from start to end.
Enter the Boba Verse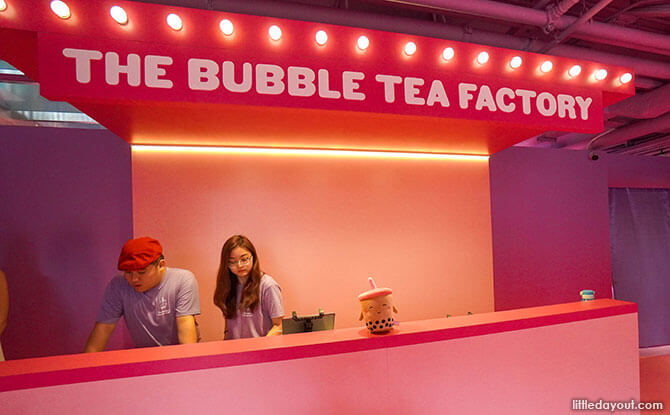 Like the beginning of every good bubble tea experience, after placing your order for an entry ticket, wait for your queue number to be called to start your adventure.
On entering the bubble tea-themed exhibition, you will be teleported into the Boba-verse through the Enchanted Forest and into the first stop – the Blue Coral Utapioca.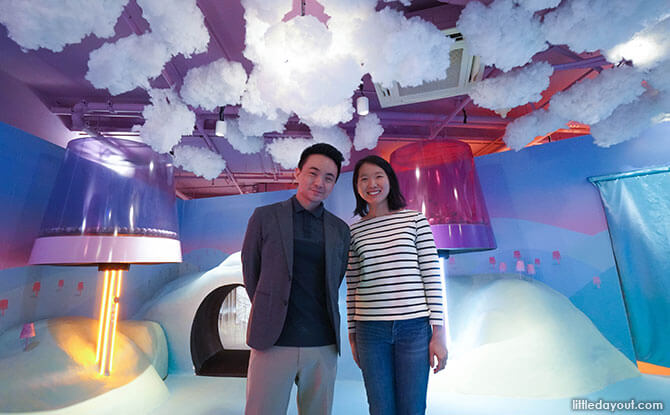 Here, we had a chat with The Bubble Tea Factory's Creative Lead Khor Ke Xin who told us that this room was her favourite but also the most tedious to bring to life.
Looking around, you can see why. The room has unique interactive boba trees that not only has "living boba" but a section where you can speak to one another through the trees. Perhaps it is here that you might find out the secret as to what flavour "blue coral" really is.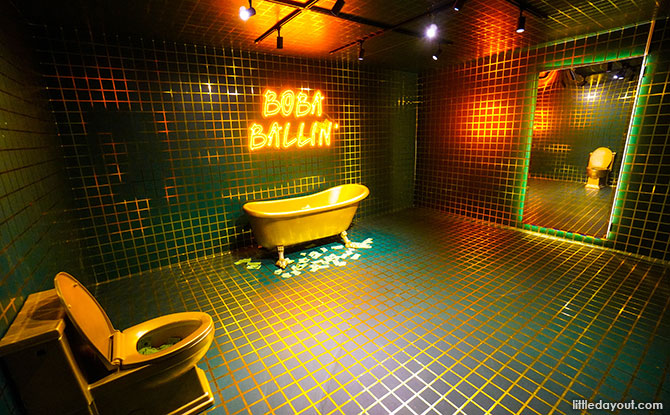 The next zone is "The Secret", entered via an ASMR tunnel that turns into a dazzling silver room.
This zone of The Bubble Tea Factory makes a cheeky statement about all the money we would save if we didn't buy that extra cup of bubble tea. But hey, at least here you get to live your dream of sitting in bathtubs full of money. There are golden bathtubs, toilets and tiles lined in jade and gold. Be sure to capture it in a picture or boomerang, whichever you please.
This is also where you'll find the "??? room" – also known as the room inspired by Yayoi Kusama. The galaxy of colours are a great representation of the mysteries of the universe, such as "How can I have my bubble tea and my waistline too"
Boba Lab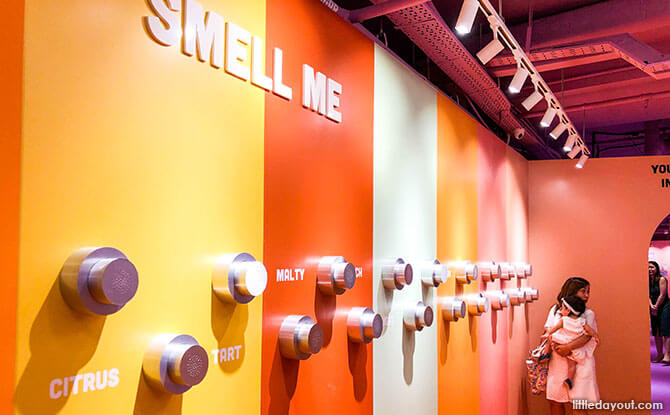 The Boba Lab is a section that best proves why the Bubble Tea Factory is a "multi-sensory experience". Start at the "Smells like Tea Spirit" section where you can sniff a variety of familiar smells found in a bubble tea shop.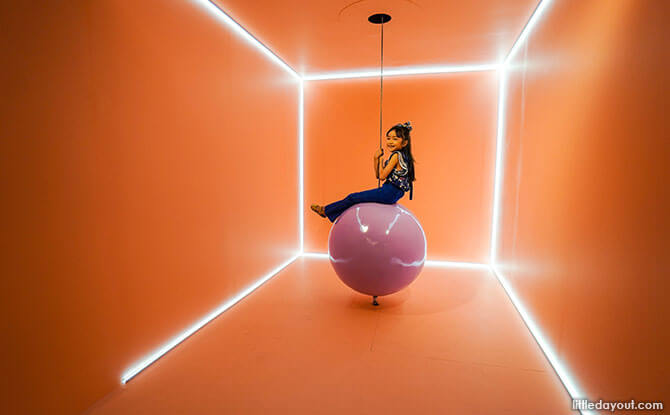 Get pictures on the giant tapioca pearl.
You can also hook up to a bubble tea IV drip or go swimming in XXL bubble tea.
This section is also where you can make use of the Boba Booster Pack that came with your ticket.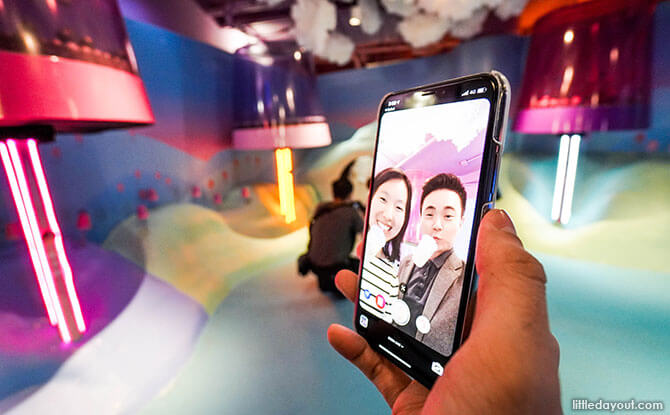 Not just an walk through exhibition, you can also complete super fun challenges like "singing the boba anthem" or taking a picture using the special Bubble Tea Factory Instagram filter.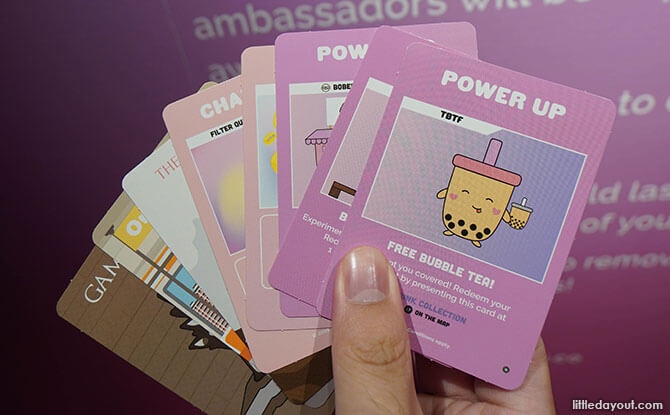 You can trade the challenge cards that you received at the entrance for yummy treats such as milk tea popcorn and brown sugar beans. For those who were once collectors of trading cards, you can start up a bubble tea card collection – there are 10 different designs available. Collect them all and exchange them for a secret prize.
Pearl-duction Line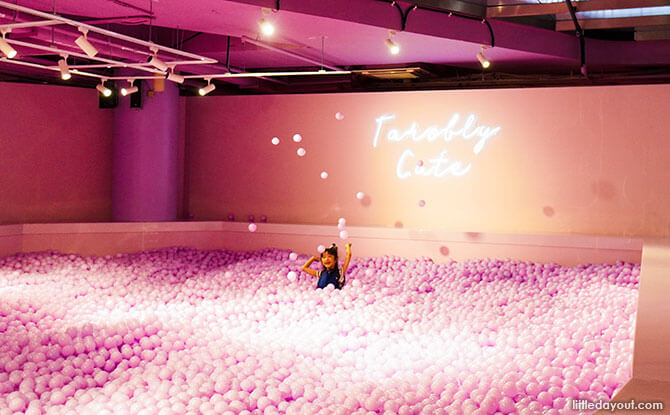 The star of the next room is none other than the Pearl Pit – filled with 100,000 custom coloured balls big and deep enough for adults and kids alike to enjoy!
Have some fun opening any one of the doors at the "pearlsonality" chamber. What's on the other side is sure to bring you a smile to your face.
Don't forget to collect your free cup of bubble tea at this section too! The bubble tea vendors that the Bubble Tea Factory is partnering with will change out every two weeks – so visitors will get to sample different types of bubble tea.
Milk-Tea Way
After many moments of laughter and fun, end off your adventure by taking a flight back to reality as you cruise along the milky-tea way.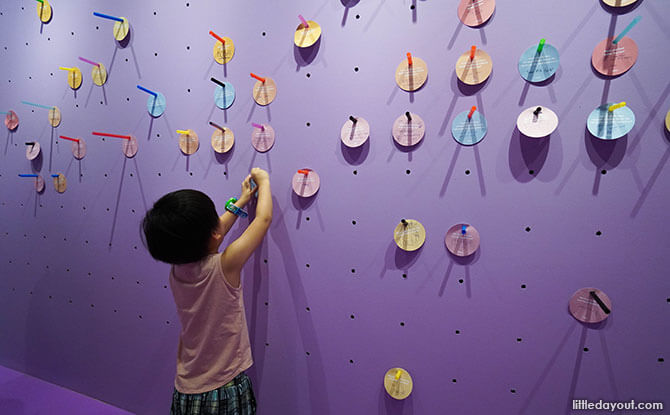 We love the attention to detail in this section (Hint: take a deep breath as you enter the cabin). The Happiness Wall here also creates a fun discussion space to end off the experience.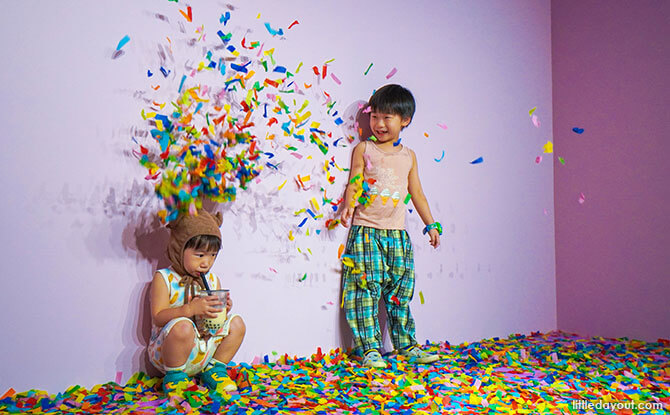 "I hope we can create a place where people can just smile and be happy, where people can just come and not worry about anything for an hour or so," says Wei Ting Tan, founder of The Bubble Tea Factory.
Inspired and Inspiring
To find myself calling something as seemingly trivial as a bubble-tea-inspired museum "inspiring" sounds far-fetched, but pay a visit to this quirky exhibition for yourself and decide if you aren't wonder-struck. There are plenty of details scattered around in each room and I got that feeling of awe as I entered each room.
This experience is not just fun for kids but also brings out the inner kid in adults too – and that sweet treat worth queuing for.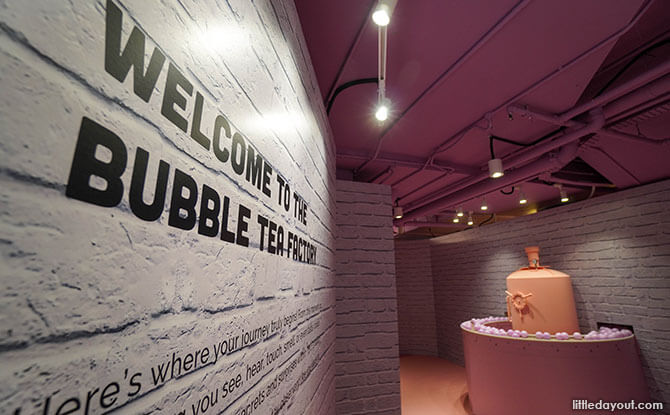 The Bubble Tea Factory opens its doors to the public on 19 October 2019 and will be providing free admission to the first 1000 visitors from 12 pm to 6 pm.
Tickets for subsequent days are for sale on their website.
The Bubble Tea Factory SG
Where: 2 Orchard Link, *SCAPE, Singapore 237978
When: 19 October to 18 December 2019, 4 pm to 10 pm on weekdays, and 10 am to 10 pm on weekends
Website