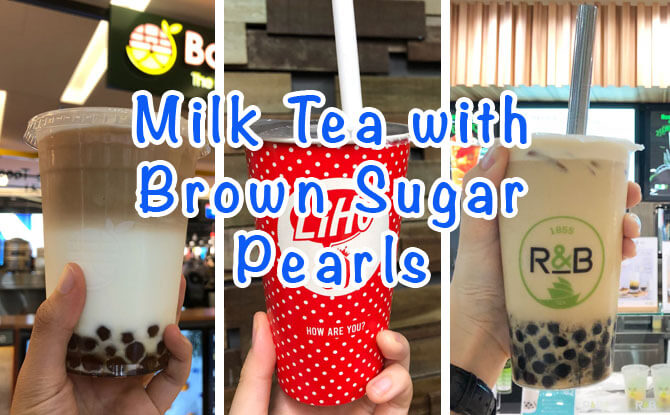 We're glad that bubble tea is one of the crazes that is here to stay, and it looks like milk tea with brown sugar pearls is starting to make more of an appearance.
Did you know that brown sugar is different from Gula Melaka (palm sugar)? Brown sugar has a slightly more subtle caramel taste which does not overpower the taste of the tea it is in! If you are wondering how the pearls are different from normal pearls, think of a caramel flavoured pearl with cold refreshing milk tea on a hot day.
Sounds good? Read on to see our review on three different milk teas with brown sugar pearls.
Milk Tea with Brown Sugar Pearls in Singapore
---
BobbiiFruitii
Bobbii Fruitii, which has outlets in Clementi and Suntec, is known for their aesthetically-pleasing and Instagram worthy drinks. If we were on the hunt for the most beautiful bubble teas in Singapore, we think it would be hard to beat the ones here.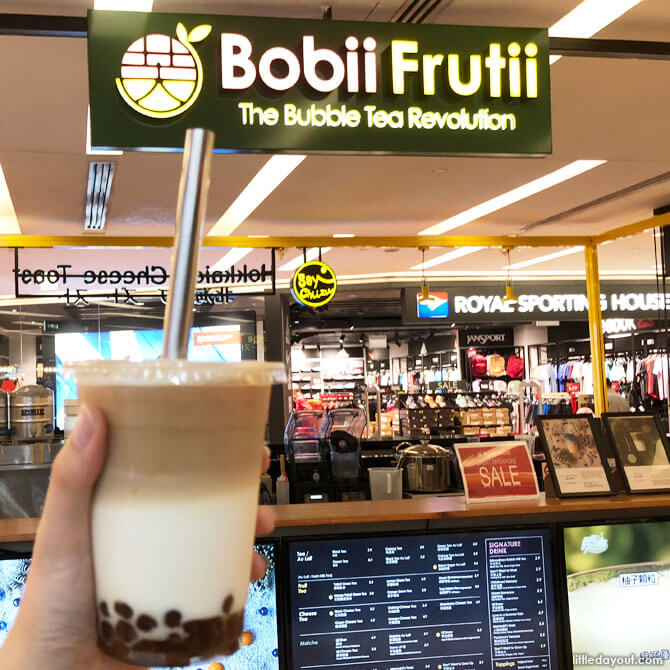 Each signature item on the menu also comes with quirky names, which we guess takes away the mundane order of "milk tea with pearl, less sugar". Although you can add the brown sugar bobbii (yupp, even the pearls have a unique name) for an additional 90 cents to any of your drinks, we decided to try their signature Extraordinary Bubble Milk Tea ($3.90) at a normal sugar level. This milk tea with brown sugar pearls drink consists of black tea, fresh milk and brown sugar bobbii.
The drink came in one size and the sugar level was adjustable but we were told that the "normal level" was already reduced to 50%. Although the drink size was smaller compared to other bubble tea brands, it was quickly forgotten after we got distracted by the pretty layer of brown and white.
We tried the pearls first which are known for their soft and mochi like texture. The brown sugar taste in the pearls was distinct initially, but after a while, we tasted more of the fresh milk in the tea than we did the brown sugar. The consistency of the pearls was indeed soft and chewy but after a while, the brown sugar taste faded and it tasted like normal soft tapioca pearls to us. The taste of the tea by itself however was very nice and fragrant.
Where: The Clementi Mall, 3155 Commonwealth Ave West, #04-K4, Singapore 129588
Website
---
Liho
With outlets all over the island, Liho is no stranger to Singaporeans. The brand recently debuted their brown sugar pearl series featuring mixes such as fresh milk matcha, fresh milk, fresh milk avocado and fresh milk chocolate. They also have a brown sugar milk tea.
We wanted to review a mix that was as close to the previous one as possible, so we chose a medium classic milk tea at 70% sugar ($2.80) and added the brown sugar pearls (+0.90) and it came up to a total of $3.80.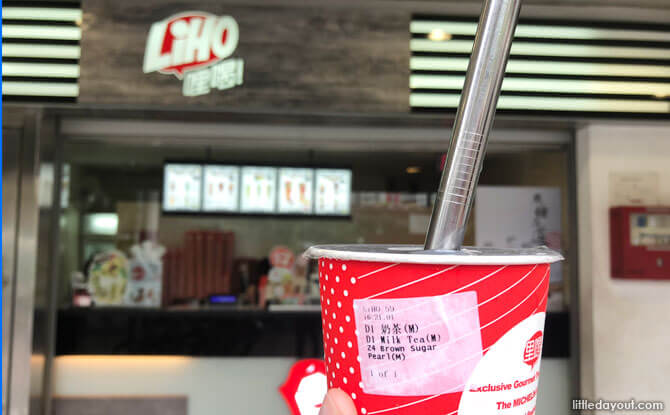 We were pleased that it was not as sweet as we expected it to be at 70%, and the initial taste of brown sugar was there, but the texture of the pearls were not much different from a regular mass produced tapioca pearl which was soaked in brown sugar syrup.
After we were less than half way through with the milk tea, the brown sugar had already mixed with the milk tea and it tasted like a regular cup of caramel milk tea with pearls.
The pearl-to-milk tea ratio was also seemed imbalanced. There were a lot more pearls compared to milk tea. For those who want a decent cup of milk tea and enjoy chewing on pearls as you drink it, this will definitely be for you.
---
R&B Tea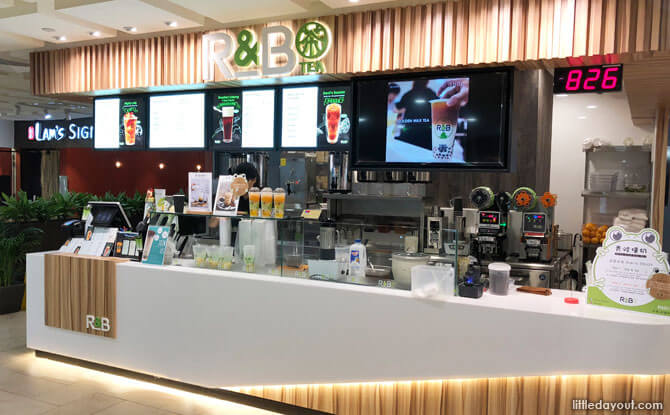 R&B Tea only made its appearance in the Singapore bubble tea scene about a year or so ago. It generated buzz for its oolong tea, fruit tea and brown sugar boba milk. The brand has four outlets in Singapore but the more popular ones are at Marina Square and Toa Payoh. We were very excited when we saw what seemed to be a new introduction to their drink menu: the milk tea version of brown sugar boba milk. We ordered the medium size milk tea with brown sugar pearls, which have a fixed sugar level.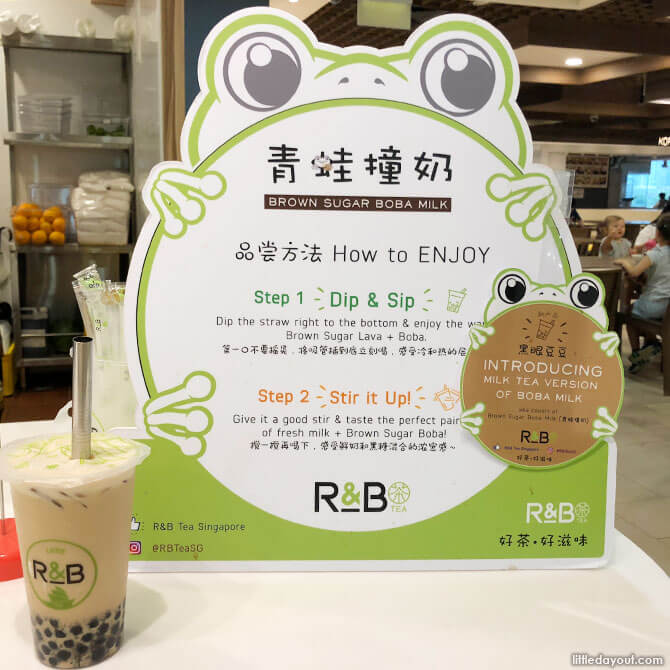 They even had a cute sign that teaches you how to best enjoy it.
We followed the instructions and tried the pearls without mixing it first. We immediately tasted the warm (yes, they were still warm!) brown sugar pearls which complimented the cold and sweet milk tea!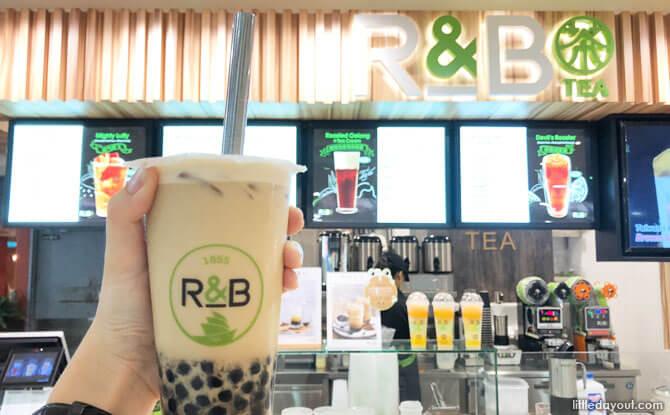 We promise that our eyes lit up – it was so good!
The pearls were surprisingly fragrant. According to R&B, their pearls are cooked for a minimum of three hours in their special in house brown sugar syrup to allow the pearls to have that aromatic caramel taste.
The texture of the pearls was soft and chewy but not mushy. It was also the only cup among the three that gave us a consistent taste of brown sugar with each sip without it overpowering the taste of the tea or being overly sweet.
R&B Tea
Where: Marina Square, 6 Raffles Boulevard, Singapore 039594, #04-101/102, Koufu Cookhouse
Website
---
Our Favourite
Our idea of a perfect cup of milk tea with brown sugar pearls is one that is not too sweet and allows the distinct taste of brown sugar to come through. We personally prefer pearls that are softer and with a consistency closer to mochi.
With that being said, our favourite among the three that we tried was…R&B Tea!
We were pleasantly surprised by the warm pearls and felt that the taste of brown sugar was most distinct.
We will definitely be back to order a large cup!