The Genting Dream cruise ship is now sailing the seas from its homeport of Singapore. The flagship of Resorts World Cruises offers holidaymakers from Singapore and around the Southeast Asia region a luxury and leisurely cruise experience with offerings that cater to families, those who wish to chill or live the party life at sea.
Genting Dream set off on her maiden voyage under Resorts World Cruises brand on 15 June 2022. We were privileged to be invited to join her on her first sailing, a two-night cruise to nowhere.
---
The Genting Dream Cruise Experience
Cabin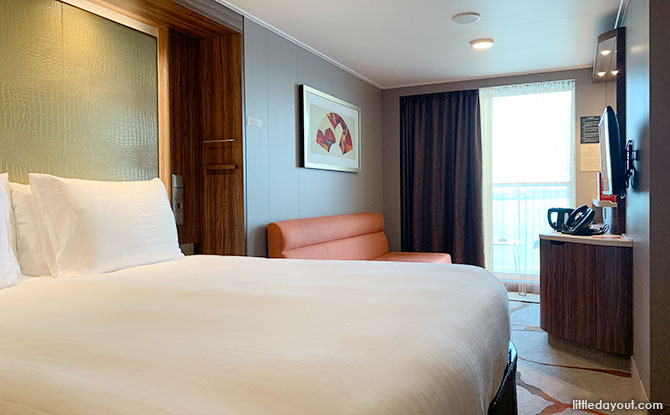 ---
-- Story continues below --
For most people, the cabin is where the first impressions are made. It is where you finally have a chance to freshen up before heading out to explore the rest of the ship.
We stayed at a Balcony Deluxe Stateroom. In addition to the bed (which was comfortable), there was a narrow sofa and writing desk. The toilet was spacious by cruise ship standards and beyond our expectations. It even had a double sink and a bathtub.
Of course, what was most exciting was the balcony – a private space to relax with a view. Get a preview of other types of accommodation available on Genting Dream below.
---
Things to Do on Genting Dream
If you ever wondered whether you'd be short of things to do on Genting Dream, the answer is "no". The good news is that it is up to you to decide what type of holiday you wish to have. The 19-deck cruise ship so large that it can accommodate any type of holidaymaker.
Whether you are looking for family-friendly fun, a chance to live large with friends, or simply looking for quiet relaxation and a change of scenery, you can find your place onboard the ship.
---
Family-friendly Activities for All
Pool Deck
The Main Pool Deck on Deck 16 is the centre of outdoor fun on the ship. A DJ booth pumps out the music to keep the lively atmosphere going around the main pool and four jacuzzis.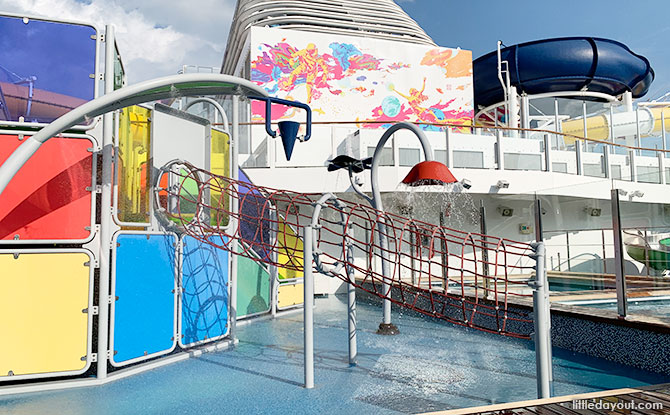 Younger kids will want to head to the Kids Water Park, a colourful collection of water sprays along with a kid-friendly waterslide. Even if you don't want to take a dip in the water, there's also games like giant Jenga and beer pong (no beer included), and jump about on the bouncy inflatables set up around the Main Pool Deck.
---
Waterslide Park
For more slippery fun, there is the Waterslide Park with slides accessible from Deck 18 at the aft of the ship. There are six waterslides including a bowl and a speedslide. Take note that kids need to be at least 10 years old to go on these slides.
---
Ropes Course
Deck 18 is also where you'll find the ropes course. It starts from the starboard side of the ship before crossing over to the port side. Ever wanted to zipline out at sea or catch some incredible views from the top of a ship? This is your chance.
---
Mini Golf
Kids and parents can also pick up a putter and try for a hole-in-one at Genting Dream's mini golf course. The putting green is found at Deck 18.
---
SportsPlex: Table tennis, rock climbing and basketball court
For those who must have their sports, Genting Dream's Deck 18 also has table tennis, a climbing wall and a basketball court. If you feel like having your own mini tournament on the ship, you can.
---
"No-sweat" Games: Giant chess, shuffleboard, pool tables and deck quoits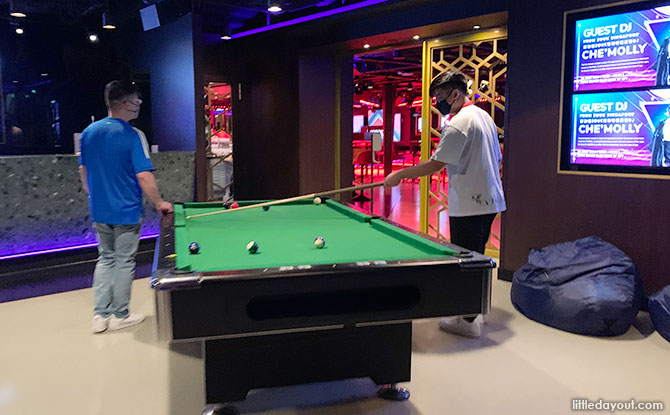 If you don't wish to break out a sweat, try games like giant chess, pool, shuffleboard and deck quoits. Get some friendly competition going on the decks.
---
Cosmic Bowling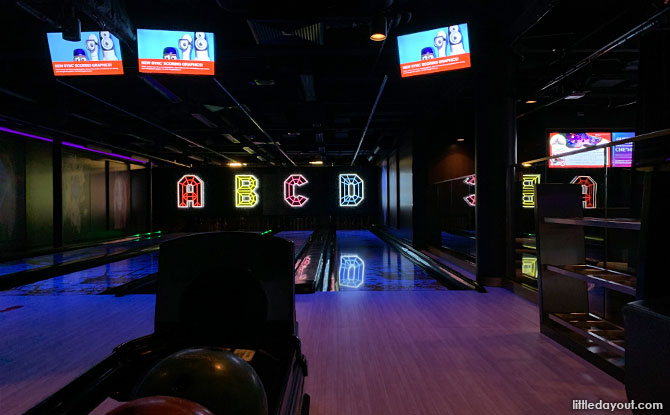 We suggest saving bowling for the evening when the four lanes light up in purple hues as you send pins flying out of this world.
---
Arcades
There are two arcades onboard Genting Dream. The main one is located at Deck 16 Forward. From shoot 'em ups to digital fishing and more, there are a wide choice of games here.
A smaller arcade is tucked away behind the reception counters at Deck 6.
---
Little Dreamers Club
A special section of Deck 16 dedicated to kids is the Little Dreamers Club. With beanbags, games and toys to entertain kids between the ages of 2 to 12, this kids club at sea also comes with stunning views through the huge wide windows.
---
Bridge Viewing Room
Those who are curious about what goes on at the helm of the ship can pay a visit to the Bridge Viewing Room on Deck 15.
You can look through the window and watch the bridge crew sailing the ship. There is also information about the ship in the room.
---
Family-friendly Programmes
It is not just the facilities onboard that are family-friendly. There are family-friendly programmes organised throughout the day too. Look out for daily details on where and when they are being held if you wish to join in.
---
Live it Up
Classes
Want to try something new while onboard? Attend a workshop or two while onboard. On our cruise, there was a Brazilian Carnival Dance class where you could pick up some new moves.
---
Zouk & Zouk Beach
Put your new moves to good use at Zouk Night Club on Deck 17. The club stays open till late.
At the very rear of Deck 17 is Zouk Beach, an open-air venue. In the evenings, it will be hosting foam parties. Get bubbly and let loose at this outdoor party.
---
Zodiac Theatre
The largest entertainment venue on the ship is the 1,000-seat Zodiac Theatre. Find a seat and settle down for after-dinner entertainment with high-energy shows at the theatre.
---
Bars & Lounges
There's no lack of locations to get a drink onboard Genting Dream. Deck 8 is home to the Bubbles Champagne Bar, Mixt Cocktail Bar, Tributes, Whisky House and Wine Vault. Choose your vibe for a tipple.
---
Relax and Chill
For some, an ideal cruise is to… erm… literally cruise along doing nothing. If that's what you're after, there are spaces to do so as well.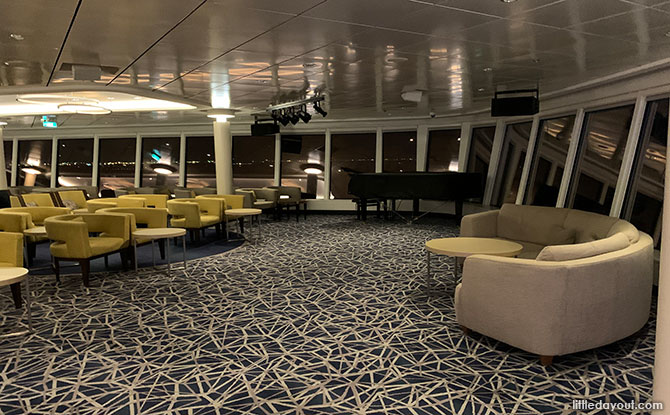 One of the best places to do onboard is Palm Court at Deck 19. Sink into one of the chairs and get a view of the ship sailing forward.
---
Spa & Gym
The Crystal Life Spa & Fitness on Deck 15 caters to those who may wish to unwind with a relaxing massage or exercise in the gym and draw inspiration from the gorgeous views of the sea. There's a quiet café here too.
---
Food & Dining
Complimentary Dining
There are two complimentary dining restaurants serving breakfast, lunch and dinner onboard Genting Dream.
Lido – Halal-certified International Buffet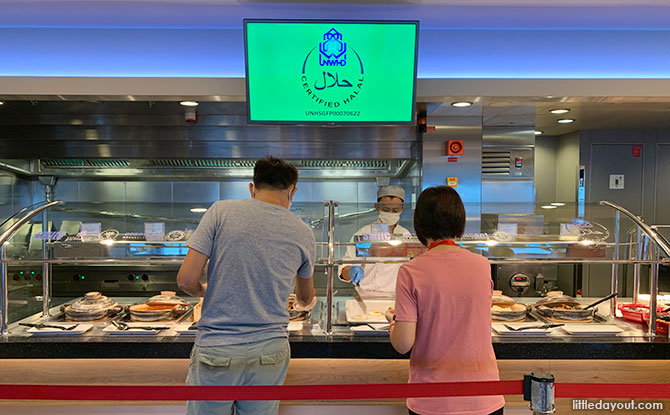 Genting Dream is the world's first OIC/SMIC (Organisation of Islamic Cooperation / Standards and Metrology Institute for Islamic Countires) certified Halal-friendly cruise ship. The Lido buffet restaurant at Deck 16 serves Halal international, vegetarian and Jain vegetarian food.
To maintain the Halal standards, the ship even has a dedicated Halal lift for transporting food between floors in the kitchen. This and other processes in place on the ship reflect the cruise line's dedication to helping passengers observe their religious obligations even while on vacation.
---
Dream Dining Room
The second complimentary dining outlet is Dream Dining Room, which is divided into upper and lower floors.
---
Specialty Restaurants
Besides the complimentary dining options, there are also specialty restaurants on the ship. We had the chance to try three of them.
Silk Road Chinese Restaurant (Deck 7)
Tucked away on Deck 7, Silk Road feels like an exclusive, glamourous Chinese night club. We had the set menu ($48 per person) which included roasted pork belly, double boiled sharks bone soup with fish maw and baby abalone, sauteed scallops and stir-fried French beans. The most memorable dish was the Steamed Chicken with Preserved Meat and Dried Har Gon.
---
Teppanyaki at Umi Uma (Deck 8)
Umi Uma is Genting Dream's Japanese specialty restaurant. It serves different styles of Japanese food including sushi and an omakase menu. We opted for teppanyaki and got treated to some jokes by the chef as he cooked the meal in front of us. Expect to spend around $80 to $100 per person.
---
Bistro (Deck 8)
Dining at Bistro was the highlight of all the meals we had onboard the ship. The set menu ($108 per person) started off with an appetizer and soup before moving on to a choice of either Braised Wagyu Beef Short Ribs or Grilled Sea Bass with Capers and Brown Butter Sauce. Both mains were good but the Beef Short Ribs was absolutely delightful, so much so that we're still ended up talking about it even after the cruise.
---
Types of cabins on Genting Dream cruise ship
There are 1,674 accommodations on Genting Dream. Besides the Balcony stateroom which we stayed in, there are other types of room, at different price points.
The Interior stateroom will probably work best for those who intend to spend most of their time out at the ship's public spaces.
Oceanview staterooms are similar to the Balcony staterooms, minus the balcony.
From here on up are "The Palace" rooms. This is the premier class of rooms on the Genting Dream, situated on higher floors and with its own private amenities and a dedicated butler service.
The Palace Suite has a separate dressing area and the one we visited had a double balcony looking out the rear of the ship.
Palace Deluxe Premium has a separate living area from the bedroom.
The Palace Penthouse is a luxurious two-room, two-bathroom suite.
---
Useful information to know when sailing on Genting Dream
Pre-check-in
Travelling nowadays requires a bit of prep. Thankfully, this is a fairly straightforward affair. A pre-departure ART is required to get onboard the Genting Dream. This has to be done in the 24 hours before the ship sailing's time. We did ours via a supervised tele-ART service and got the all-clear certs within an hour.
You will also need to do an online check-in at the Resorts World Cruises website before the cruise.
Checking-in
At the Marina Bay Cruise Centre, we scanned a QR code (held up by helpful service staff) and made a health declaration before entering the terminal building. Also be sure to have your Trace Together app ready to show your vaccination status.
An automated check-in machine issued us with our cabin badges. This was then verified by counter staff before we went through immigration and found ourselves boarding the ship. The check-in times were staggered to avoid overcrowding. Overall, our experience was that it was fast and efficient.
---
Genting Dream Cruise Review: A Sailing Vacation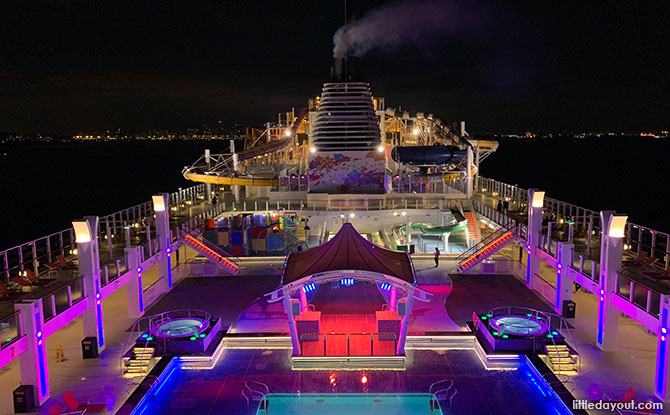 So, what's our verdict on the Genting Dream cruise? It is up to you to make what you want out of your vacation at sea. There are so many options available on the cruise ship that you can choose to make it as active or as chill as you want it to be.
It is a good option for a multi-generational family holiday since grandparents can sit back and watch the world go by, while youngsters play and enjoy memorable experiences. What we also appreciate is the stress-free "travelling" requirements. It is just a matter of heading to the Cruise Centre and boarding the ship; there's no hassle of rushing about or having to spend time travelling to the destination.
Resorts World Cruises currently has 2-night cruises to nowhere and will also be adding on new itineraries from as early as July 2022. It will also be sailing to destinations in Malaysia (KL, Malacca via Port Dickson & Langkawi), Indonesia (North Bali, Surabaya) and Thailand (Phuket, Krabi). With those destination options, there'll be even more reason to take to the seas on vacation.
Find out more about Genting Dream and Resorts World Cruises.
You may also enjoy the video below.
Media invite.
This story contains affiliate links. This means we earn a small fee if you purchase something through a link from our website. There is no additional cost to you and goes towards supporting Little Day Out's efforts to deliver the best news and reporting for families.