Fried chicken is arguably one of the best comfort foods in the world. There's nothing quite like biting into crispy chicken skin and its tender and juicy meat. There are also different ways of having it and popular styles in Singapore include Korean fried chicken, Taiwan fried chicken and American fried chicken. Here are some places in Singapore where you can get fried chicken in Singapore to satisfy your cravings.
---
Fried Chicken in Singapore
1. Bonchon Singapore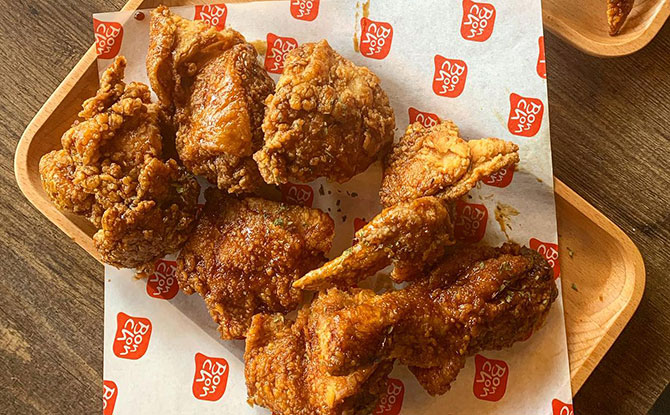 Bonchon specialises in Korean style fried chicken and offers other dishes such as Korean stew, Ramyeon noodles and other sides. Of all the different Korean chickens I've tried, this one has to be one of my favourites. The chicken meat is tender and the skin stays crispy without it being over greasy. Bonchon is available on Deliveroo and Food Panda.
---
2. Oven & Fried Chicken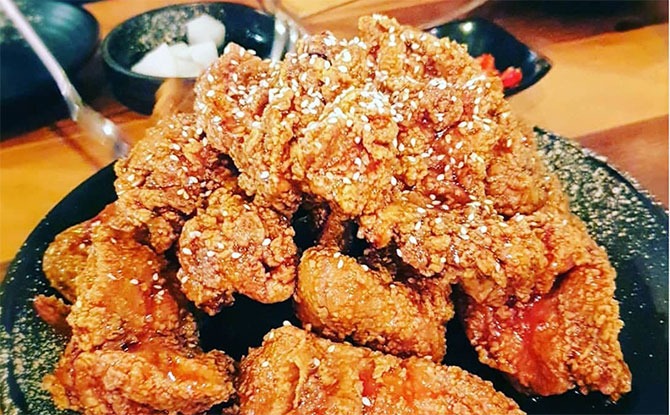 Oven & Fried Chicken (OFC), is the combined brand of OKKUDAK and SSALDAK, two of the most popular chicken restaurants in Korea. Located at 182 Telok Ayer Street, this fried chicken restaurant and bar is a favourite dine-in dinner spot with friends because of their cosy ambience. They serve delicious fried chicken, as well as crunchy chicken cooked without oil!
---
3. Ramburger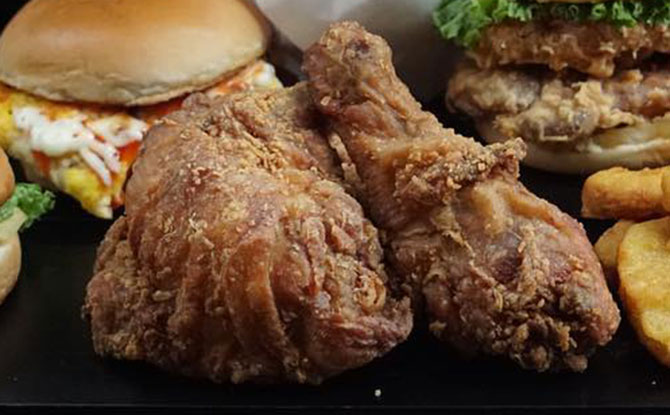 This new F&B restaurant offers fried chicken on top of their signature Ramburgers. The items on their menu do not use pork or lard and include sides such as Popcorn Chicken and mentaiko fries, They offer free island-wide delivery with a minimum order depending on the area.
---
4. Ah Tan Wings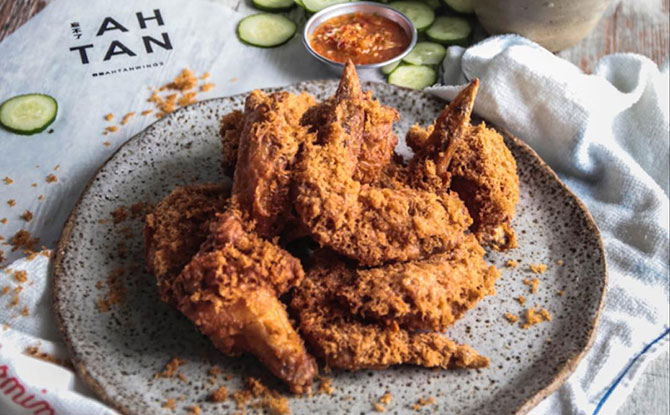 If you're craving fried chicken with an elevated flavour, how about some Har Chong Gai (shrimp paste chicken)? Ah Tan Wings offers Island wide delivery for their delicious Har Chong Gai. Get it ala carte or as a meal with rice, vegetables and tangy chilli sauce.
---
5. Hongdae Oppa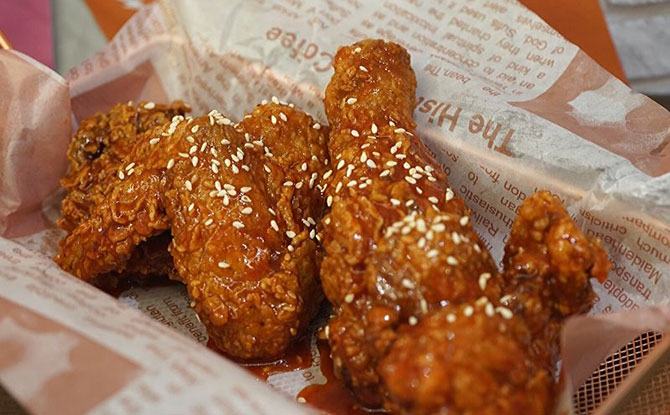 Hongdae Oppa has three sharing bundles that you can get for your next meal, and you can get free delivery with a minimum spend of $39. Try their fried chicken that comes in four flavours: signature Gochujang sauce, spicey, original and soy garlic.
---
6. Kko Kko Na Ra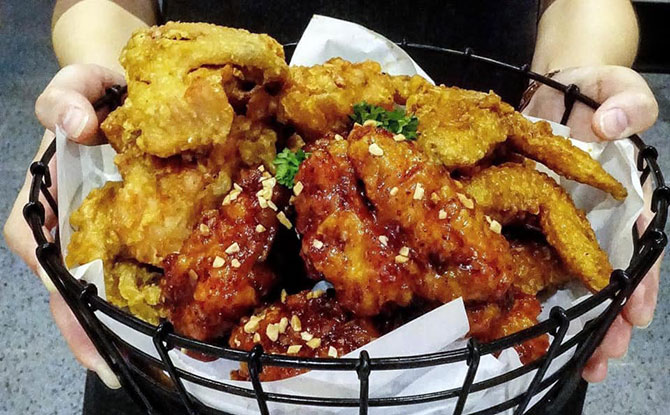 For those who are wondering about the name, "kko kko" is taken from the onomatopoeia for a rooster's crow in Korean while "nara" translates to "country". Kko Kko Na Ra prides themselves in bring the pioneer Korean restaurant to introduce Chi-Mek (Korean Fried Chicken & Beer) and supper culture in Singapore since 2008. They serve authentic Korean Fried Chicken and as well as other dishes. All are made fresh with ingredients from Korea.
---
7. Chir Chir Chicken
Chir Chris is one of the largest "Chimaek" franchises in South Korea which usually indicates the presence of fried chicken and cold beer. They have multiple outlets islandwide and their portions are great for sharing. If you are looking for delivery during this period, they are also partnering with Masizzim Singapore, Nipong Naepong Singapore, and The Alley Singapore so you can satisfy all your cravings in one place.
---
8. Arnold's Fried Chicken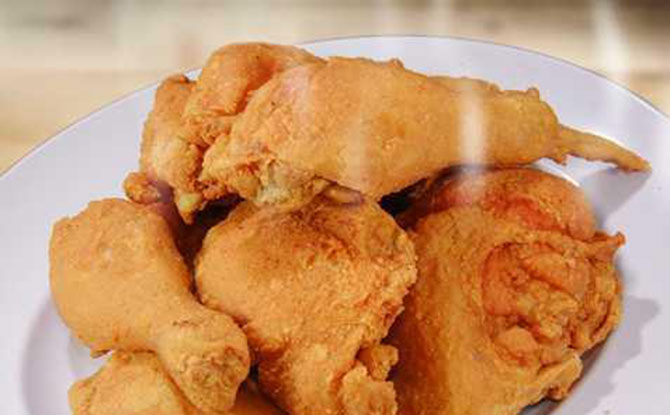 Arnold's Fried Chicken is a great example of good fried chicken without the frills. It's not too oily and usually come in generous portions. and they have outlets spread out across Singapore. Their bundle deals are great for sharing as well and islandwide delivery caters to anyone with anywhere when their fried chicken cravings hit.
---
9. K Kitchen SG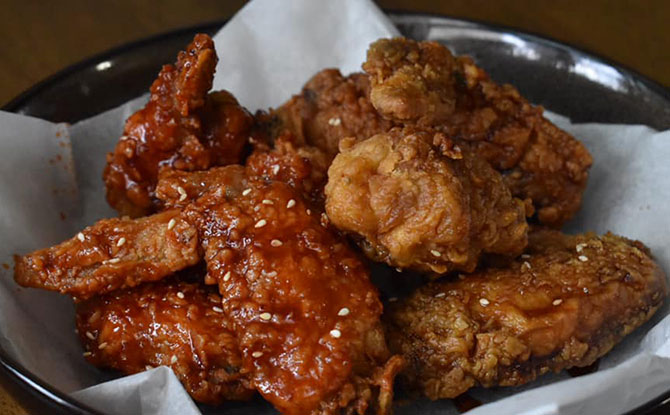 This small F&B business was started by family home cooks who aimed to provide hearty home-cooked food, for a reasonable price and quality. Their Korean fried chicken wings and drumette are served in 2 flavours: soy garlic and spicy Yangnyeom. They take orders via Whatsapp and Facebook message and provide island-wide delivery.
---
10. Mom's Touch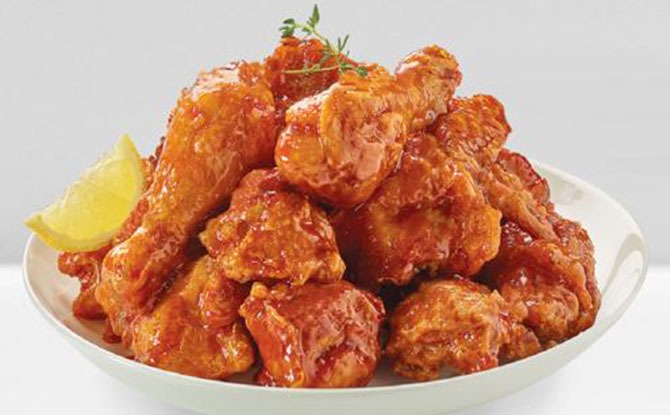 Mom's Touch Restaurant promises a Korean Fried Chicken feast with a $5 island-wide delivery with a minimum spend of $48! Their fried chicken comes in original and spicy sauce. There are also ongoing offers such as a free snack platter with a minimum spend. Check out their website for more details and deals.
---
11. i love taimei
Taimei sells possibly one of the best Taiwan fried chicken in Singapore. Their Taimei hot chick is super crispy on the outside and juicy on the inside, just how it should be. They also sell snacks like sweet potato fries, tofu fried and enoki mushrooms. They are available on GrabFood and FoodPanda.
---
12. Chix Hot Chicken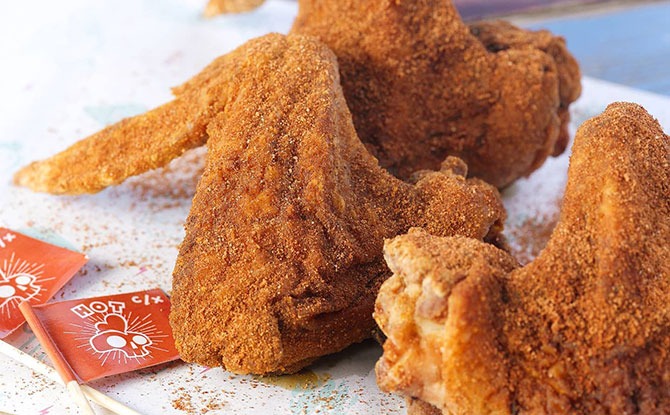 Chix Hot Chicken is the first-ever halal-friendly Nashville hot chicken restaurant in Singapore and started by familiar local artist Taufik Batisah and his close friend and gym buddy, Ismail Bober. Their Nashville Hot Chicken comes in three spice levels: Mild Hotness, Extra Hotness and Insane Hotness. They also serve Nashville hot chicken sandwiches and thick vanilla milkshakes.
---
13. 4Fingers
From a single store in ION Orchard in 2009, 4Fingers has since expanded to multiple outlets in Singapore as well as overseas. 4Fingers is another personal favourite, especially for the consistently crispy skin on their drumsticks. They also serve their delicious fried chicken in burger and rice boxes.
---
14. Jollibee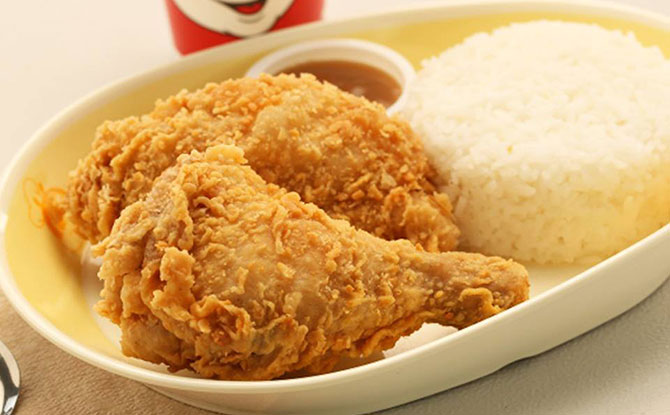 This fast food chain giant from the Philippines are well known for their mouthwatering Chickenjoy, delicious Yumburgers, and savoury spaghetti! Queues when dining in usually snake on end and it's a popular meal spot for many. Check out their bundles of joy set which includes chicken buckets, sides and drinks!
---
15. Wingstop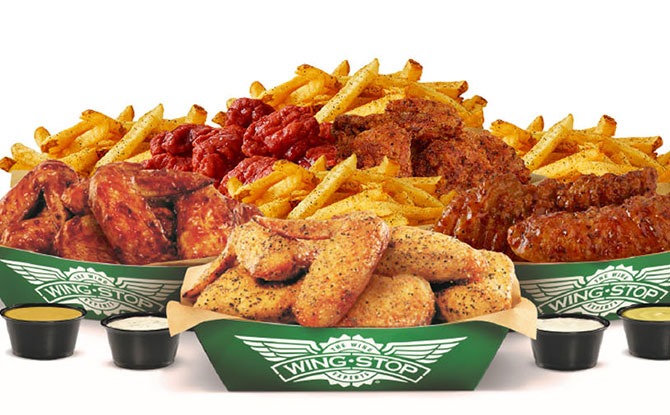 Fried chicken is never boring, especially when you have them at Wingstop. They serve piping hot chicken wings that are sauced and tossed in a choice of 12 mouth-watering flavours. Their "big night in bundles" are truly a feast with up to 20 boneless, 20 classics, and 10 chicken tenders in six flavours with six dips and six servings of fries!
---
---