From 1 July 2021, 11 am onwards, you will be able to head down to McDonald's Singapore for the Chicken McCrispy, a new permanent item on the Golden Arches' menu.
---
McDonald's Chicken McCrispy in Singapore
The McDonald's Chicken McCrispy is mildly spicy chicken thighs and drumsticks, coated in crispy coating.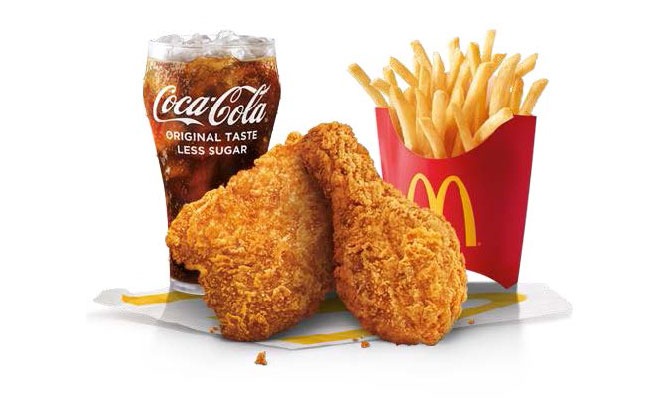 McDonald's Chicken McCrispy will be available as a two-piece extra value meal with medium fries and small Coke from $8.40.
For those who'd like to share it with someone else, the Chicken McCrispy can also be picked up in a bucket of three thighs and three drumsticks from $18.10. Or it is available in a six-piece value bundle with two medium fries and two small Cokes from $21.50.
---
McDonald's Chicken McCrispy Review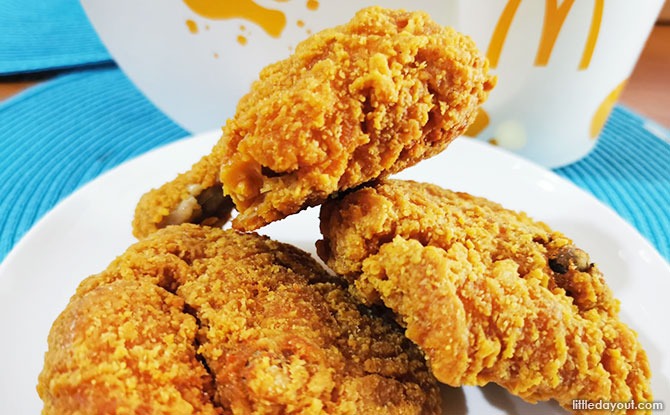 We had a chance to try out McDonald's Chicken McCrispy. Its crust had a nice crunch and reminded us of Jolibee's chicken.
It was well seasoned and we could taste the spices used in the batter. Personally, we found that the heat level was a bit high for our tastebuds.
You can think of it as a larger version of McDonald's McWings.
---
New Menu Item Available From 1 July 2021
Drina Chee, Senior Director, Marketing & Digital Customer Experience of McDonald's Singapore said: "We're really excited to bring Chicken McCrispy to our customers, and are especially proud of the taste and quality of our product. We've never been stronger in our chicken menu offering, and with Chicken McCrispy, it's easy to enjoy a chicken fix with other McDonald's favourites anytime, anywhere – in-store, takeaway, McDelivery or Drive-Thru."
The Chicken McCrispy will be available after breakfast hours. It will not be available at six restaurants: McDonald's Shell Tampines, McDonald's Shell Hougang, McDonald's Shell Havelock, McDonald's Clementi Avenue 3, McDonald's Parklane and McDonald's Tampines Kiosk.