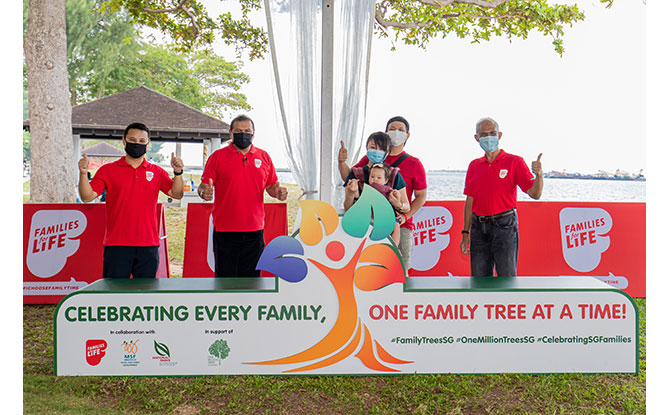 Create a lasting memory for your family by planting a family tree that will grow up alongside your child.
A new initiative jointly presented by Families for Life and the National Parks Board, parents can have the opportunity to commemorate the birth of their baby by planting a tree. This initiative also launches the Year of Celebrating SG Families.
---
Plant a Tree to Commemorate a Birth in the Family
FamilyTrees was launched on 12 March 2022 at East Coast Park's Coastal PlayGrove, co-hosted by Minister for National Development Desmond Lee and Chairman of FFL Council Ishak Ismail, and attended by Guest-of-Honour Minister for Social and Family Development Masagos Zulkifli. 
---
-- Story continues below --
10 families were the first to plant 10 family trees in commemoration of the new additions to their families.
FamilyTrees provides Singaporean families the opportunity to commemorate their baby's birth by planting a tree, within 3 years of their baby's birth. After the tree has been planted, the families will also receive a commemorative FamilyTrees e-certificate.
FamilyTrees is part of NPark's OneMillionTrees movement, a nationwide effort to plant a million more trees across Singapore by 2030 as Singapore transforms into a City in Nature. 
Minister for Social and Family Development Mr. Masagos Zulkifli said: "Our family is a crucial pillar of support as we navigate our life journey. Across the seasons, family keeps us rooted to our identity, and grounds us so we can overcome challenges. Our families are strong, which has been demonstrated in how they have navigated the uncertainties of the pandemic over the past two years. Thus, MSF has designated 2022 as the Year of Celebrating Sg Families." 
---
How to Register for Tree Planting under FamilyTrees
To qualify for tree planting under FamilyTrees, either one or both parents of a baby must be Singapore Citizens to register for tree-planting under FamilyTrees. 
Families should have a child under 3 years of age, at the point of event registration. From the time of their child's birth, families will have a three-year time frame to register for a tree planting opportunity under FamilyTrees.
FamilyTrees tree-planting events will be held monthly.
During the tree planting activity, families will be guided through the tree planting process, and can also plot the planted tree in NParks' TreesSG online portal, so that they can search and locate the tree in the future to create a lasting memory for the family. Participating 
Find out more about the FamilyTrees initiative here.