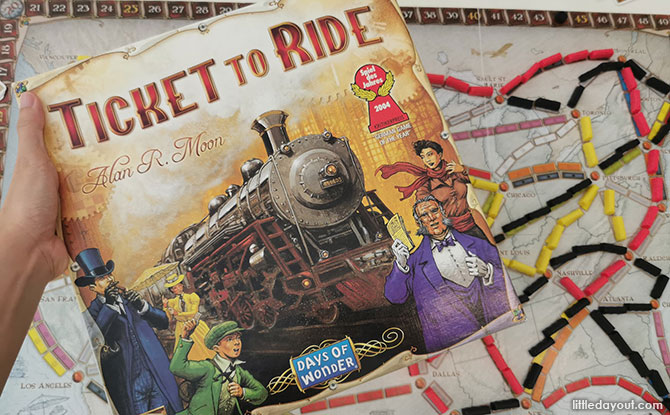 If your children are train-lovers and you are looking for a game to engage their minds, Ticket to Ride could be a board game to play.
Ticket to Ride is a train-based board game in which players have to connect railway stations in cities across North America based on train cards they collect. The longer the route, the longer the train line, the more points earned! Easy objectives?
---
How to Play Ticket to Ride?
Ticket to Ride is recommended for players age 8 and above, and played amongst two to five players. We reckon 7 year olds can learn the game quite quickly, after familiarising themselves with North America's geography.
To start, each player picks a colour of choice of train carriages and three train cards. Based on three Destination ticket cards, they have to connect cities using colour-coded train cars. By laying down cars according to the right colours, they can build routes. But watch out, your route might be blocked by an opponent so lay down those tracks fast!
The game ends once a player has two or fewer carriages left, and one final round is taken. The top scorer wins the game, scores are tabulated once the final round is completed. The player with the longest train line also gets bonus points.
---
Game Setup of Ticket to Ride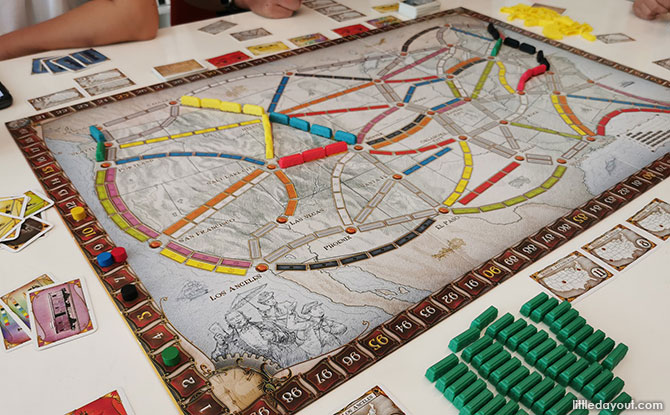 At the start of the game, each player will have 45 train carriages and a marker. All markers are placed at the start, points will be tabulated as the players lay down carriages.
Each player is given four train car cards and three Destination ticket cards. There is an option to keep all three Destination train cars or keep just two. Destination ticket cards are to remain confidential.
The remaining deck of train car cards are placed next to the board and the top five cards of the deck are placed face-up.
For each turn, the player can choose one of the following actions: draw 2 train car cards, claim a route or draw destination tickets.
When drawing train car cards, one can choose to take from the open cards or top cards of the deck. Details of drawing cards are slightly more complicated, so the more experienced player should take the lead in managing this pile.
If a wild card or Locomotive is chosen from the open cards, the player can only take one card.
Claim the route by putting down a set of cards equal to the number of spaces in the route, according to the colour of the space. For grey spaces, the same colours of the number of spaces corresponding or a wild card paired with same colours can be used to claim the route. Points are given according to the length of the route.
---
Review of Ticket to Ride Board Game
This strategy game can be enjoyed by children above 7. We like how it takes lots of planning ahead, strategising to connect routes. This helps all of us, adults included, to learn more about North American cities. I took some time to familiarise myself with the North American cities, and this was a good opportunity to learn some geography and practise some math.
I do wish we played the Asian version of Ticket to Ride since we would be more familiar with the region.
For beginners, perhaps one round of open cards would be helpful to familiarise everyone with the game. This would also help the younger ones still learning to play the game.
In all, I find Ticket to Ride's game play a very enjoyable experience for families and friends. The rules take a while to learn, but an experienced game master can make the play easy. Each session would take between 45 minutes to an hour to complete, it is a good opportunity to exercise patience and work on focus.
To get the game, click here to buy it from Shopee or Amazon.