Homegrown restaurant brand COLLIN'S®, well known for its affordable weekday 20% off lunch deals, has refreshed its menu offerings beyond the classic Western fare to suit a wider palate. Generous portions abound for each item, making it delightful for the adventurous to share amongst groups of friends and families.
---
COLLIN'S® Restaurant: A Homegrown Brand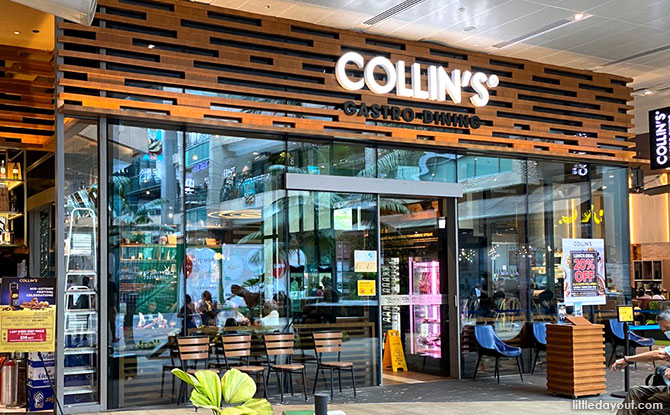 Established 10 years ago in 2012, COLLIN'S® now has 13 outlets strategically located at shopping malls across Singapore as well as within Changi Airport Terminal 3.
The local F&B brand has also extended its wings to launch its COLLIN'S® restaurant brand in Chong Qing.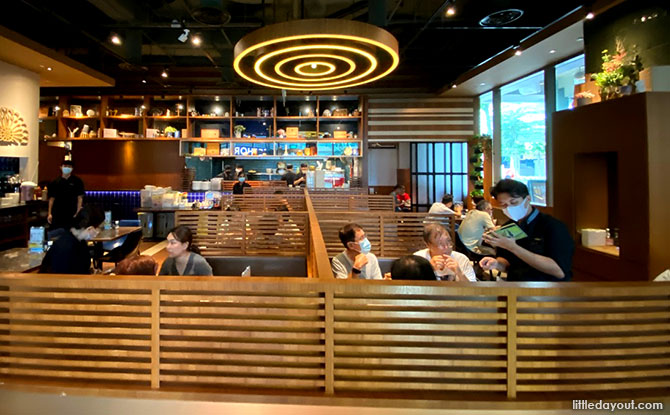 So, what's new this September at COLLIN'S®? We chose to try out the refreshed menu at COLLIN'S® Westgate, with familiar warm woody vibes and booth seats for its interiors.
Large dry-aged Black Angus Tomahawk Steaks in the large see-through chiller called for our attention as we entered. Its steaks remain the mainstay so we got try the following new items on the menu.
---
Italian Burrata and Parma Ham Salad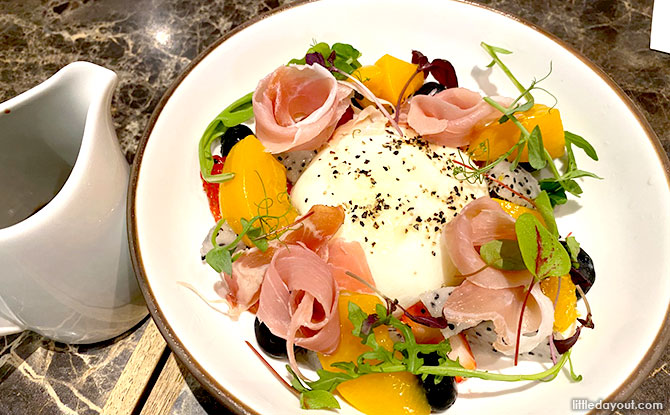 COLLIN'S® entire salad category has been given a fresh makeover. If you love Burrata Cheese and Parma Ham, go straight for the fruity Italian Burrata and Parma Ham "Salad" ($22). The plump helping of Burrata paired gorgeously well with the tasty Parma and the sweet swirl of colourful tropical fruits drizzled with Honey Balsamic reduction.
---
Penne Au Gratin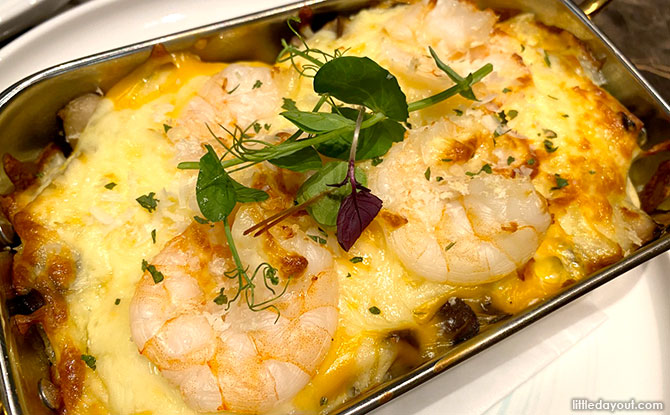 Juicy prawns sit prettily atop the baked till golden brown Penne Au Gratin ($16). Dig into it and you'll find cheese well mixed with mushrooms and penne pasta.
---
Singapore Chilli Crab Pasta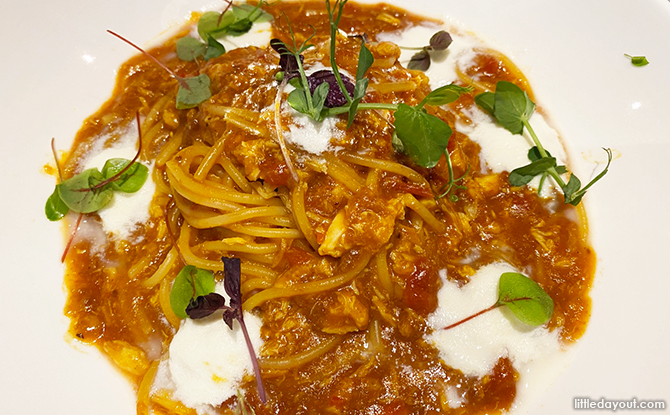 Our famous Singapore Chilli Crab gets another spin with COLLIN'S® Singapore Chilli Crab Pasta dish ($17). Of the few other chilli crab pasta dishes we've tried, this Asian-inspired Italian version rings closest to a chilli crab dish on its own. Drops of Ricotta cheese balance out the tangy sweet and spicy sauce.
---
COLLIN'S® Premium Combo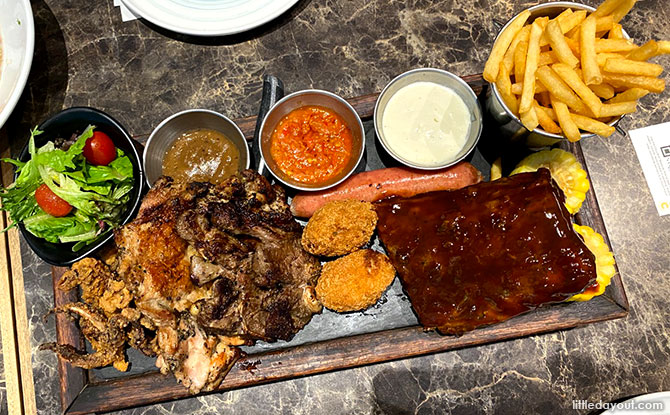 COLLIN'S® Premium Combo was perfect for our party of four to share. With its hearty selection of COLLIN'S grilled meats, consisting of its signature Grilled Chicken Chop, roasted BBQ Pork Ribs (half slab), tender Lamb Chop and prime Iberico Pork sausage, this combo has been crafted to please.
We particularly enjoyed the crisp yet chewy Tempura Squid Tentacles which was unique and flavourful, as well as the crunchy and creamy Prawn Croquette served with homemade tartar, black pepper and the new COLLIN'S® exclusive Harissa sauces. Priced at $48, this delightful combo with Shoestring Fries, Grilled Corn and a House Salad as sides sealed it off as a good deal.
---
10/10 at COLLIN'S® Pizza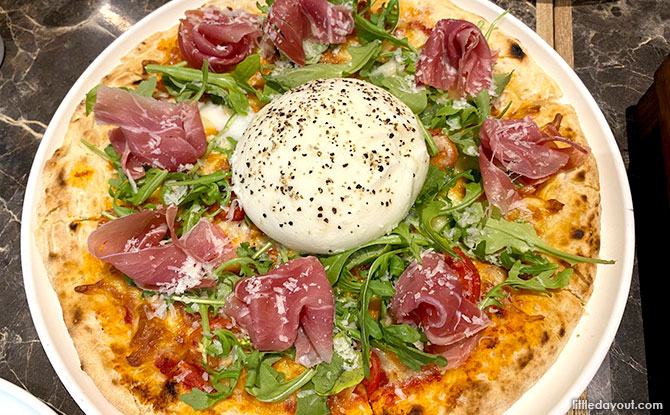 Burrata Cheese makes another grand appearance as the centrepiece of the 10/10 ($29) on COLLIN'S® wood-fired Parma Ham pizza with Rocket leaves. The thick crust pizza was neither too chewy nor crispy and the dough carried the flavours of the ingredients well. Priced at just $3 more compared to the same Pizza named Best Picks without the Burrata Cheese, we would go for the Perfect 10.
---
COLLIN'S® Kids' Meals
COLLIN'S® new menu does not forget the little ones. They can take their pick from Prime Iberico Sausage with Carbonara, Grilled Salmon or Spaghetti Bolognese. Or they could also go with Fried Fish Fillet and Smoky Sweet BBQ Drumlets.
Each meal comes with Shoestring Fries, Grilled Corn, a choice of orange/apple juice and COLLIN'S® dairy free ice cream including Chocolate Fudge Cookie, Vanilla Bean, as well as locally inspired twists of Onde Onde and Chendol, all made in collaboration with The Ice Cream & Cookie Co.
---
Beverages
COLLIN'S® also offer a cool variety of tropical quenchers made of a mix of fruits, tea and soda.
---
Verdict
We took a vote at the end of the satisfying meal and each dish earned its stripes from different ones of us in the party, sufficient proof that the menu has been crafted to please various palates.
---
COLLIN'S® Restaurant
New Menu Launched in September 2022
COLLIN'S® Restaurant Outlets in Singapore
Media invite.