Burger King has just unveiled two new burgers for the Lunar New Year – the Ultimate Chilli Crab Double Salmon Burger ($9.50 ala carte) and Chilli Crab Long Chicken Burger ($5.90 ala carte).
Burger King Singapore has been quite imaginative with its flavours and menu items (we're thinking of its recent fries and ice cream menu item and others) and, now, it has Chilli Crab burgers which bring a favourite local flavour inbetween its hamburger buns. The chilli crab sauce even comes with a disclaimer that it contains shellfish, which is a good sign that it isn't just artificial flavours.
---
Burger King Chilli Crab Burgers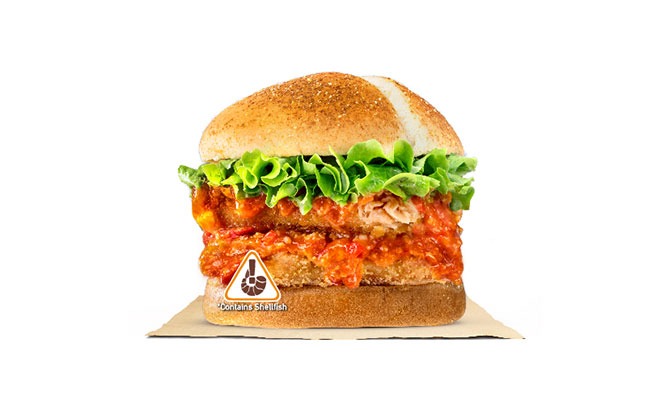 Burger King's Ultimate Chilli Crab Double Salmon Burger features a stacked pair of pink salmon patties doused in Chilli Crab sauce, topped off with lettuce and sandwiched inside a sourdough bun.
The Chilli Crab Long Chicken Burger is a long "sub" version with a sesame seed bun. Both of these burgers are available as meals.
---
Taste Test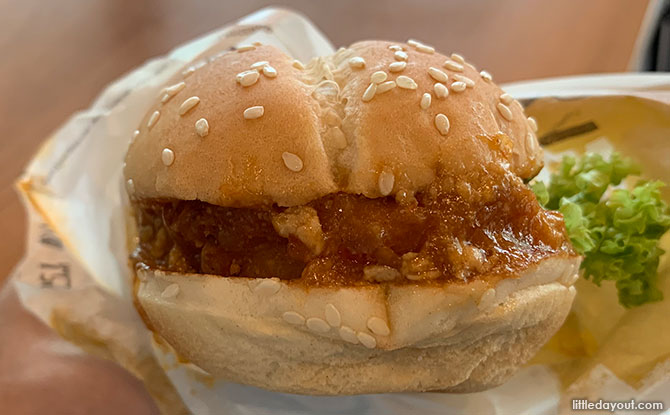 We gave the Chilli Crab Long Chicken Burger a try. We enjoyed the sweetness of sauce and it had a bit of spiciness which lingered on our lips. There are bits of egg in the sauce and overall it was not too bad.
For those who think that the Burger King Chilli Crab sauce would go well with fries, the "King" is one step ahead of you. There are Chilli Crab Fries available at $3.20 for a regular portion.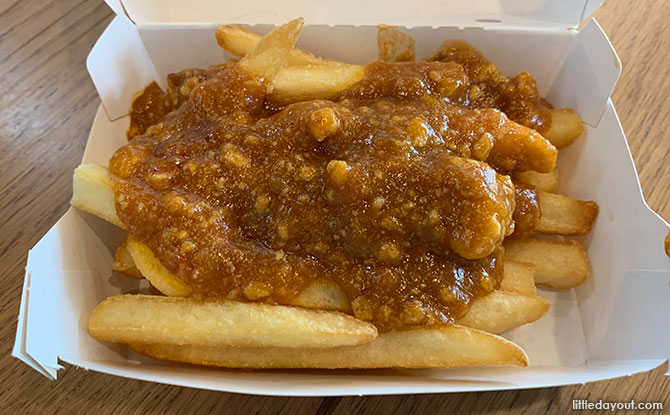 We actually enjoyed the Chilli Crab sauce more with the fries than with the burger. The potatoes paired well with the thick sauce, allowing its flavour to come through.
The sauce can also be purchased in a tub at $2.90 or as an extra add on to the Burger King Chilli Crab burgers for $2.
---
Sweet Treats
Burger King is also selling the Golden Pie ($1.60) for the Chinese New Year season. This pie has a mung bean paste with generous bites of fresh coconut. A bit like a Ang Ku Kueh and Kueh Bangkit wrapped up in a crispy pie crust.
There is also a sweet Orange Strawberry Float ($2.80) available.
"Chilli Crab isn't the dish you first associate with Lunar New Year, in part because we go to great lengths to avoid using sharp objects on the first day of Lunar New Year to ensure our good luck and fortune stay intact. However, we're also acutely aware that this year's celebrations will be a little different, so we challenged ourselves to reimagine our limited edition Lunar New Year burger. We decided to embrace that difference by surprising and delighting our fans with our Chilli Crab burgers that would excite their taste buds, as well as remind them of happy, extended family dinners gone by. Even if you're not spending time with your extended family this year, you can still celebrate it your way," commented Irene Tay, Marketing Director, Burger King Singapore.