Taking inspiration from well known contemporary artist Yayoi Kusama, fans of this creator's bold polka dotted works will be excited to know that BreadTalk has just added a new pumpkin bun item to their menu!
---
BreadTalk's Pol-Kabocha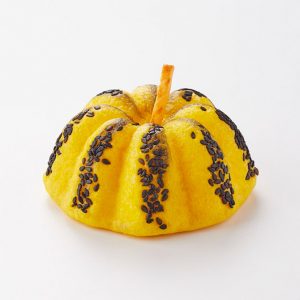 Named the "Pol-Kabocha", this bun's name is seemingly a wordplay with the combination of "Polka", and "Kabocha", which is a type of winter squash in Japanese. Kabocha is also one of Yayoi's early paintings that she exhibited in a travelling exhibition.
Shaped like a pumpkin, this bread is made with Carrot Dough and has a Pumpkin Paste centre. The exterior is then decorated with Charcoal Powder and sprinkled with Black Sesame to resemble Yayoi's pumpkin art pieces.
The BreadTalk pumpkin bun is on sale at $1.80 a piece.
---
The Love of Pumpkin
Not just a passing phase, Kusama's love of pumpkins traces back to her childhood and has significantly shaped the many years of her practice.
Some well-known works include her iconic yellow polka-dotted pumpkin art piece in Naoshima Island as well as "Mirror Room (Pumpkin)", a mirrored cube filled with paper-maché pumpkins which when viewed through a peep-hole is seen as an endless sprawl of pumpkins.
If you are yearning more of Kusama's works, you can always visit the Yayoi Kusama Museum in Tokyo website, or watch a great documentary about her. To have a taste of this novel edible creation, you can order the bun in stores or online at Breadtalk's site.
Top image adapted from https://en.wikipedia.org/wiki/Yayoi_Kusama#/media/File:Naoshimapumpkin.jpg