Located in the heritage-rich district of Joo Chiat, Bleu is a unique grocer that offers customers top-quality products such as their specialisation of dry-aged fish along with a variety of seafood, meats, fine food, pantry essentials and alcoholic beverages.
---
Premium And Accessible Dry Aged Fish At Bleu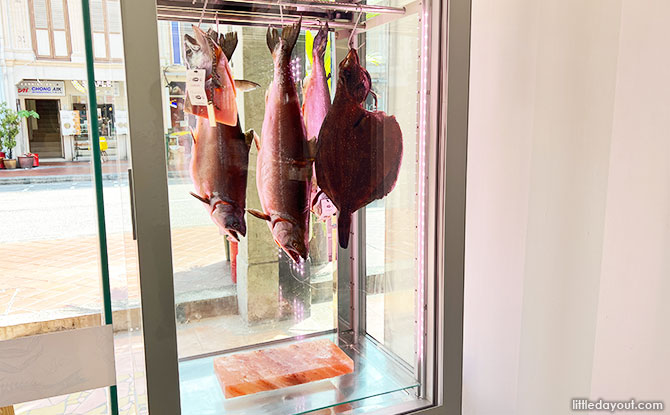 Set in a contemporary ambience paired with friendly and knowledgeable service, a key product offered at Bleu is their dry-aged fish. Descaled and gutted sashimi-grade fish goes into the dry-ager, where the temperature and humidity levels are controlled, for a period of five to thirty days.
This process improves the firmness and intensifies the flavours of the fish, allowing it to be enjoyed with minimal seasoning and preparation.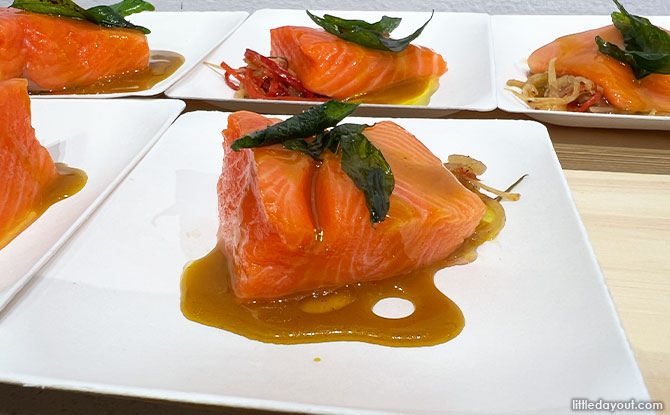 A personal favourite fish that we got to sample was the Ora King, which is essentially the "Wagyu of Salmon". The naturally high oil content in Ora King salmon can be seen the striking marbled fat lines within the bright orange flesh.
The salmon that are brought to Bleu are bred from a renowned Salmon classical breeding programme and are even individually numbered for traceability.
The produce at Bleu is priced so that shoppers don't have to sell an arm or leg to enjoy quality food. Customers can expect high-grade Dry Aged Ora King Salmon from $12 per 100g, and premium Dry Aged Samegarei from $12 per 100g. Bleu also offers ageing services for fish where customers can pre-order a specific fish to be dry-aged.
---
Top Quality And Hormone Free Produce At Bleu
Bleu provides its customers with a selection of quality meats and seafood no matter their cuisine preference. As a seafood grocer, there are options galore such as Live Boston, Live Alaskan King Crabs, Oysters and a range of fresh, chilled seafood imported from Australia, Canada, France and Ireland.
Customers can then choose to have these premium crustaceans professionally prepped and portioned in the store, or bring them home live. Those looking for a ready-to-eat option can opt for Bleu's Seafood Platter ($128) which consists of the freshest catch with Live Boston Lobster, Live Tiger Prawns and Oysters.
The grocer in Joo Chiat also has an array of meats including GG Poulet Chicken – a free-range, antibiotic- and hormone-free chicken; A5 Wagyu from Japan; and USDA Prime Striploin. These meats can also be prepared and portioned to the customer's preference.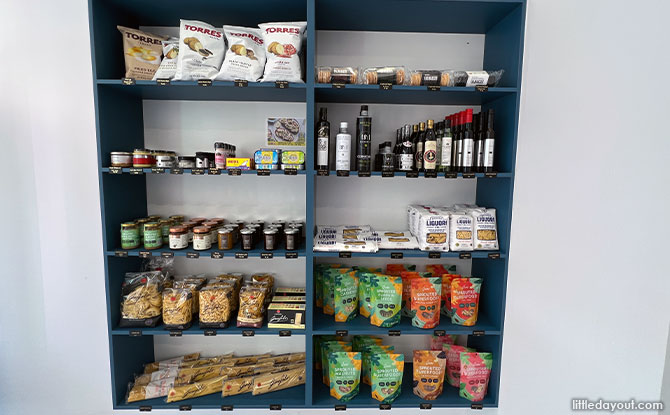 As part of it being a one-stop shop for a convenient grocery run, Bleu also carries local speciality products, including Oatside plant-based oat milk, Gorilla Press juices, With love, Gretel sprouted nuts, CHU Collagen soup stock, Artisan Green vegetables, Pourabucha kombucha and Jill's Sausages.
---
Prepared For Convenience And Hassle-Free Cooking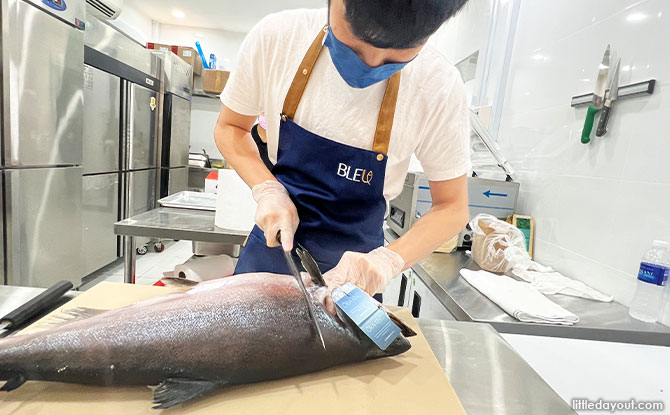 Bleu offers customers customisation services where shoppers can request for their seafood or meat purchases to be prepared and portioned to their needs and wants. Parents will also be happy to know that they can opt for petite cuts of meat for little ones, whereby the protein is vacuum packed and divided into smaller ready-to-use portions.
This is also especially useful for those who meal-prep or count their macros and micros. Customers can also request for the fish to be sliced and meats to be minced, ensuring that the proteins can be enjoyed just how they want them.
Bleu is located at 175 Joo Chiat Road, Singapore 427446. It is open from Tuesday to Friday from 10.30 am to 8 pm and Saturday and Sunday from 10 am to 8 pm. Website