The exhibition Between Worlds: Raden Saleh and Juan Luna provides a look at two extraordinary Southeast Asian artists who rose to prominence in the 19th century. It is one of two exhibitions under the Century of Light presentation at National Gallery Singapore.
Between Worlds, tells the story of the two artists through their artworks. It offers a perspective of how these two individuals, one an Indonesian and the other Filipino, developed and bridged the two "worlds" of Southeast Asia and Europe in the 1800s.
Raden Saleh – Javanese "Prince" Painter
Raden Saleh was born in 1811 in central Java.
He was born into a privileged life as his uncle was the Regent of Semarang. This allowed him to come under the tutelage of Belgian painter Antoine Auguste Joseph Payen who had been sent to Java by King Willem I of the Netherlands.
At that time, Indonesia was a Dutch colony and Raden Saleh had the opportunity to move to Antwerp in 1829. There, he studied the European style of painting. He eventually rose to the position of Schilder des Konings or King's Painter, bestowed by Willem III.
At Between Worlds, Raden Saleh's works are presented in three blue-walled rooms.
The first room looks at his early works.
At a time when to be a renown painter meant painting huge biblical scenes, Raden Saleh is acclaimed for his Orientalist animal hunts and fight paintings.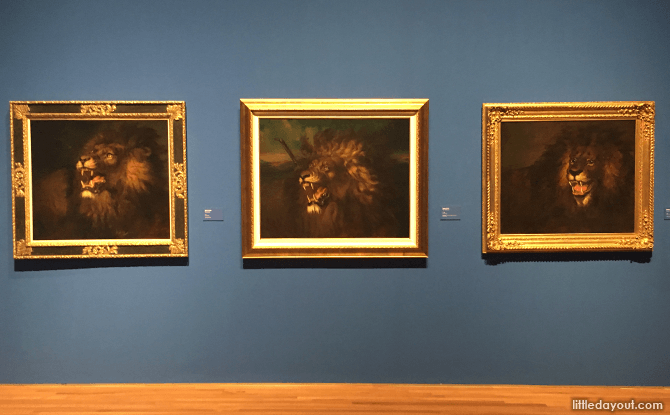 Saleh was inspired to start painting lions when attending animal shows by the animal tamer Henri Martin in The Hague and Haarlem. Between Worlds showcases three of his paintings Martin's lion, Nero.
This path eventually led to the grandiose paintings of Oriental lions and animal hunts that he is now celebrated for.
After two decades in Europe, Saleh returned to present-day Jakarta in 1852 where he carried on painting.
Two of the artworks from this period are on display at Between Worlds. From the Smithsonian collection, they depict scenes of Javanese men chasing deer and a Javanese temple in ruins.
Saleh passed away in 1880 at present-day Bogor in Java, Indonesia.
Juan Luna – Artist to Nationalist
The works of Filipino artist Juan Luna is the subject of the next three rooms at the Between Worlds exhibition.
Luna was born in 1857. Even though he had an interest in art from a young age, under pressure from his parents who wanted him to get a "real profession", Juan Luna went to nautical school. After graduating, he worked away from the Philippines a number of years. Later, Luna would say, "My nautical career was a trick of mine intended for my parents. I wanted to accustom them to the idea of separation."
Clearly, it worked as his parents sent him to Madrid in 1877 to study at the Real Academia de Bellas Artes de San Fernando (Royal Academy of Fine Arts of San Fernando).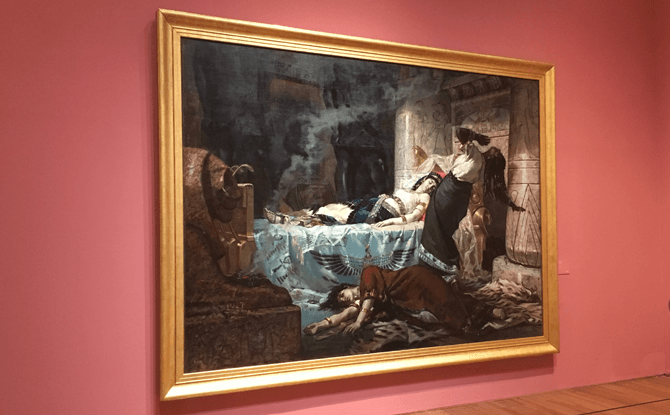 In 1881, he won his first major award, a Second Class medal, at Spanish national exhibition for his work, Cleopatra. This work has all the hallmarks of 19th-century European art with fine details and dramatic colours. It is on display at Between Worlds.
Three years later in 1884, Luna won a First Class medal, and lasting fame for himself, with his most famous painting, Spoliarium.
In sharp contrast to Cleopatra, another of Luna's works at National Gallery Singapore's Between Worlds exhibition is Les Ignores or The Unknown Ones. This artwork in the Realist style depicts the funeral of an unknown person. It emphasises the sombre realities faced by the dispossessed.
Among his celebrated works is that of Espana y Filipina (Spain and the Philippines). There are several versions of this work which shows two women, representing Spain and Philippines, progressing up a set of steps towards a bright future.
Juan Luna eventually returned to the Philippines and served as a diplomat in support of its nationalistic cause. The last room of Between Worlds provides a look at a more personal side of Juan Luna with portraitures of family members.
Journey Between Worlds
Between Worlds: Raden Saleh and Juan Luna casts light on the lives of two painters who managed to bridge the worlds of their homeland and Europe in the 19th century. It provides interesting perspectives on these two luminaries, the development of their style and how they paved the way for future generations of artists.
Visitors can gain deeper insight into the artists by downloading the Gallery Explorer app for a short audio tour of Between Worlds: Raden Saleh and Juan Luna, or join in guided tours held daily.
Between Worlds: Raden Saleh and Juan Luna opens to the public from 16 November 2017.
Between Worlds: Raden Saleh and Juan Luna
When: 16 November 2017 to 11 March 2018
Where: Singtel Special Exhibition Gallery, Level 3, National Gallery Singapore
Cost: $15 for Singaporeans and PRs, $25 for non-Singaporeans.