Hands up if you live in Clementi! Or if Clementi is a neighbourhood hangout! We highlight the eight best Clementi playgrounds to visit. So get ready your bicycles or scooters and explore with us!
---
Best Clementi Playgrounds
Candy Trail with Hansel & Gretel, Clementi Crest
No evil witches hiding here at the well-loved Hansel & Gretel playground at Clementi Crest. The colourful Gingerbread house will draw children to it instantly. They will also find delight spinning the lollipop trees, balancing on the wooden plank bridge and climb on the Adventure Bridge. Find out more about this gem, located next to the multi-storey carpark here.
---
Adventure Treehouse, Clementi Crest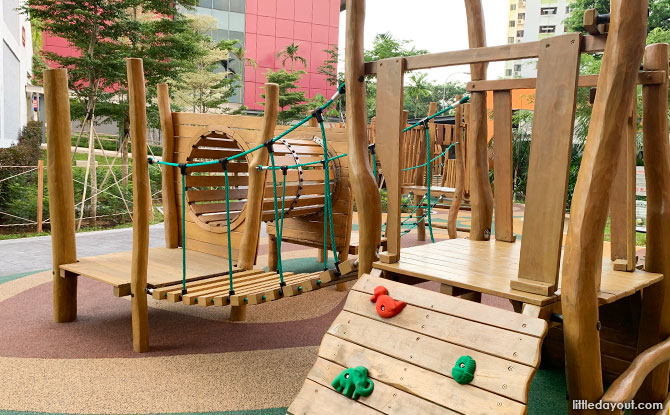 Not far away is a playground suitable for older children. At the base of Blk 445B, you will find The Adventure Treehouse. Made of wood, the playground has tunnels, ladders, bridges to navigate. Explore more here.
---
Clementi Ave 4 Playgrounds – Merry-Go-Rounds Galore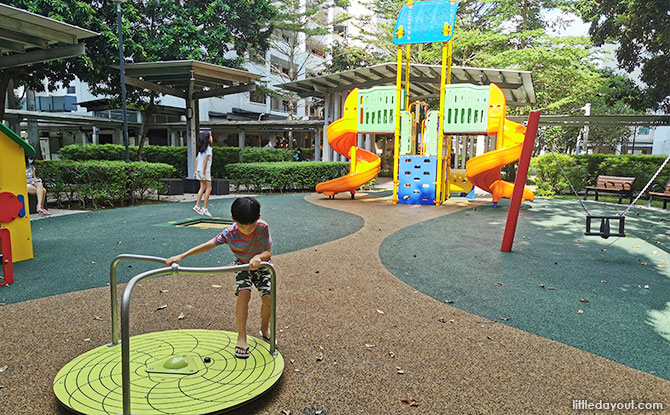 Looking for old school playgrounds? The playgrounds near Blk 302 and 307 have three merry-go-rounds to check out!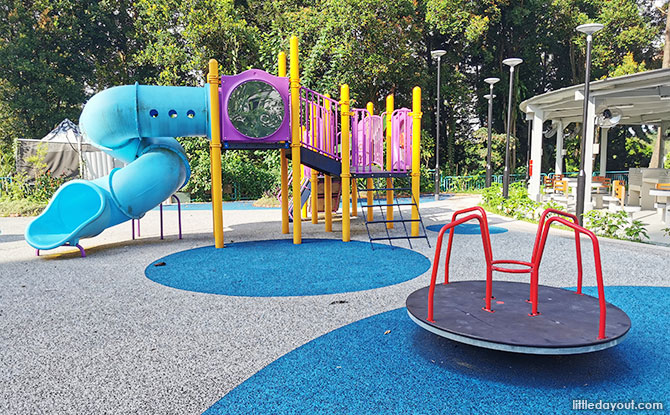 This neighbourhood is splendid for playground-hopping. There are two playgrounds next to Blk 307 which are also next to the community farming plot. Find swings, rope bridges, slides apart from the well-loved merry-go-rounds.
Just head to Blk 302 a stone's throw away to find another playground with a two slides, a bucket swing, a merry-go-round and a trampoline!
If you are feeling more adventurous, head to Firefly Park which is a short walk away.
---
Firefly Park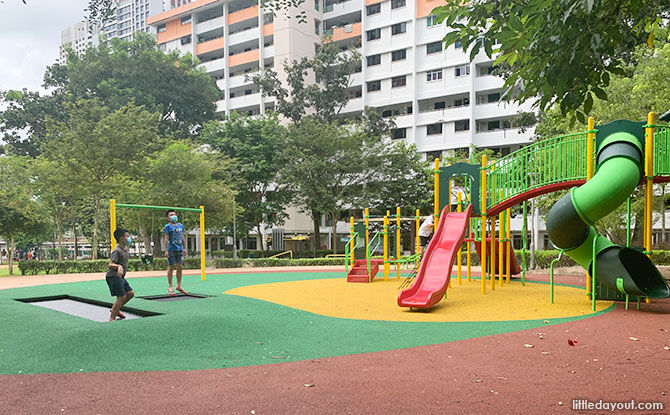 We love the expanse of greenery at Firefly Park. Aside from the space, there are two playgrounds to check out. The green play structure has a walkway, a set of slides, springy trampolines and bucket swings for younger children. The other play structure is blue and purple with three slides, climbing elements, a merry-go-round and swings. Find out more about Firefly Park here.
---
Clementi Castle & Wagon Playground, Clementi Ave 3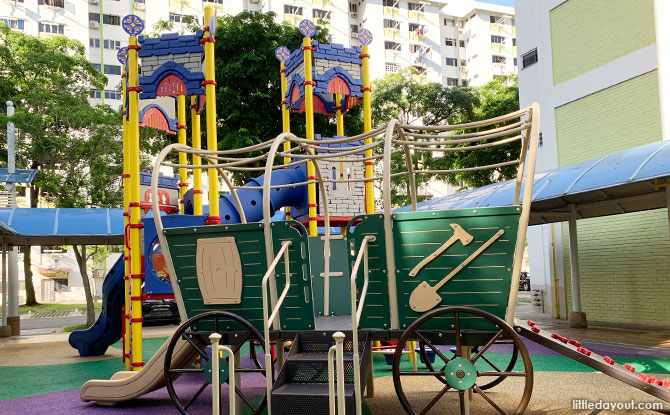 Children who love play pretend of cowboys and bandits might love this playground with a wagon! The combination of a castle and wagon would please even the littlest. It has slides, ramps, climbing bars and children can choose either structure to play on. Find it between Blocks 434 and 435 Clementi Ave 3.
---
Musical Playground with Triple Slides at Clementi Ave 2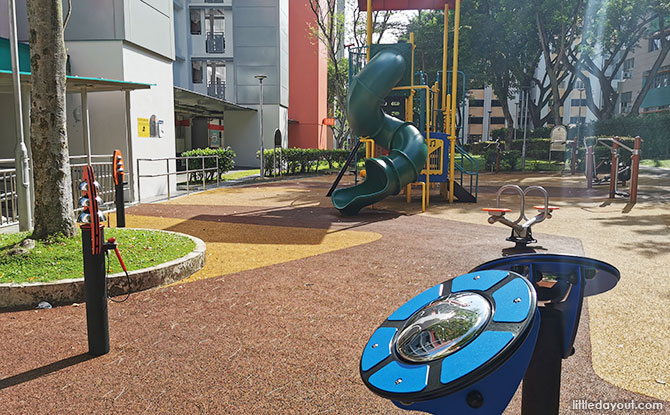 Right behind Peitong Primary School, in front of Blk 333 Clementi Ave 2 is a playground which is charming to the ears. There you will find a few musical stations for some music/merry-making. There are also triple slides and another tall slide to choose!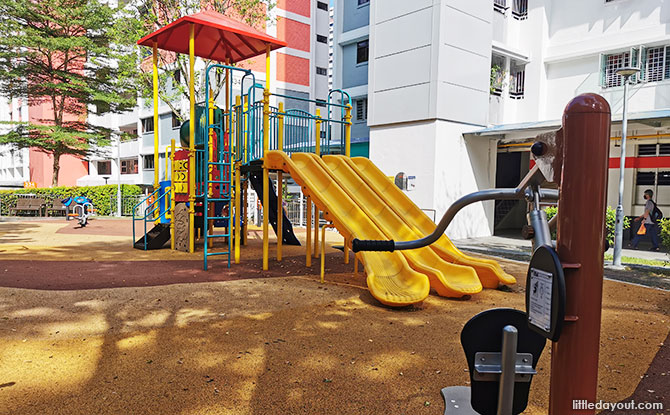 Caregivers can also watch their children closely while exercising at the exercise corner right next to this playground.
---
Treehouse Playground, 351 Clementi Ave 2
Who doesn't love an exhilarating climb to a peak and then taking a long descend via a slide?
This Treehouse playground has a tall structure and a long slide to try. There are also various climbing routes with a rope ladder, rock wall or simply head upwards via the shorter slide. Next to it is also a small exercise station and some big steps for caregivers to rest and watch the children. We reckon those big steps are fun for playing "What's the time, Mr Wolf?" as well!
---
Casa Clementi Playground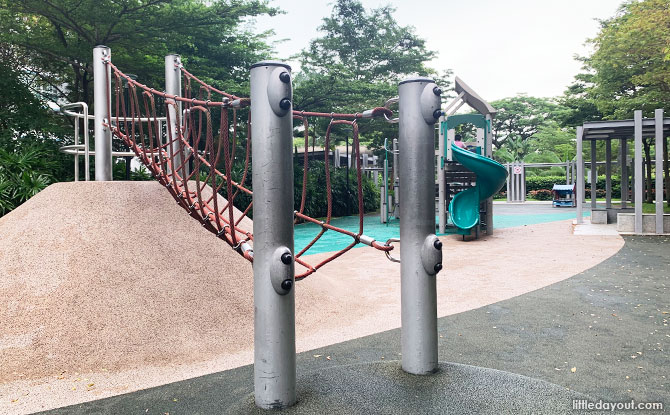 Casa Clementi has two playgrounds on the rooftop of the multi-storey car park. Head over the end closer to Clementi Road and you will find a little gondola that kids can move about as well as some interesting play structures. Get more details about the Casa Clementi playground.
---
Top, Favourite Playgrounds in Clementi
This is our list of the top 9 playgrounds in Clementi, if you know an awesome playground that should be on this list – tag us @littledayout or email us hello@littledayout.com to include your favourite playspot in Clementi.