Scroll to the bottom to participate in our Giveaway!
We love spending time outdoors and one of our favourite places to hang out at is the beach. The best beaches in Singapore offer a chance to relax, enjoy the cool breeze and perhaps go for a dip in the water. It is also a great excuse for the kids to bring out their sand toys and play in the sand.
If you have ever wondered where are the best beaches in Singapore for that perfect day in the sun, we have rounded up a few of our favourites below.
Banana Boat's New Simply Protect Sunscreen for Babies & Kids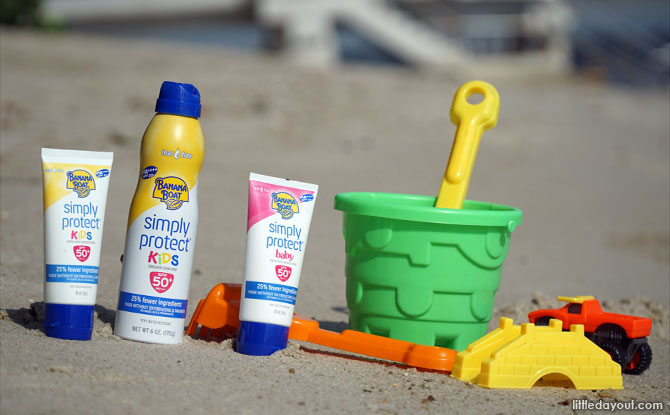 Before we get to the best beaches in Singapore, here is a shout-out to Banana Boat for sponsoring this feature story. Banana Boat has recently launched a new Simply Protect range of mineral-based* sun protection with 25% fewer ingredients** but still retaining the SPF+ protection, making it great for babies and kids.
In fact, there is even a formulation specially for babies! But more on that later.
---
-- Story continues below --
Now, here are our favourite beaches for a lovely day out with the family in Singapore.
Sentosa's Beaches – Palawan & Tanjong
Among Sentosa's many attractions are its pristine, white beaches. While Siloso beach is one of the best-known beaches on Sentosa, our personal favourites are Palawan beach and Tanjong beach. Quieter than the hip-and-happening Siloso, Palawan and Tanjong both offer large stretches of sand where you can spread out a mat and enjoy the view, sans crowds.
Clusia Cove
Amazingly, there is a "beach" at the newly opened Jurong Lake Gardens! Clusia Cove has a water play area with a tidal pool and sand play area. The "tides" cause the water to wash up against Clusia Cove's sandy "beach", creating wave-sculpted ripples in the sand. It is a great spot for a little fun in the sun. Kids get to learn about the forces of nature at the same time.
St John's Island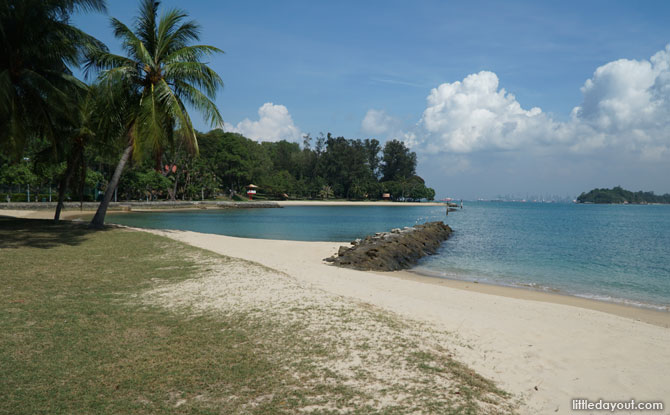 If you really want to get away from it all, St John's Island is the place for you. Taking the boat from Marina South Pier, you will arrive at the island with coconut trees literally swaying in the wind. The beach at St John's Island has recently been cleared of the asbestos problem that plagued it in 2018 and is set to reopen in June 2019. A visit to St John's Island and its beach is a worthy day trip out with the fam.
Lazarus Island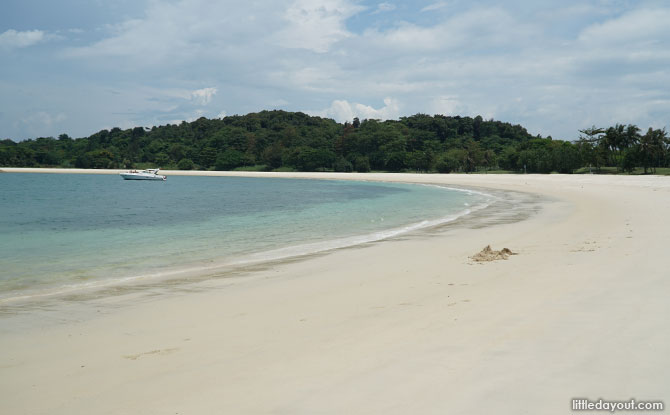 Lazarus Island's beach feels like a secret hideaway. The crescent-shaped, pristine beach is a popular stopover spot for boats which choose to moor off its sandy shore. It can also be reached by crossing a causeway which links Lazarus Island to St John's Island.
Changi Beach
Changi Beach Park is one of Singapore's oldest coastal parks. It has a laid-back, kampung feel and one of the best beaches in Singapore. The view from the beach looks out towards uncluttered waters while the occasional airplane flies on its approach to Changi Airport. Amenities can be found close by at the equally laidback Changi Village nearby.
East Coast Beach
East Coast Beach is the godfather of all beaches in Singapore. Many beach outings have been planned at East Coast Beach and the long shoreline means there are plenty of sandy spots to choose from. Our favourite stretch of sand is close to Car Park E2, near the Lagoon Food Centre.
Coney Island Beach
One of the most secluded beaches in Singapore can be found at Coney Island Park. Actually, the island in the northeast of Singapore has four beach areas and these are amongst the most natural and undeveloped beaches you can find in Singapore. Hint: do bring along insect repellent too when you visit. The best way to reach the Coney Island beaches is by bike. Once there, you are very likely to have the beach all to yourself.
Punggol Beach
There is a beach next to Punggol jetty where kids can enjoy playing by the water while the waves lap up against the sand. Punggol Beach is also unusual because of the large boulders found along the shoreline. Take a close look at the water and you may even be able to spot tiny ikan bilis swimming about.
All You Need for a Day in the Sun at the Best Beaches in Singapore
The best way to enjoy a day out with the family at the beach is to make sure that you have the right gear with you. In addition to sand toys, swimmers for the little ones, snacks and a large beach mat, a good sunscreen is must-have.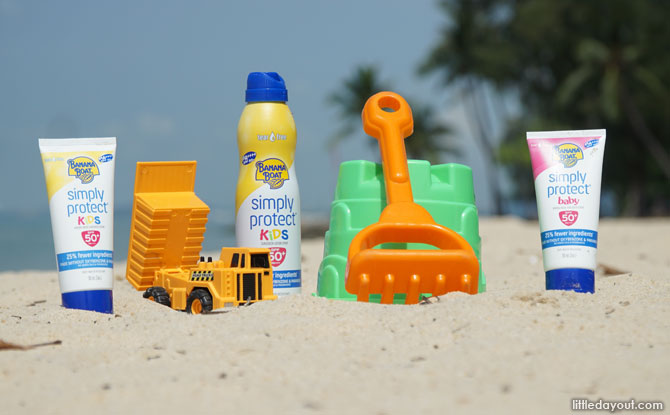 Banana Boat has recently launched the new Simply Protect Baby Sunscreen Lotion, specially formulated to be ultra-gentle for babies and kids, from ages 6 months to 4 years.
The new Simply Protect Baby & Kids range is free of oxybenzone, parabens, added oils and fragrances. It has been tested extensively to ensure its potential for irritability is kept to the minimum, making it suitable even for babies. With a protection rating of SPF50+, the sunscreen still manages to block out a broad spectrum of harmful UVA and UVB rays and is water-resistant for up to 80 minutes.
Banana Boat Simply Protect is available as Baby Sunscreen Lotion, Kids Sunscreen Lotion and Kids Lotion Spray. The lotions cost $16.90 while the lotion sprays, suitable for older, active children, cost $21.90.
The new Banana Boat Simply Protect Sunscreen can be purchased at Watsons, Guardian, Fairprice and Unity.
*Mineral based sunscreen only applies to Simply Protect lotion range.
**Banana Boat Simply Protect formulas are formulated with 25% fewer ingredients versus Banana Boat base formulas.
This feature is brought to you by Banana Boat.
GIVEAWAY: Win A Banana Boat Float!
Little Day Out is giving away:
8 Banana Boat Floats to
8 winners!
For a chance to win a Limited edition Banana boat float, simply follow these 3 steps:
Follow us on Facebook (https://www.facebook.com/littledayout.sg/) and Instagram (https://www.instagram.com/littledayout/)
Tell three friends or more about Little Day Out by tagging them in the comments of the giveaway post

Answer the question in the form below:
---
This contest has closed. Congrats to all our winners!
---