Ice cream lovers, mark down 10 April 2018 on your calendars. That date is Ben & Jerry's Free Cone Day 2018.
Between noon and 8 pm, head down to any of the three Ben & Jerry's Scoop Shops in Singapore to enjoy free scoops of Ben & Jerry's ice cream in 15 different flavours. The Scoop Shops are located at 313@Somerset, VivoCity and Dempsey. If in doubt as to where to find them, simply look out for the long lines.
But, there is more to Ben & Jerry's Free Cone Day this year. In fact, there three ways you can get involved in this "sweet" event.
#1. Join the Queue
Ok, at the risk of stating the obvious, you can celebrate Ben & Jerry's 40th Free Cone Day by getting free ice cream. Started by friends Ben Cohen and Jerry Greenfield in 1978, the company makes their ice cream using Fairtrade-certified ingredients.
---
-- Story continues below --
To enjoy the free icy treat, just join the queue between 12 pm and 8 pm on 10 April 2018 at one of its Scoop Shops.
#2. Ice Cream Eating Challenge
Think that you are the ultimate ice cream eater? On Ben & Jerry's Free Cone Day 2018, step up and stand to win free ice cream for an entire year.
The inaugural fastest ice cream eating challenge – The Ultimate Conedown – will take place at the Ben & Jerry Flagship Scoop Shop at 313 @ Somerset between noon and 5 pm.
Beware the brain freeze!
#3. Give Back with TWC2
As a socially-conscious business, Ben & Jerry's also uses Free Cone Day to celebrate the people in the community who do good every day.
For Free Cone Day 2018 on 10 April, Ben & Jerry's has teamed up with non-profit organisation, Transient Workers Count Too (TWC2) to support migrant workers in Singapore. This collaboration aims to highlight the role and contributions made by migrant workers in sectors such as construction, sanitation and domestic work.
In aid of migrant workers in Singapore, TWC2 has developed the Cuff Road Food Programme which provides free meals to workers in need.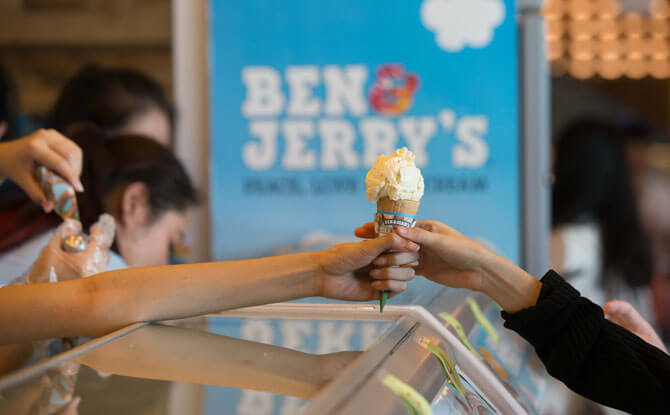 To play a part in supporting these migrant workers, those enjoying the free ice cream on Free Cone Day can take a picture of their Ben & Jerry's ice cream scoop and share it on Instagram with the hashtags #BenandJerrySG and #TWC2SG. Ben & Jerry's will donate $1 toward the Cuff Road Food Programme for each Instagram post with these hashtags.
Get more information here.
Ben & Jerry's Free Cone Day 2018
Date: 10 April 2018
Time: 12 pm to 8 pm
Venue: Ben & Jerry Scoop Shops at 313 @ Somerset, VivoCity and Dempsey