This pancake is modified from the Korean pancakes called "Pajeon" and I call it Asian Leftovers Pancake because you can substitute it with whatever veggies you have in your fridge or with what your family likes to cook this dish.
With a light batter that makes the pancakes crispy, and crunchy vegetables hidden within, it's sure to win the hearts of your kids.
Recipe for Asian Leftovers Pancake
Ingredients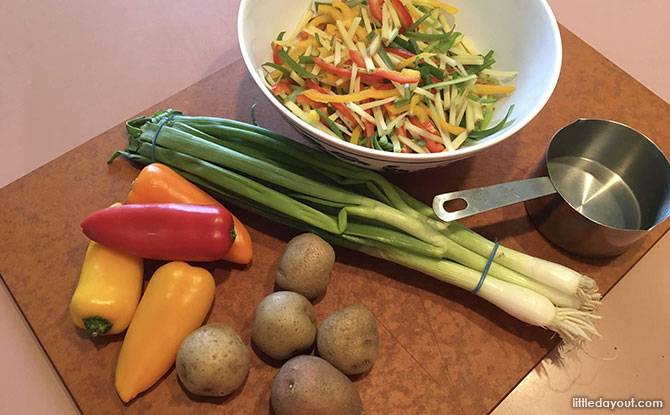 About 2-1/2 to 3 cups of any sliced vegetables you prefer:
4 stalks on green onions
1 medium potato
4 mini sweet peppers
Flour batter (mix well to have a smooth batter):
3/4 cup of All Purpose Flour
1/2 teaspoon of salt
3/4 cup of water
Dipping sauce (stir well together in a small bowl and set aside):
2 tablespoons of soya sauce
1 teaspoon of vinegar
Some red pepper flakes (optional)
1 teaspoon of sesame seeds
Method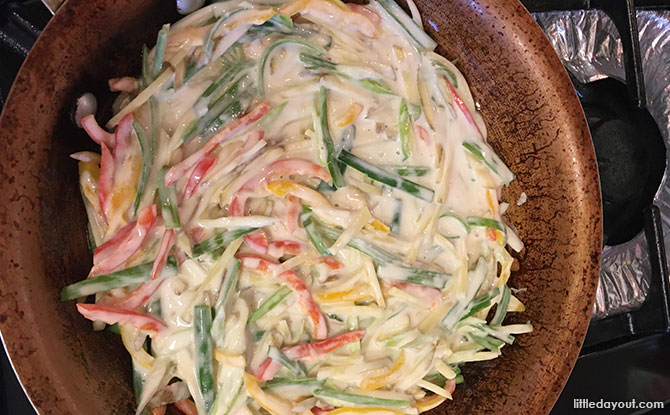 Pour all the sliced veggies into the flour batter and stir well with a chopstick.
Heat up a large non-stick skillet over medium-high heat. (I use a 10″ skillet to make a fairly thick pancake. If your skillet is smaller, you may want to cook in batches to make smaller ones.)
Add about 2 tablespoons of oil and swirl it around to coat the skillet. Add the pancake batter in the skillet and spread it out evenly.
Turn down the heat to medium and cook for 5 to 6 minutes. Occasionally, twirl the skillet so that the pancake moves. This ensures that the bottom of the pancake is heated up evenly.
Once the bottom turns crispy and golden brown, turn and flip the pancake over.
Increase the heat to medium-high and add 1 tablespoon of oil along the edges of the pancake. Lift up one edge with your spatula and tilt the skillet, so the oil flows underneath the pancake.
Cook for 4 to 5 minutes until the bottom turns golden brown, pressing down the pancake with spatula occasionally.
Once again, flip the pancake over one more time and cook another 2 minutes.
Transfer the pancake to a large plate and serve hot with dipping sauce.
Good for a family of four.
Simple #homecooked-recipes is a new daily series specially developed to inspire beginner cooks with work and kids to handle, and not much time to spare in the kitchen. The recipes are deliberately simple enough even for kids to help you with them. Click here for more simple home-cooked recipes.