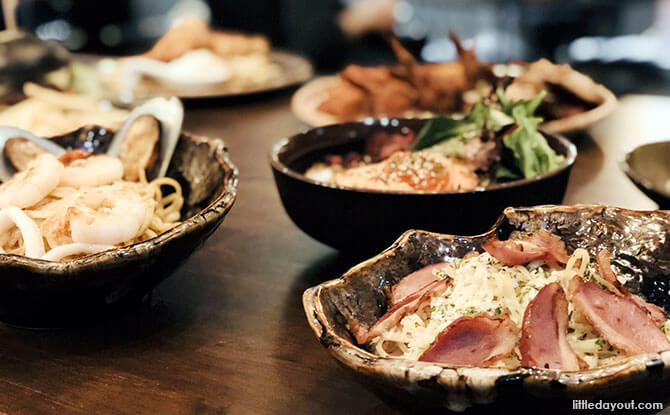 If you're looking for a dinner date-night spot or a casual lunch location, consider heading down to Ash & Char, a chic gastrobar in the business district. With a classy and stylish interior, appetising yet reasonably priced food, Ash & Char is a surprisingly intimate and not too "loud" spot, which meant that conversations could easily take place over a great meal.
We tried a variety of dishes from the different sections of the menu, and here were some of the highlights.
Tapas & Sides
We sampled Ash & Char's Crispy Kalemari, Signature Char Siu, Mayura Choco Wagyu,, Crispy Cauliflower and Chijeu-Buldak (Korean-style gochujang chicken with cheese). Do take note that the last four items are from the Tapas menu which is only available after 5 pm.
The signature Char Siu was a favourite at the table. The pork belly was charred and seasoned beautifully, and the golden ratio of meat to fat kept us going back for more servings than we probably should have.
We are really glad that this is also available as "bowl" option and maybe next time, we'll order it as a salad bowl to ease the guilt on this guilty pleasure.
The Chijeu-Buldak, is also worth mentioning. We enjoyed the distinct flavour from the fermented soybeans and kick of spice as we bit into the chicken. This is also a flavour option for their wings. We enjoyed the Mayura Choco Wagyu, but could not really taste any chocolate, although the cubes were thick and satisfying to bite into.
Burgers & Seafood
The AC Char-grilled Wagyu Burger and Classic Fish & Chips was next. While we felt like the patty for the Wagyu Burger was not as "juicy" as we would have liked it to be, any diner who has a burger craving would still be satisfied. The quality of the ingredients were definitely of good standard and the fish was notably sweet and flaky, like how a good quality fish should be.
Pasta & Bowls
Also on the Ash & Char menu are the Mentaiko Salmon Aburi Rice Bowl, Tom Yum Seafood Pasta and Creamy Smoked Duck Pasta. Bowls are only available before 5 pm and come with a choice of rice or salad served with roasted sesame dressing as the base.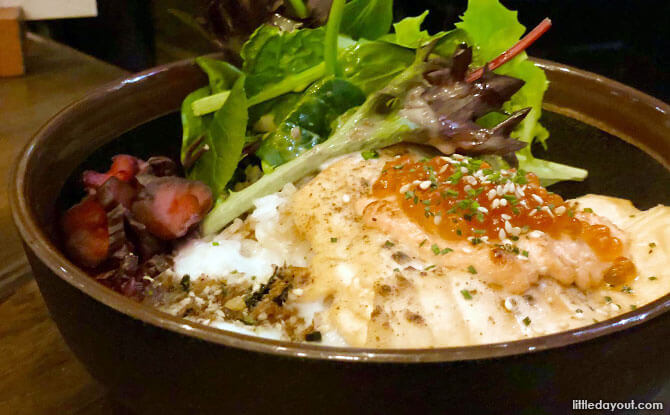 The Mentaiko Salmon Aburi Rice Bowl was definitely one of our top favourite dishes of the night. The rice bowl featured a Salmon fillet with torched mentaiko, ikura and sous-vide egg. The familiar dish was prepared well and we'll definitely order this the next time we visit.
We were also impressed by the price of $16, which is pretty affordable for the rice bowl in such as setting.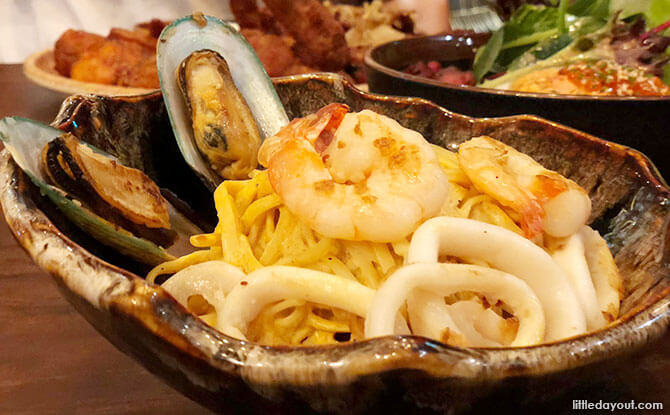 We also enjoyed the Tom Yum Seafood Pasta with its juicy prawns and sweet, yet spicy, cream tom yum sauce, topped with red chillies. Although we aren't huge lovers of spicy food, this was still enjoyable and diners who enjoy a fiery addition to their dish will probably enjoy this dish even more.
WEROC TM Wings Platter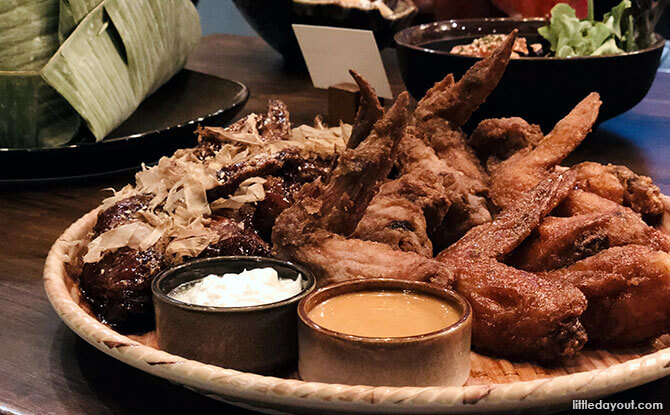 Chicken wings were next. The flavors we tried were Har Cheong Gai, US Buffalo and Japanese Teriyaki. Each order comes with 4 pieces, or if you were to order the Wings Can Fly Platter, you will get a choice of three flavours, and with three pieces of each type. It even comes served with two special house sauces.
While many diners raved about the Har Cheong Gai, our personal favourite was the Japanese Teriyaki.
We savoured the crispy chicken skin generously marinated with the sweet teriyaki sauce, and topped with bonito flakes – a nice touch to the well-cooked chicken wings.
Drinks
Lastly, a gastrobar wouldn't be a bar without drinks. Ash & Char offers beer, whisky and spirits alongside its specially handcrafted cocktails, appealing to the various drinking groups.
One of the highlights of the drinks menu is their exclusive blue wine – Santa Cruz de Alpera, that is easy on both the eyes and palette.
Overall, Ash & Char is yet another place we think is worth checking out if looking for a night out with friends. Don't forget to check out their nightly specials and Happy Hour promotion from 3 pm to 8 pm.
Ash & Char
Where: 21 McCallum Street #01-03/04 Singapore 069047
Website