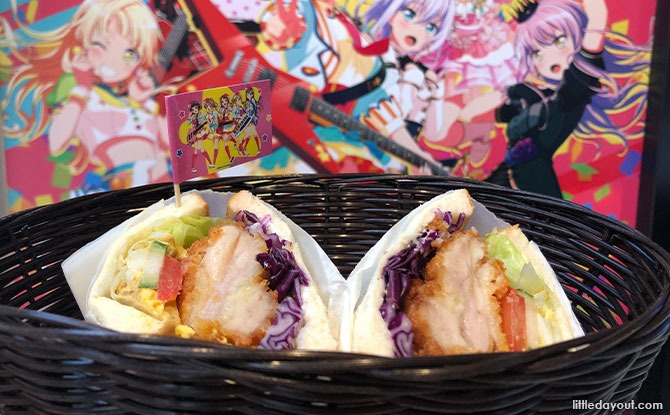 ANIPLUS café has just launched its BanG Dream! Girls Band Party! X ANIPLUS collaboration café featuring well-loved characters from the highly popular Japanese rhythm game "BanG Dream! Girls Band Party!" which is based on the original BanG Dream! franchise by Bushiroad. This year marks their third anniversary.
Enter a brightly themed interior that features all 30 members from the six bands, a curated menu of food and beverages as well as exclusive souvenirs and original merchandise. Standing around the café are life-sized cut-outs of the various characters which is accurate to the actual height, as well as a feature wall complete with the vocalists from all 6 bands!
---
ANIPLUS café X BanG Dream! Girls Band Party! Menu
Currently, the menu features three main dishes, three desserts and drinks in six different flavours and colours inspired by the six different bands. The details and thought behind each of the dishes were fascinating as the ingredients used in the dishes are foods that the individual characters enjoy as well. 
For example, they were originally going to use mushrooms as one of the ingredients in the dish but removed it as the character does not enjoy eating them.
Here are some of the dishes that we tried.
---
Poppin'Party's Wanpaku Sandwich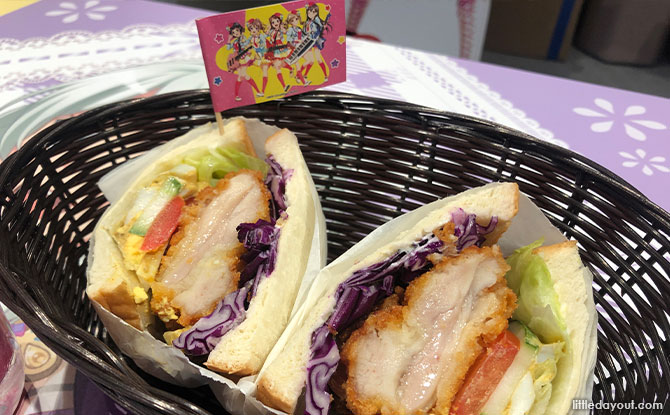 Savour the different flavours of a very crispy chicken katsu, curry flavoured egg mayonnaise, tomatoes cucumbers and more with every bite. We felt like this dish was well cooked through and enjoyed the additional hint of spice and flavour given by the curry flavoured egg mayo.
---
Morfonica's Daylight Waffle Stack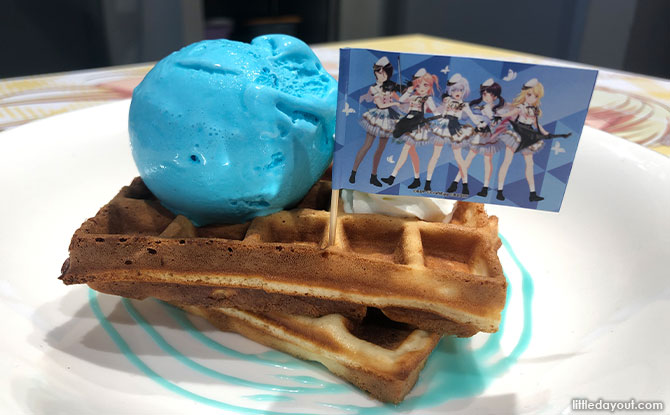 Find the light within you with Morfonica's Daylight Waffle Stack. It has buttermilk waffles with a scoop of blueberry bubble gum ice cream. The ice cream was creamy and just the right hint of sweetness for a bubble gum flavoured ice cream. The waffles however were not as fluffy as we imagined.
---
Poppin'Party's Strawberry Latte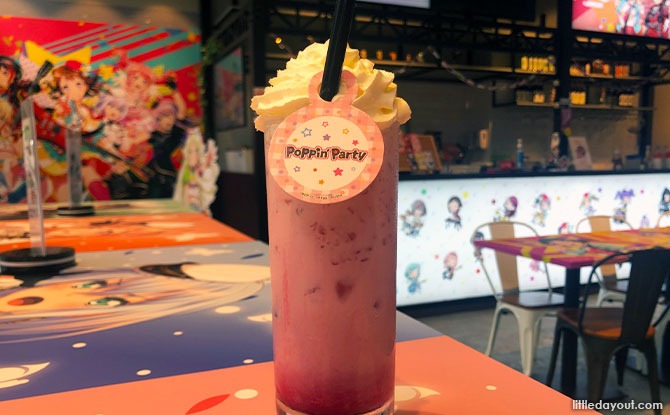 Similar to that of strawberry milk. This strawberry latte has no caffeine in it but has a strawberry milk base and whipped cream on top. It reminded us a little of the milky rose syrup drink, bandung.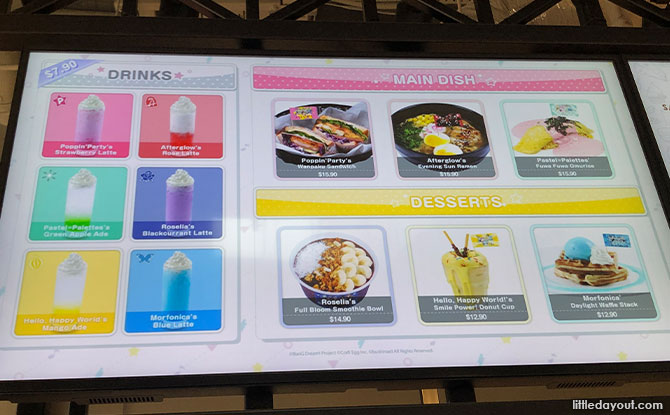 Some other interesting dishes that are available for purchase are the Pastel Palettes Fuwa Fuwa Omurice which is a classic Japanese style fried rice, topped with a golden omelette and a special creamy sauce, Roselia's Full Bloom Smoothie Bowl, Hello, Happy World!'s Smile Power! Donut Cup and more.
---
ANIPLUS café X BanG Dream! Girls Band Party! Merchandise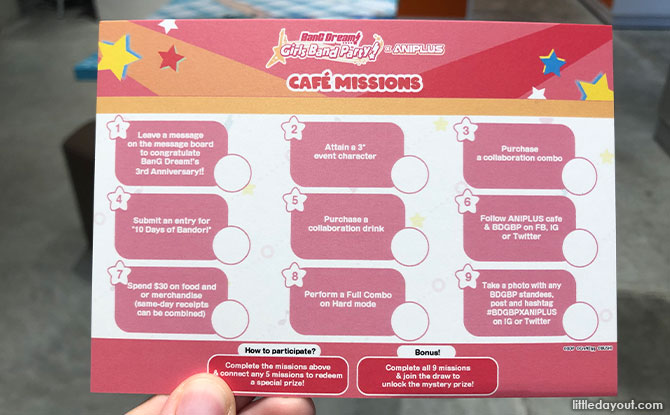 Fans can also enjoy extra rewards when they visit the café and complete café missions with the BDGBP X ANIPLUS Café Mission Card! Stand a chance to get an exclusive badge as well as a change to enter a lucky draw.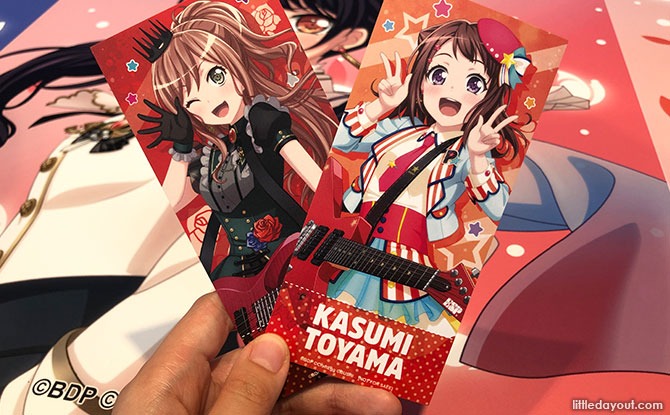 BanG Dream! Girls Band Party! X ANIPLUS 2021 will be releasing special premiums in four waves. In the first wave, fans will receive an exclusive BanG Dream! Concert-style Ticket with every purchase of a collaboration menu item. The Concert-style Tickets are available in a total of 30 designs. The following waves of special premiums will be revealed at a later date.
Other things fans can look forward to, include additional content this upcoming June with updates such as more menu items, merchandise as well as interviews with the voice actors behind the characters of Girl's Band Party!
Read more and get more updates at the ANIPLUS website here.