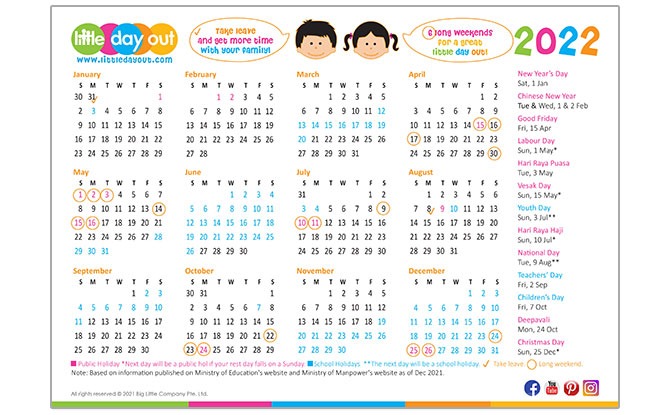 As we stand at the cusp of a new year, we are looking forward to 2022 and the 11 Singapore public holidays 2022 which dates have been released by the Ministry of Manpower and Ministry of Education.
The list of 2022 public holidays includes six long weekends and it is possible to "hack" in more lazy long weekends with a little bit of planning.
---
Public Holidays in Singapore in 2022
The 11 gazetted public holidays in Singapore each year are New Year's Day, two days for Chinese New Year, Good Friday, Labour Day, Hari Raya Puasa, Vesak Day, Hari Raya Haji, National Day, Deepavali and Christmas Day.
In 2022, they will fall on the following dates:
New Year's Day: Sat, 1 January
Chinese New Year: Tue & Wed, 1 & 2 Feb
Good Friday: Fri, 15 Apr
Labour Day: Sun, 1 May
Hari Raya Puasa: Tue, 3 May
Vesak Day: Sun, 15 May
Hari Raya Haji: Sun, 10 Jul
National Day: Tue, 9 Aug
Deepavali: Mon, 24 Oct
Christmas Day: Sun, 25 Dec
---
Singapore Public & School Holidays Calendar 2021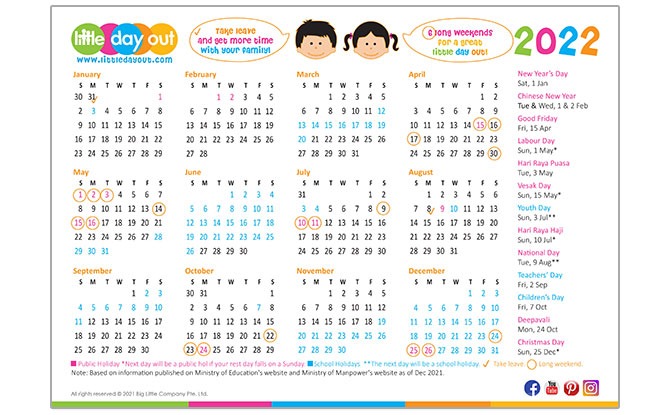 Download Little Day Out's Free 2022 Yearly e-Calendar (PDF) that marks out the public holidays and long weekends, as well as school holidays for primary and secondary schools in 2022!