Perth, Australia is a beautiful city that offers plenty of interesting attractions for both tourists and locals. With its long history and rich culture, Perth has become one of the most popular destinations in Australia, attracting people from all over the world. Some of the key landmarks in Perth include Kings Park, Rottnest Island and Cottesloe Beach. Other popular attractions include the Perth Zoo, the Bell Tower and Scitech Discovery Centre.
Aside from its natural beauty and cultural richness, Perth is also a place where many interesting people have lived and worked. Some of these notable individuals include Heath Ledger, Baz Luhrmann, Sam Newman, Sara Connor, Tim Minchin, and Robyn Butler.
Perth is also home to many unique animals, such as quokkas, numbats, blue-ringed octopuses, black swans, and flying foxes. Whether you're a nature lover or simply want to learn more about the fascinating wildlife in Perth, there is plenty to discover.
---
50 Interesting Facts About Perth, Western Australia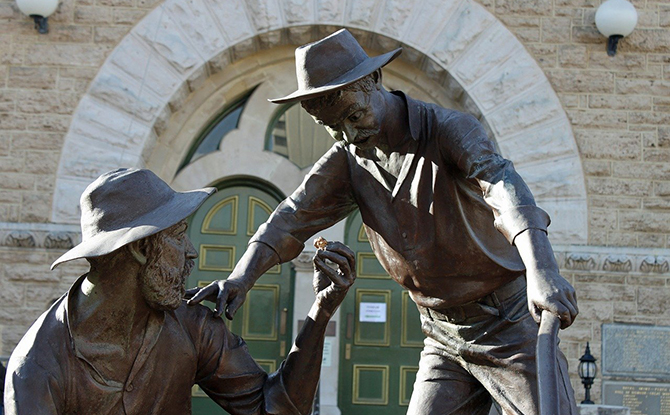 1. Perth is the capital city of Western Australia and is the fourth most populous city in the country.
2. The city was founded in 1829 by Captain James Stirling.
3. Perth covers an area of 5,386 square kilometers.
4. The population of Perth is over 2 million people.
5. The climate in Perth is Mediterranean, with mild, wet winters and hot, dry summers.
6. January is the hottest month in Perth, with an average temperature of 28 degrees Celsius.
7. July is the coldest month in Perth, with an average temperature of 10 degrees Celsius.
8. Perth experiences an average of 8 hours of sunshine per day.
9. The average rainfall in Perth is 790 mm per year.
10. The most common religion in Perth is Christianity, with over 60% of the population identifying as Christian.
11. English is the predominant language spoken in Perth, however other languages such as Mandarin, Vietnamese and Punjabi are also spoken.
12. Perth is home to a number of universities, including the University of Western Australia, Curtin University and Murdoch University.
13. The economy of Perth is based largely on mining, agriculture and tourism.
14. Perth is known as the "City of Lights" because it was one of the first cities in the world to be illuminated by electric lights.
15. Perth is home to a number of popular tourist attractions, including Kings Park, Rottnest Island and Fremantle Prison.
16. The city is also famous for its beautiful natural landscapes, with many tourists heading out on hiking or camping adventures in the nearby national parks and wilderness areas.
17. Perth is home to a diverse range of animals, including kangaroos, koalas, wallabies, echidnas and quokkas.
18. The city is also home to a number of popular sporting teams, including the Western Force rugby team and the Perth Wildcats basketball team.
19. Perth is host to a number of annual events and festivals, including the Perth International Arts Festival, the Fringe World Festival and the Taste of Perth food festival.
20. Western Australia was originally inhabited by Aboriginal people for over 50,000 years before British settlement.
---
Fascinating Information about Perth
21. The first European settlers in Western Australia were the British, who arrived in 1829.
22. Western Australia was originally a penal colony for British convicts.
23. Western Australia became a separate colony from New South Wales in 1831.
24. Perth was declared a city in 1856.
25. The Swan River Colony was renamed the state of Western Australia in 1890.
26. Western Australia was the last state in Australia to grant women the right to vote, which occurred in 1899.
27. The Golden Mile is a stretch of coastline in Western Australia that is home to some of the largest gold mines in the world.
28. One third of Australia's population live in Western Australia.
29. The state of Western Australia covers an area of 2.5 million square kilometers.
30. Western Australia is the largest state in Australia, and is larger than all of Europe combined.
31. The Bungle Bungle Range is a World Heritage listed site located in Purnululu National Park in Western Australia.
32. The Nullarbor Plain is an iconic natural landscape in Western Australia, stretching over 1 million hectares across the state.
33. The Pinnacles are a unique geological formation located on the coast of Nambung National Park in Western Australia.
34. Wave Rock is a giant rock formation that has been shaped over millions of years by wind and water erosion.
35. The Karijini National Park is a stunning natural landscape located in the Pilbara region of Western Australia.
36. Lake Hillier is a pink-colored lake located on Middle Island off the coast of Western Australia.
37. The WAVE Rock festival is a popular outdoor music festival held in Western Australia every year.
38. The Margaret River Gourmet Escape is an annual food and wine festival that attracts top chefs from all over the world to Western Australia each year.
39. Rottnest Island is a popular tourist destination for swimming, snorkeling and cycling.
40. The Dampier Archipelago is a group of small islands off the coast of Western Australia that are renowned for their stunning natural beauty and endemic wildlife.
41. Perth is home to some of the best beaches in Australia, including Cottesloe Beach, Scarborough Beach and City Beach.
42. The Swan Valley is a popular tourist destination for wine lovers, with over 30 wineries located in the region.
43. The Little Creatures Brewery is one of the most popular tourist attractions in Fremantle, with visitors able to take tours of the brewery and sample the various beers on offer.
44. Kings Park is one of the largest urban parks in the world, and is a popular spot for picnics, walks and views of the city.
45. The Bell Tower is a popular tourist attraction in Perth, offering stunning views of the city and river below.
46. The Western Australian Museum is the state's premier museum, with exhibitions on natural history, Aboriginal culture, maritime history and more.
47. The Art Gallery of Western Australia is one of the state's leading art galleries, with a collection that includes works by Aboriginal artists, European masters and contemporary Australian artists.
48. The Perth Zoo is one of the city's most popular tourist attractions, with over 1,200 animals from all over the world.
49. The Aquarium of Western Australia is home to over 12,000 marine creatures.
50. Perth is a beautiful city with a lot to offer visitors, from its stunning beaches and parks to its vibrant cultural scene. There's something for everyone in Perth!