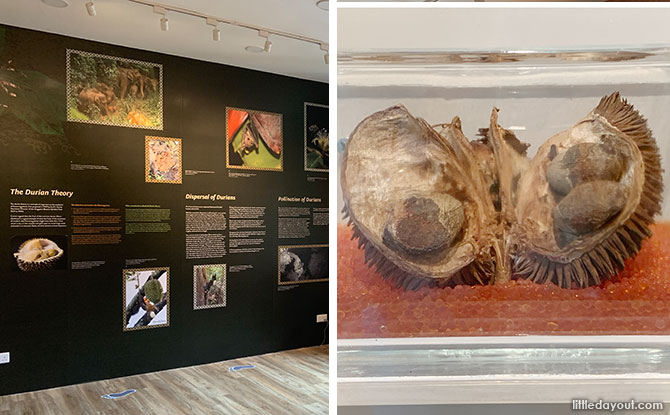 Durians. Love them or loathe them, living in Singapore, we can't escape from them. And while we may think we know plenty about the fruit, we discovered there was more to unpack on a visit to The King of Fruits: Ethnobotany and Diversity of the Durians at Singapore Botanic Gardens' Centre For Ethnobotany.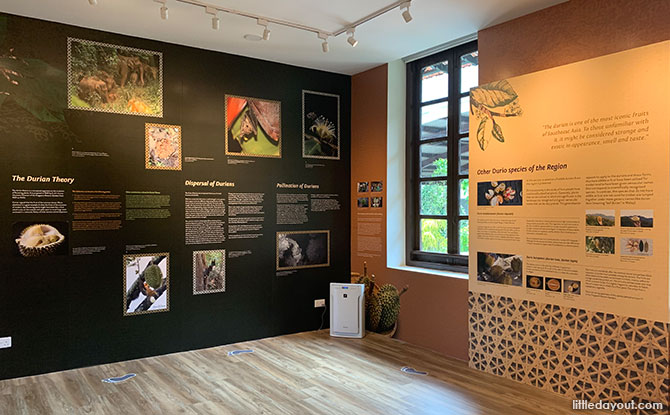 Here are five things we learnt as we peeled into the King of Fruits durian exhibition on the second floor of the Centre (smells not included).
---
5 Interesting Facts About Durians
Origin of the Word "Durian"
Durians are known by many different names around Southeast Asia. These include Thu-réén (Cambodian), Sầu Riêng (Vietnamese) and duwuan (Sulawesi). However, the most familiar name to English speakers, durian, is from the Malay word for thorn, Duri. And, the reason for it being called thorny is quite obvious.
---
-- Story continues below --
The Durian's Aril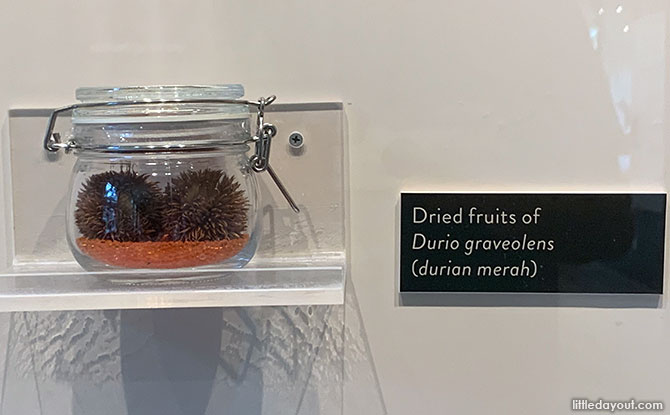 The best part of any durian is its fleshy and creamy seeds. However, did you know that, botanically speaking, the flesh is called the aril. And, what's more, there are some durians which have a red aril, as in real red, not Red Prawn red, for example the durian merah.
Durian Wisdom
Did you know there are proverbs based on durians. We didn't. The Centre For Ethnobotany's durian exhibition highlights several Indonesian proverbs about durians. Our favourite is Buka durene hulung, masih adad ngaput. Translated, this is Like a fallen durian, there is always someone to pick it up, meaning, even when a person is down, someone will come along to help him or her.
---
Singapore's Native Durian Species
There are two durian species which are native to Singapore. These are the Durio singaporensis, or durian daun, and the Durio griffithii or durian tupai. The former is considered Vulnerable while the latter is considered Endangered. If you wish to view them, they can be found around Singapore Botanic Gardens' Lawn O, near the bandstand. They are among the 12 species of durian trees planted around the Gardens.
---
No Bats, No Durians
Did you know that primary pollinator of durians are bats, specifically the Cave Nectar Bat. The bats are drawn to the sweet nectar of the durian flowers which bloom at night. In other words, the flying mammals play a critical role in ensuring our supply of the King of Fruit. There are secondary, backup pollinators though. These include birds and bees. But we still need bats to pollinate the durian trees.
The King of Fruits: Ethnobotany and Diversity of the Durians exhibition is now on at Level 2, Centre for Ethnobotany (Ethnobotany Garden), from now till 27 May 2022. It is open daily from 9 am to 6 pm, except on the last Wednesday of the month when it is closed. Visit its website here.