With intertidal zones in the limelight recently, we joined Sentosa's Siloso Headland Intertidal Programme at Siloso Beach to take a look at the marine life. The walks are headed by an official guide and limited to between two to three days of the month when tide conditions are optimal for a visit.
Whenever visiting any intertidal area, it is important to care and respect the wildlife there. Paying a visit with an official guide is a good way to ensure that the marine life is treated properly and to learn about life by the shores.
Here are 5 reasons why you want a coveted spot for a walk at the Siloso Headland.
---
Reason 1: Tanjong Rimau is Precious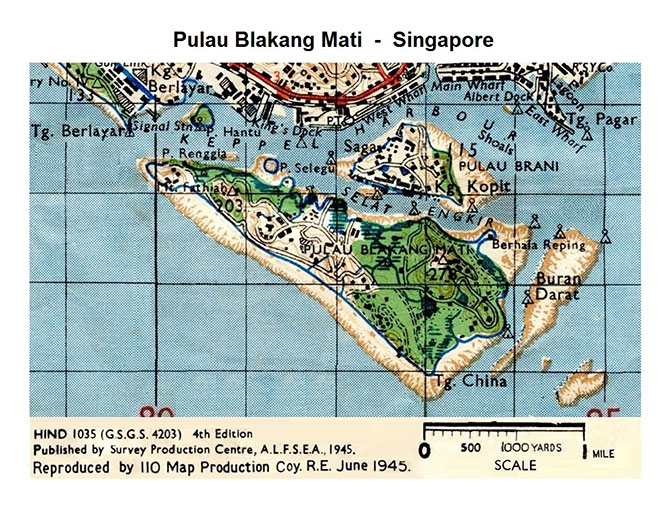 Siloso Headland, also known as Tanjong Rimau, is touted to be one of Singapore's last remainder of coastal cliff and rocky shores. Because of land reclamation and development, the coral reef that surrounded Sentosa has largely shrunk considerably.
Thankfully, wildlife experts have seen a growth in the reefs at Tanjong Rimau and it is also where researchers from local universities and NParks collect much needed data to document Singapore's biodiversity.
We met early in the morning at Siloso Point and were greeted by strong winds with the sky darkening. Before starting the walk, the organisers ensured the weather was fine before we could proceed.
Our volunteer guide was Kiew and he has been helping with intertidal surveys and highly passionate about conservation.
To enter Tanjong Rimau, we had to head to the Coastal Trail. For those of you as "young" as I am, the path would also lead you to the iconic totem poles where the old Sentosa Monorail would pass. Because of the weather conditions, we quickly passed through the Coastal Trail since the priority was on the intertidal walk. Otherwise, our guide would have shared more about the plants and animals in the forest.
We soon reached the shore where the stretch of coast was visible just for a few hours before the tide would come in. Across us was Labrador Park and Keppel Bay where premium residences stood. Little would we know that amidst the busy straits would be a rich stretch of coral reefs and its inhabitants.
---
Reason 2: Closer Glimpse of the Ecosystem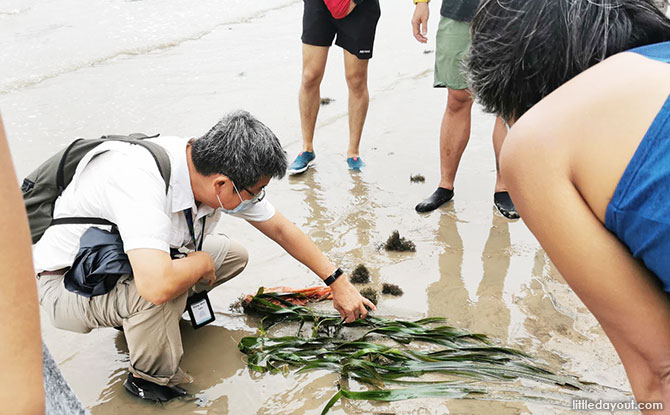 The Tanjong Rimau shores offers a closer glimpse at the shoreline eco-system during low tides. There is no need to take a boat or head to somewhere out of reach to see the thriving reefs.
---
Reason 3: Get a view of Sentosa and the surrounding sights that are rarely seen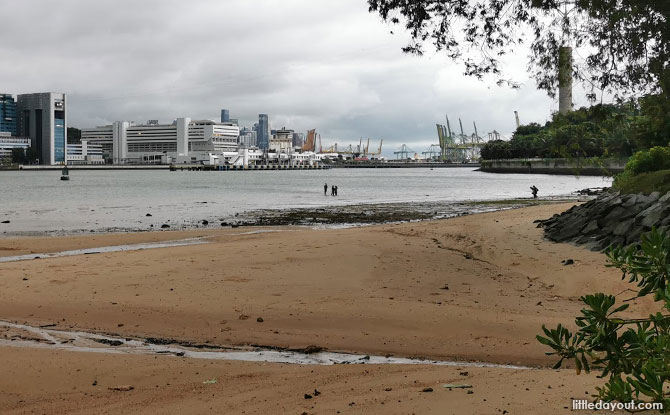 It was a peaceful and quiet outing even in our group and everyone seemed to be thrilled to be going on path less trodden. It also made me want to bring my family to see the sights.
We could also see Labrador Park, Keppel Bay and cable cars where we were. As the shore was right next to Coastal Trail, we could see the older part of Sentosa. It was a good time to reminisce with the children.
---
Reason 4: Spot the Marine Life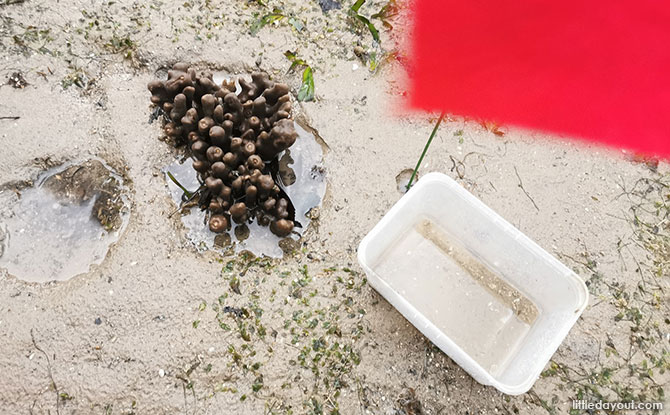 Enough said, since we came on a walk to spot some wildlife. You will not be disappointed if you observe movements, colours and patterns keenly.
Amongst the marine life that can be found along the shoreline are coral, crabs, snails, anemones and more.
Do take care of the marine life while visiting the shoreline. As we were with a guide, he helped to point them out to us and also made sure that they were returned to their habitat.
---
Reason 5: Surprisingly Clear Waters at Tanjong Rimau
Apparently, the water at Tanjong Rimau are very clear compared to many other shores. However, it was a pity we did not manage to see much with the strong wind, waves and murky waters as creatures were camouflaged and went into hiding. Otherwise, we would be able to see the coral reef near the shore, as well as horseshoe crabs, fan worm, nudibranch.
---
Joining the Tour to Tanjong Rimau
For safety reasons, always be in proper footwear such as boots or aqua shoes as Tanjong Rimau is a rocky area. Avoid the part near the pier and do not touch the sea creatures as they could be poisonous. Have a whale a time and make many memories experiencing the wild side of Sentosa!