Earth Hour 2019 rallies local communities to be more conscious about nature. In Singapore, this is being marked with the Festival for Nature at Marina Bay Sands Event Plaza from 29 to 31 March 2019.
Commemorating Earth Hour 2019 in Singapore
The three-day festival features nature-themed experiences that highlight the rapid loss of nature and its impact.
One of the highlights of Festival for Nature is the Nature's Maze where visitors can learn about the rapid loss of nature since the 1970s. There will also be a Shop for Nature Marketplace with sustainable brands such as Nut Culture and The Green Collective SG on sale.
Food and music also feature in Earth Hour 2019's Festival for Nature. Local musicians like Sezairi, 53A and Tabitha Nauser will play in Music For Nature and as part of the 60+ Countdown Bash on 30 March 2019. From the Event Plaza, you can also watch as the lights go out across Singapore's Central Business District in support of Earth Hour 2019.
---
Story continues below
Not just another light show, Magical Shores at Siloso, Sentosa is Singapore's first beach light show. Now "screening" on the sand, Magical Shores Sentosa...
No visit to Seoul with the family is complete without a visit to South Korea's biggest theme park: Everland! We had an awesome day...
---
Those who wish to learn more about living sustainable can sign up for workshops that will be held from 29 to 31 March. Learn about how to upcycle pallets into useful items such as trays and organisers. Find out how to make eco-soap or use natural pigments as paints.
Find out more about Earth Hour 2019 and the Festival for Nature here.
Festival for Nature
Dates: 29 to 31 March 2019
Time: 5 pm to 10 pm (Fri), 10 am to 10 pm (Sat & Sun)
Where: Marina Bay Sands Event Plaza
Free admission (excludes workshops and classes)
Website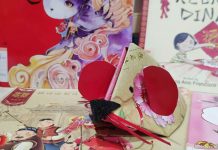 Dong dong chang! Right on the heels of Christmas is another important season for the Chinese – the Lunar New Year, of course. Remembering...
What better a way to scurry into the New Year of the Rat than with a new year feast at Fat Chap! Priding themselves...
FEATURED LISTINGS