Wish for your child to learn how to collaborate with others, exercise creativity and develop confidence in everything he or she does?
Actors Centre Kids' theatre programme does this by exposing children to various theatrical forms and activities. Through the experience, children develop deeper confidence, better focus and greater self-awareness.
The programme also helps children to develop gross motor skills through drama, songs and games and teaches them to use their imagination and express them better, improving both social and oral communication skills.
Interested to find out if Actors Centre Kids is suitable for your child? He or she can participate in an Actors Centre Kids' trial class.
Trial Class on Saturday, 24 March 2018
---
Story continues below
Can learning about Asian culture be an exciting experience for kids? You bet! From now till 29 December, little ones can take part in...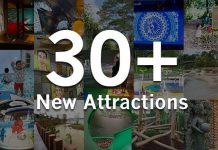 2019 has been a busy year. Can you believe that 33 new family-friendly places and attractions have opened in Singapore in just this year...
---
During the trial class, children will be encouraged to participate in activities to express themselves. The trainers from Actors Centre Kids' guide children on a journey of adventure to help ignite their imagination and expressing them through various theatrical forms like acting and poetry.
The Actors Centre Kids trial class is available for children between three to nine years old.
An upcoming Actors Centre trial class will be held on Saturday, 24 March 2018 with the following details:
When: 24 March 2018
Where: Actors Centre Kids @ Leisure Park Kallang, 5 Stadium Walk, #01-01, Singapore 397693
| AGE GROUP | LOCATION | TIMING |
| --- | --- | --- |
| 3 to 4 years old | Leisure Park Kallang | 11 am to 12 pm or 4 pm to 5 pm |
| 5 to 6 years old | Leisure Park Kallang | 11.30 am to 1 pm or 4 pm to 5.30 pm |
| 7 to 9 years old | Leisure Park Kallang | 11.30 am to 1 pm or 2 pm to 3.30 pm |
Investment:
3 to 4 years old: $38 (subjected to 7% GST)
5 to 9 years old: $57 (subjected to 7% GST)
Get more information and sign up here.
About Actors Centre Kids
Actors Centre Kids is a partnership between Actors Centre Australia (ACA) and MindChamps. Founded in 1987 by Dean Carey and with Hugh Jackman as its Patron, ACA is a world-class Performing Art Centre in Australia.
Actors Centre Kids Trial Class Giveaway Exclusively for Little Day Out Readers
Little Day Out Readers now have the opportunity to win a place for their child to attend the Actor Centre Trial Class on 24 March. To do, simply answer two questions below by 18 March 2018.
A total of five places will be given away.
Double your chances of winning by liking and sharing this Facebook post.
Entries need to be submitted by 18 March 2018.
---
This contest has just closed. Watch this space and check your emails as we announce the winners the next few days!
---
Guess who is heralding Christmas at Bedok Point this year – the Minions! Join Kevin, Stuart and Bob from 19 to 24 November for...
The Boys' Brigade Share-a-Gift (BBSG) 2019 project aims to spread the festive cheer and love to 43,276 beneficiaries this year. Beyond that simply the...
FEATURED LISTINGS