At the Pasir Ris Mangrove Boardwalk, walk comfortably on a boardwalk while keeping an eye out for the fauna that make their home in the swamp. Accessible through Paris Ris Green and Car Park B.
Useful Information
Address:
 Accessible via Pasir Ris Green or Car Park B
Contact: N/A
Visit Website
Usher in Chinese New Year 2019 at HarbourFront Centre with family-friendly activities, including LIVE character performances, meet-and-greets, colouring and interactive walls, craft activities and...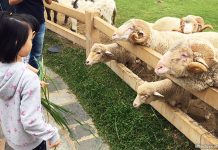 Sprinkled with quaint Italian-inspired villages, wineries with vineyards and flower fields against a mountainous backdrop, the region of Khao Yai near Bangkok, Thailand, offers...
FEATURED LISTINGS