Itching for some adventure and wondering what to do and where to go along Downtown Line 2 (DTL2)? Ride with us and explore these 15 hidden spots you never knew existed!
With the opening of the 16.6 km DTL2 in Singapore on 27 December 2015, you can now emerge from the ground at Bukit Panjang, anywhere along Bukit Timah Road, and all the way to Rochor. Suddenly, the school district, famous food enclaves, recreational spaces and much more have become easily accessible.
Traverse along with us as we suss out some little-known gems near 9 DTL2 stations that can make many a great little day out.
1. Swim at Senja-Cashew Community Club, Bukit Panjang DT1 Station

Pack your swimsuits! A short 10-minute walk away is the Senja-Cashew Community Club giving you cheap access to great swimming pool facilities for the whole family. There is a pool and water playground feature for the kids, an eight-lane Olympic size pool for the adults and an infinity pool with jacuzzi for everyone! To top up your energy tanks, check out the small food court at the club, or simply cross the road to Bukit Panjang Mall for a plethora of shopping and dining options.
---
-- Story continues below --
How to Get There?
Address: 101 Bukit Panjang Road, Singapore 679910
Tel: 6219 4561
Nearest MRT Station: Bukit Panjang DT1 Station
Opening Hours: Thursdays to Tuesdays: 8.00 am to 9.30 pm; Wednesdays: 2.30 pm to 9.30 pm
2. Explore the New Extension at Zhenghua Nature Park, Bukit Panjang DT1 Station

Since you are already all the way in the northwestern part of Singapore, how about hopping on to the above-ground LRT train and dropping off at Segar LRT (BP11) station to explore the extended Zhenghua Nature Park? The 3.8 hectare extension was added in November 2015 and it's a straight 25-minute walk next to the Bukit Timah Expressway before you get back onto Bukit Panjang Road. Take a bus from there back to Bukit Panjang DTL station and you would have tried three different forms of transportation in a nutshell of a town!
How to Get There?
Nearest MRT Station: Bukit Panjang DT1 Station
3. Experience Dining with a Difference at The ART, Cashew DT2 Station

Ever dined at a restaurant run by students? The casual dining ART (Assumption Restaurant for Training) within Assumption Pathway School, which has been around since April 2011, lets students from its hospitality services course put what they have learnt into practice. Here, you can enjoy a Western 3-course set lunch, including a soup, main course, dessert and coffee or tea at $13.50 nett, a slice of cake from $2, baguettes at $1.50 and tuna puffs from $1. Thumbs up, we say, for this quiet haven that gives these students an outlet to display their skills and provide us with decent fare at such affordable prices. We like the many monkey bars conveniently located just behind the restaurant too!
How to Get There?
Enter by Upper Bukit Timah Road entrance and take a five-minute walk up a slight hill or through Assumption Pathway School, along Cashew Road and up a flight of stairs.
Address: 30 Cashew Road, Singapore 679697
Tel: 6892 6187 (call to make reservations)
Nearest MRT Station: Cashew DT2 Station
Opening Hours: Only on weekdays from noon to 3 pm for lunch and 3 to 4.30 pm for high tea, closed on weekends
4. Support a Good Cause at Praisehaven Mega Family Store, Hillview DT3 Station

A blue ship-shaped building appears before your eyes as you exit Hillview DT3 Station. For many years, several people have made donations in kind at the booths of The Salvation Army. How about stepping inside and checking out the huge Praisehaven Mega Family Store? You'll be surprised to discover a whole range of new and second-hand items, from clothes and baby gear, to art and even furniture. Shop here at this thrift store and the proceeds go towards the good cause of supporting the needy.
How to Get There?
Take Exit A and The Salvation Army will be on your right.
Address: 500 Upper Bukit Timah Road Singapore 678106
Tel: 6349 5312
Nearest MRT Station: Hillview DT3 Station
Opening Hours: Mondays to Thursdays: 10 am to 6 pm; Fridays and Saturdays: 10 am to 9 pm
5. Try Birdwatching and Enjoy Strolling to Singapore Quarry, Hillview DT3 Station

Less famous than Bukit Timah Hill, Hindhede Quarry and even Dairy Farm Nature Park and Quarry, the hidden Singapore Quarry is one of three quarries in the vicinity. It is an easy and tranquil stroll on paved paths and lessons for parents can be learnt here. Go early in the day, get away from the city in an instant and who knows which birds you can spot in this natural bird paradise!
How to Get There?
Start from Dairy Farm Nature Park's Car Park A (round the corner from The Salvation Army) or from Fu Yong Estate, just behind The Rail Mall along Upper Bukit Timah Road. From the latter, the Singapore Quarry is only 700 metres away.
Nearest MRT Station: Hillview DT3 Station
6. Check out the Dining Options at HillV2 and The Rail Mall, Hillview DT3 Station

Ramble further down south of Upper Bukit Timah Road towards the old KTM overhead railway truss bridge and you'll find nostalgic The Rail Mall, at the 9th milestone, with several dining options.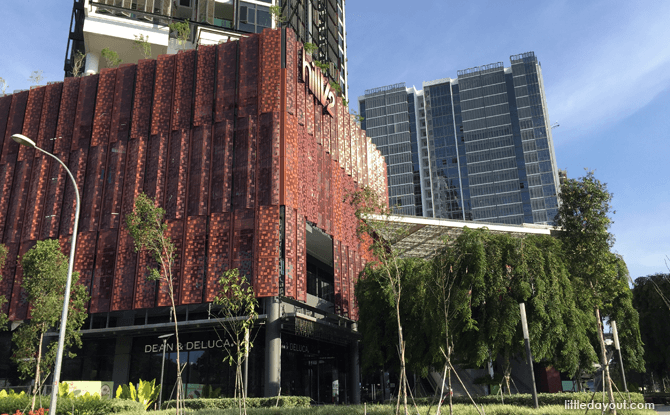 Across the road from The Salvation Army, just 280 metres down Hillview Rise from Hillview Station is the suburban dining paradise of HillV2.
Yes, we know these are not exactly hidden spots, but they serve as great pit stops (pun intended) for those game enough to check out the Rail Corridor (read #8 below).
7. Get a Slice of World War II History at Bukit Batok Nature Park, Beauty World DT4 Station

The legendary Beauty World Shopping Centre greets you as you exit this station. Some will get past the stretch of delectable delights along Cheong Chin Nam Road and onto climbing Bukit Timah Hill. But we challenge you to go up north of Upper Bukit Timah Road till you hit the junction where the Old Firestation sits. Because here's where you'll find one end of Bukit Batok Nature Park and the 121 steps leading to where the Syonan Chureito used to be. The Shinto shrine and war memorial honoured the Japanese who died during World War II. Today, the Mediacorp Transmission Centre stands in its place. Go further into the park and there is a scenic old quarry. Or go further back down the main road of Upper Bukit Timah and you'll arrive at the Old Ford Factory, the historic location where the British surrendered to the Japanese.
How to Get There?
Take a 20-minute walk up Upper Bukit Timah Road. Turn into Lorong Sesuai and climb up the slope.
Nearest MRT Station: Beauty World Station
8. Walk Along the Rail Corridor, Hillview DT3, Beauty World DT4 or King Albert Park DT5 Stations
Fancy an oasis of calm and a nostalgic walk down memory lane where the good ole trains used to run? Yes, don't worry, you won't meet any oncoming trains, but possibly joggers and cyclists. The linear Rail Corridor or Green Corridor runs for 24 kilometres from Tanjong Pagar to Woodlands. And now, with the new DTL, the old track is within easy reach from at least three DTL2 stations. Put on good walking shoes and trek the 3.4 km stretch from The Rail Mall to where King Albert Park is in about 45 minutes. If you have little ones, try just the 22-minute, 1.8 km stretch between Hillview and Beauty World Stations. Start from either station and round it up with a cool drink and sumptuous meal at The Rail Mall or HillV2 or at Beauty World food centre on the top floor or at any of the eateries along Cheong Chin Nam Road!
How to Get There?
The easiest points to enter the Rail Corridor is from where the architecturally beautiful railway truss bridges still exist – next to Rail Mall (near Hillview Station), from Hindhede Drive where most head to Bukit Timah Hill (near Beauty World Station), and via Rifle Range Road (near King Albert Park Station).
9. Visit the Old Bukit Timah Railway Station, King Albert Park DT5 Station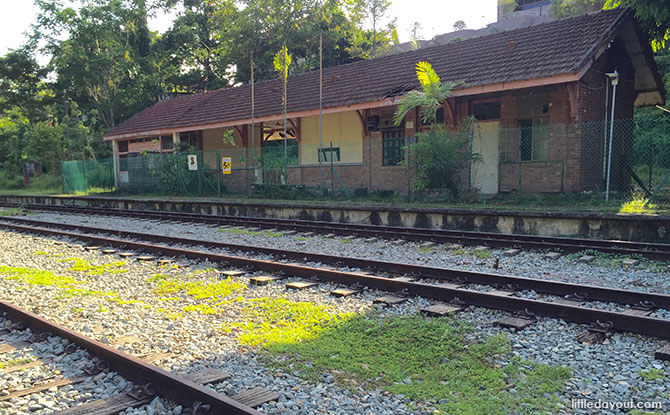 Just off Bukit Timah Road across from Rifle Range Road is the Bukit Timah Railway Station previously owned by KTM, the main railway operator in Malaysia. Following the decommissioning of the KTM railway and the historic land-swap agreement between the Singapore and Malaysia governments in 2011, the crossing loop station and signalling control house is now a quaint conserved recreational building, with the train tracks still left intact.
Nearest MRT Station: King Albert Park Station
10. Bake some Cookies at TOTT Store, King Albert Park DT5 Station
For some baking fun with the kids, check out the Bake & Go counter at ToTT store, on the ground floor of Sime Darby Centre, just next to King Albert Park DT5 Station. Start with a batch of freshly made plain dough and use your creativity to decorate your own cookies and cupcakes with an assortment of ingredients. Thereafter, the kids will enjoy the small indoor play area and the kid-friendly food at the restaurant, and you could also catch up on some furniture shopping or Cold Storage supermarket shopping within the same building.
How to Get There?
Address: 896 Dunearn Road, Sime Darby Centre, Singapore 589472
Tel: 6219 7077
Nearest MRT Station: King Albert Park
Opening Hours: Mondays to Fridays: 11 am to 9 pm; Saturdays, Sundays & Public Holidays: 10 am to 9 pm
11. Go Deeper into Turf Club Road and Eng Neo Avenue, Sixth Avenue DT6 Station
There are lots to explore from Sixth Avenue Station. Most would head to The Grandstand Bukit Timah where Singapore's first permanent farmer's market, PasarBella, and several educational, recreational and dining establishments can be found. There is also Horsecity Gallop Stables next to Rider's Lodge, that's even closer to the station. For the adventurous, we challenge you to go the distance.
Dive a little deeper down Turf Club Road, past Sunny Heights, which is the haven for dogs, and The Blue House, and you'll discover a road filled with antiques from ages past in several warehouses. Also known as Junkie's Corner, vintage furniture, curios, knick-knacks and weird things are littered along this lane.
Alternatively, take a 25-minute walk down Eng Neo Avenue towards Fairways Drive and you'll find yourself dining with a good view of the horses from Bukit Timah Saddle Club (which offers pony rides on Sundays) at Rider's Café, and next to the scenic Fairways Drive golf course at Picotin Express.
12. Shop at a German Supermarket, Tan Kah Kee DT7 Station
Get to the German Market Place in just three minutes from Tan Kah Kee Station. The specialist grocer makes it easy for you to get products from Germany and Europe without flying all the way there. Have fun concocting new recipes in your head as you go down the aisle and discover new seasonings, sauces and more!
How to Get There?
Address: 609 Bukit Timah Road, Singapore 269710
Tel: 6466 4044
Nearest MRT Station: King Albert Park
Opening Hours: Mondays to Fridays: 10 am to 7 pm, Saturdays: 9 am to 5.30 pm, closed on Sundays & Public Holidays
13. Play at Singapore's first Children's Garden – Jacob Ballas, Botanic Gardens DT8 Station

Jacob Balllas Children's Garden is a dream come true for children with its sand pits, maze, water play areas, treehouse, swinging suspension bridge and waterfall cave. Though it has been around since October 2007, it is still a secret magical garden just for kids. Admission is free but as an adult, you can only enter it if you are accompanied by a child.
How to Get There?
Address: 1 Cluny Road, Singapore Botanic Gardens (Bukit Timah entrance), Singapore 259569
Tel: 6465 0196
Nearest MRT Station: Botanic Gardens
Opening Hours: Tuesdays to Sundays: 8 am to 7 pm (last admission at 6.30 pm);
Closed on Mondays (except Public Holidays that fall on a Monday)
14. Admire the Former Command House along Kheam Hock Nature Way, DT8 Station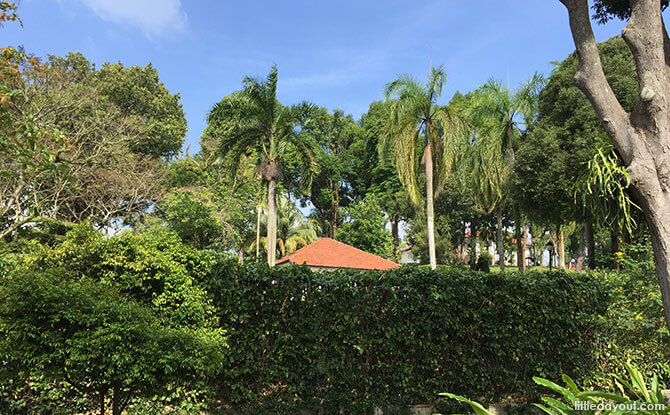 Across the road from Singapore Botanic Gardens is the Former Command House. Today, this National Monument houses UBS Business University, but once upon a time, it played an important role as one of the last defences against the Japanese troops. Built around 1937, this British colonial residence sits majestic on a hill and was originally meant to be the official residence of the General Officer Commanding of Malaya. Admire the house from the road or walk 40-minutes down Kheam Hock Nature Way to reach the Central Catchment Area.
How to Get There?
Address: Former Command House, 17 Kheam Hock Road, Singapore 298791
Nearest MRT Station: Botanic Gardens
15. Explore Little India with the Kids, Little India DT11 Station
Little India Station is a good starting point for exploring all of Little India. Explore with the kids all that it has to offer, from shopping and eating to playing. Read more.
Overview of the Downtown Line
To round it all up, here are the 12 stations of DTL2:
Bukit Panjang
Cashew
Hillview
Beauty World
King Albert Park
Sixth Avenue
Tan Kah Kee
Botanic Gardens
Stevens
Newton
Little India
Rochor.
The 12 stations of DTL2 link to the six stations of Downtown Line 1 (DTL1):
Bugis
Promenade
Bayfront
Downtown
Telok Ayer
Chinatown.
Have a great time going downtown!